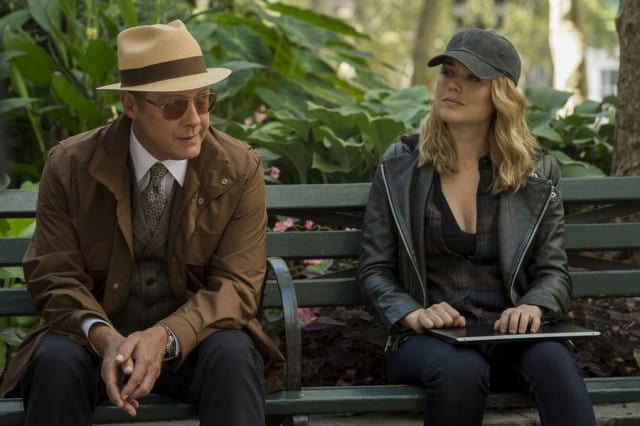 I've really been impressed with the level of intensity that The Blacklist has been able to maintain since the beginning. It's one of the most consistently intense and action packed shows on TV today. "Arioch Cane" was no exception, as several plot threads pulled together, and it turned into one of the better installments of the season.
This week on The Blacklist: A bounty is put on Liz's head, forcing her and Red to team up with the FBI. Ressler must testify at a hearing, and defend his reasons for not sharing information with the CIA. Liz and Red get themselves in a sticky situation, aided at the last second by Dembe. Mr. Vargas makes contact with Red. Tom gets in deeper with his cover.
I've really been impressed with the way the story has been woven throughout this season. Last season, my chief complaint was that some characters were underused, and it's because they were all pointed toward the same plot. This season has found an excellent way to include every single character, in what is obviously it's best story yet. All the characters are working toward the same goal (now that we know how Ressler really feels) but in various yet compelling ways.
My favorite scene of the whole episode was Dembe coming to the rescue. For a second, I actually thought they might have to seriously injure Elizabeth until Dembe came to their aid. Hisham Tawfiq brings this really unique talent to the role of Dembe. He can certainly do heavy lifting and a lot of serious acting, but he can also say just as much with zero words. Dembe didn't have a single line in this episode, but he was integral and perfect in his role.
Ultimately, "Arioch Cane" was the best episode of the season. It had everything you could want. Intense drama. Lots of action. Every character was involved with the central plot. The stakes continue to rise with each passing episode, as proving Liz's innocence becomes more and more difficult. On top of that, Dembe has been seriously injured and Ressler now has to share all of his intelligence with CIA. Tom has gotten his "new friends" into some serious doo doo. To anyone watching I would pose the question : Where do they go from here? I think that question alone is going to be the driving force behind the rest of the season. Red obviously has a plan to exonerate Liz, but how does Tom fit into it? How will Ressler, Aram, and Samar continue to help Liz and still share their intelligence with the CIA? We're five episodes in, and there's enough drama to carry through the rest of the season, easily.
I'd like to have seen a little more Harold Cooper (who wouldn't?) but other than that, this was the best episode of The Blacklist in awhile, and honestly, I have a pretty high standard. This show survives because it has a unique concept, and is able to present lots of action, complex characters, and a really good story. "Arioch Cane" is the best episode in some time, and I'm only expecting them to get better from here. I won't be surprised if this one is hard to top, though.
What did you guys think? Did you enjoy this episode like I did? Let us know in the comments!
The Blacklist airs Thursdays at 9/8c on NBC.
[Photo by: David Giesbrecht/NBC]