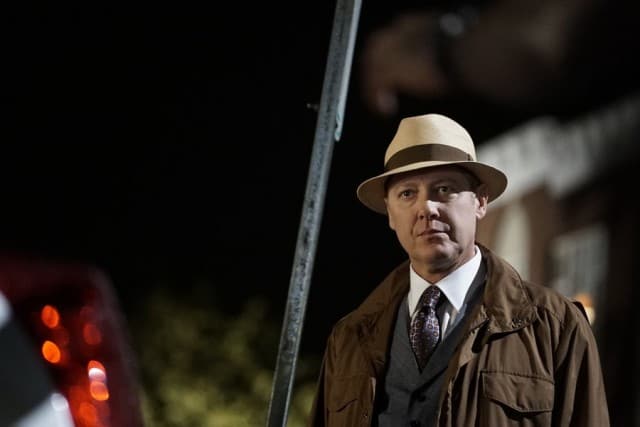 The Blacklist has spent the entirety of its third season just outside the status quo. There are still blacklisters, and the FBI is still catching them, but it all has to do with whether or not Elizabeth can be exonerated. For the entire season, they have been building tension upon more tension and sprinting toward a mid-season climax. Well the mid-season climax is arriving, and the tension they have built is incredibly effective. Not only can they stick to the story, and make the "villain of the week" format work for the new story, but they can also explore other characters and build to what's sure to be an exciting fall finale next week.
This week on The Blacklist: Samar's childhood is re-visited, as she discovers her brother is still alive. Some light is shed on Samar's connection to Reddington. Tom brings Karakurt to Harold Cooper's garage. The Director suffers a small defeat at the hands of Agent Ressler. The team pursues Arabic terrorist "Zal Bin Hasaan."
I've been really impressed with The Blacklist this season. They've been able to use all of the cast members, use them well, and still commit to the story they're telling. They've used old characters, new characters, and been able to explore the back stories of just about everyone on the show. I've constantly been impressed with the way that the story flows and the tension builds. It hasn't been perfect, but it's been really, REALLY good.
Samar's backstory is one I've wanted to explore for a long time. I appreciated how they've only begun telling it. They didn't tell us everything about her all of a sudden, just to tread water until next week's fall finale. They revealed her in little bits, and only because it worked with the rest of the stories. We knew from her debut that she's connected to Reddington, but the show has never really told us why or how. What it has established is that she's not a villain or a traitor with the group. She's a very well-grounded character. I especially appreciated the moment between she and Ressler at the end. I'm not sure that I "ship it," but it's logical and will make for interesting TV.
I really appreciate the way that The Blacklist gets me emotionally invested. I'm constantly chuckling at quips from Reddington, for instance. Sure, sometimes that simply indicates good writing, but James Spader plays a huge role in it. His delivery is always impeccable, and really accents the show by relieving tension in important moments. I also really appreciate how much I've been made to care about the characters. I let out an "aww" when Ressler and Samar had their moment. When the CIA was removed from the task force's investigation, I cheered. The characters may not be involved in a totally realistic scenario, but they're all very human and realistic characters. I appreciate that about this show more than anything.
Also, the fight between Tom and Ressler at the end? Brilliant. But R.I.P. to Harold Cooper's lawn gnome. Gone too soon.
Overall, "Zal Bin Hasaan" built and mounted the tension for what should be a thrilling fall finale, but it wasn't neglected as a standalone episode, either. I've been truly impressed by the season so far and I'm excited for what's to come.
What did you guys think? Did you enjoy the episode? Let us know!
The Blacklist Fall Finale will air next Thursday, November 19th at 9/8c on NBC.
[Photo credit: Peter Kramer/NBC]
Tell us what's wrong with this post? How could we improve it? :)
Let us improve this post!