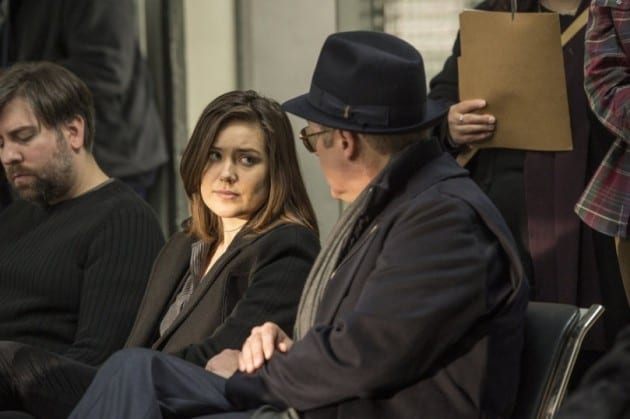 I'm not going to lie, that was a pretty crazy episode of The Blacklist. Not that I'm mad about it.
This week on The Blacklist: The squad pursues a cult leader who has suddenly gone missing. Harold Cooper deals with some personal health issues, and Reddington searches for Alan Fitch's long lost safe…which inevitably intertwines with the case at hand.
There was quite a bit to like about this week's episode. The whole cult leader plot was fascinating. It had a real The Following-type feel to it. A charismatic cult leader turns out to have a bunch of trained killers on his property? Wow. What a loaded story. But it kept my interest the whole time, and I didn't lose track of anything. That can sometimes happen in heavily loaded stories like this. They had strong action, a compelling mix of stories about the case and the characters, and every moment was crafted to maximize excitement. All in all, a really well-done episode.
I do not think that I can overstate how wonderful James Spader is as Raymond Reddington. Every nomination he's received, he's deserved. Reddington has such a quiet intensity about him. The character can stay calm in situations that would agitate any normal human being, but then he can turn on a switch and become the scariest man you've ever seen. There is no way that Reddington would be as compelling a character without Spader. Every line is delivered with such gravitas that it gives me goosebumps…when he's not making me laugh.
I think Megan Boone and Diego Klattenhoff are doing some really great work, also. When this show started, Agent Keen was simply "Reddington's pet" and Ressler was kind of a joke to Reddington. Keen and Ressler have become strong as a unit. They work well together, they have each other's backs, and they've developed a bond, both with Reddington and each other. Of course, Keen is currently "done" with Reddington, making their relationship "business only", but I'm certain that she'll ride that carousel a few more times before getting off. All in all, Megan Boone is a very strong actress who improves her game every week, and Diego Klattenhoff is a strong complement to her.
I think the best element of this episode, however, was Harry Lennix's Harold Cooper. Cooper has been a steady hand for our oft-shaky band of misfits so far in the series. The one thing they've been able to count on is Cooper's moral compass and leadership. Now, that is being called into question because of his health. This story was mostly unrelated to the central plot, but could have very strong over-arching repercussions. If something were to happen to Cooper, the team could change for the worse and permanently. Lennix conveyed his emotions extremely well, while still holding true to the good man and patriot that Harold Cooper is. It seems only fitting that pulled strings from the new Attorney General could get Cooper the help he needs. Well…here's hoping, anyway. Cooper is the kind of character you can't help but cheer for, and I will unabashedly continue to do so.
The episodes strongest element this week may have been the main story. There was a long-time criminal that the FBI longed to bring down, there was a compound of highly trained sons of the polygamist cult leader, and there was a LOT of action. This show really steps it up a notch when children are in danger, too. This wasn't so much a procedural episode as a well-crafted action short-film.
All in all, really strong Season 2 effort for The Blacklist. I can't get enough of anything Reddington is up to, and week in and week out. they bring us compelling villains, stories, and tease just a little bit more about each character to make us want more. And boy do I want more.
What did you guys think? Are you enjoying this season of The Blacklist? What did you think of the episode? Let us know!
[Photo via NBC]
Tell us what's wrong with this post? How could we improve it? :)
Let us improve this post!