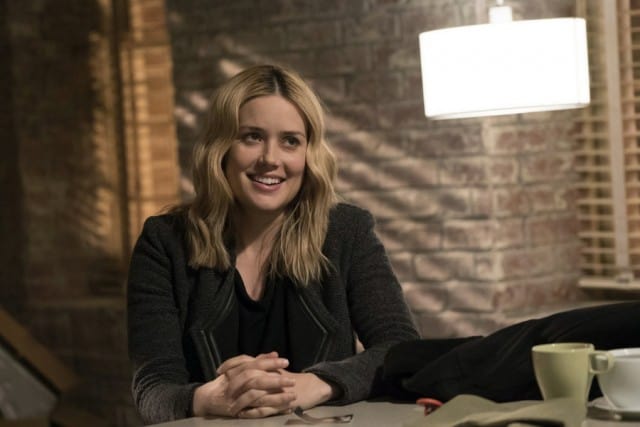 I thought we could get in one last photo of Liz with her long blonde hair. SPOILER ALERT: She put it back to short and brown. I think she looks great either way. The Blacklist continued in its new status quo this evening by exploring Liz's personal life, and changing the character relationships swiftly.
This week on The Blacklist: Tom suggests that he and Liz run away to Boston, where he has prospected a new job. Tom accidentally finds out that Liz is pregnant. The task force hunts for an organization called "The Vehm", who is brutally murdering people they believe to be pedophiles. Ressler, Samar, Harold and Aram deal with drama in the task force and in their personal lives.
Impressively, The Blacklist has managed to maintain its identity while dealing with the constant shifts in character and plot. Though they've defeated the Cabal and returned to more or less the "status quo" of the series, they're still constantly evolving and changing relationships. I was worried that once Liz was freed, things would turn out exactly the way they were before. It was good before, but the third season so far has been GREAT. I would say that they had only a few problems in Season 2, which Season 3 has largely corrected.
My favorite element of the season (aside from the really cool "on the run" stuff) has been the deepening of all the characters. Through season 2, most characters on the show were operating simply on a surface level. That's clearly not the case any more. The love triangle between Ressler, Samar and Aram is particularly compelling. I thought we were seeing a case of Ressler feeling bad and actually caring for Samar at first, but after finding out that Aram is the one who ACTUALLY recommended that she get her job back., I was much less sympathetic to Ressler. Of course, it was also pretty sad to see Samar drop the F-bomb ("friend") to Aram after that. Pretty heartbreaking, really.
On top of that, Harold's wife left him, and Liz is expecting a baby with Tom. Harry Lennix carries an extra special quiet strength to the Harold Cooper role. Most people in his role on a show like that do not have the same depth that Lennix is bringing to Cooper. I found the Tom/Liz/Baby conflict to be extremely compelling, as well. To watch someone teeter back and forth from giving up their child, and starting a life with an ex who deceived them is not your run of the mill drama plot. The decision to include Megan Boone's real life pregnancy was a great one. Megan Boone and Ryan Eggold bring something particularly special. It's nice to see Tom smiling outside of sadism, and they're laughing and having fun together like a real couple would. Any bets on whether Tom becomes an FBI asset eventually? I think he does.
Of course, you can't write a review without mentioning the true greatness of James Spader. Reddington's cold blooded murder of the man who beat up Liz was EPIC, and his impassioned speech to the cardinal was really a joy to watch. Spader is compelling because he can flip the switch between loving father figure, hardened criminal, and hilarious bad-a** all in one scene. I will never get enough of Spader in this role.
This was just another strong episode in a line of good ones. I hope they can keep these creative juices flowing, because as of now there are no signs of slowing down.
What did you guys think? Did you enjoy the episode? Let us know in the comments!
The Blacklist airs Thursdays at 9/8c on NBC.
Tell us what's wrong with this post? How could we improve it? :)
Let us improve this post!