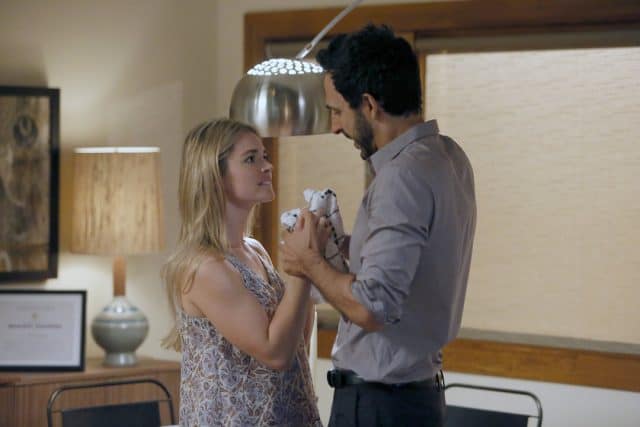 It seems like every time I start to get disillusioned with The Blacklist, something happens that pulls me right back into it. Even though I was frustrated last week with the constant back and forth between Liz and Reddington, this week's episode reminded me that not only are there other characters on this show, but also that they're excellent.
This week on The Blacklist: The FBI discovers that there's a well hidden breach in their system, keeping Alexander Kirk one step ahead. Liz wavers on whether or not she trusts Reddington, and still wants a relationship with her father. Aram hits a snag in his relationship.
Okay first of all (last chance for spoilers if you haven't watched) I did not see that Aram's girlfriend twist coming at all. I didn't even start to pick up on it until the beginning of this episode. Just when this show has me disillusioned, it sucks me back in with a twist. What stemmed from Aram being duped was a really fascinating, well-told story involving Aram, Samar, and Ressler. Sometimes getting preoccupied with Liz and Reddington makes people forget that we have an incredibly talented cast outside of those two characters. It was great to see them get some screen time.
Furthermore, Amir Arison did some stellar work as Aram. We've seen Aram be funny and do his genius magic, but to put him in a situation in which he's essentially having to do field work is a brand new role for him. It was still funny in a very, well, Aram sort of way, but I was very impressed with how well he handled it. When attacked, he didn't automatically turn into a soldier, either, which is the case with some similar shows. It played out very realistically. Particularly, when Aram told her that he was "in love with someone else" to save his own butt, was a great moment. Especially since we all knew he was talking about Samar!
The Reddington and Liz saga got a little more interesting this week, but it still rang hollow. Red's right that it's easy to fake a DNA test. Red said "I have never lied to you". Honestly, I believe him. Liz just gets really crazy about stuff involving her family. I'm sure that Kirk knew she would find that DNA test. I have to admit that even though most people have given up, I am still very interested in Liz's parentage story, and what exactly happened. Do I think it's ridiculous for the show to draw it out? Yes. But, do I still want to know about it? Also yes.
Other thoughts/tidbits:
"The sole concession to the digital revolution is a Ms. Pac Man machine in the break room." "Why?" "I like Ms. Pac Man"
I had almost completely forgotten about Mr. Kaplan. I think that the guy who picked her up is Kirk's. Or I could be wrong and that story could be almost completely irrelevant.
"I knew she was too hot for him."
I totally ship Samar and Aram. Now that this hacker girl is out of the way, hopefully that romance will bloom before our very eyes.
All in all, this was an impressive return to form for The Blacklist, if for no other reason than it let some of its best characters shine, and finally put Agnes back in her mother's arms. When they try to draw things out, it doesn't work well, but when they tell stories in an appropriate amount of time, said stories are excellent.
What did you guys think? Did you enjoy the episode? Let us know in the comments!
The Blacklist airs Thursdays at 10/9c on NBC
Tell us what's wrong with this post? How could we improve it? :)
Let us improve this post!