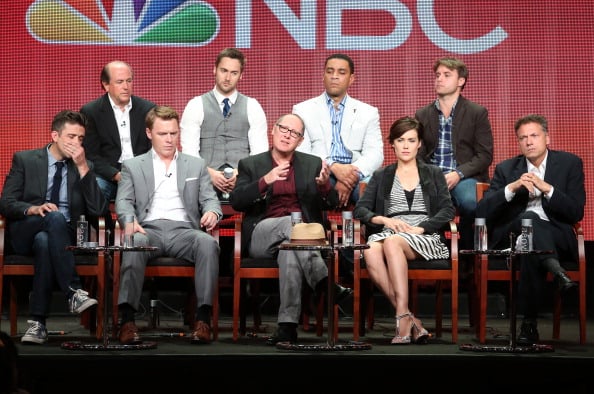 Everyone is talking about The Blacklist. The same holds true for us here at TV Overmind. The Blacklist, along with the mega-hit singing competition show The Voice, helped the struggling peacock network NBC become relevant once again. Last season, the thriller averaged 15 million viewers and was the sixth most watched show of the 2013-2014 television season. Ratings held steady for the second season premiere which drew 12.5 million viewers. Though ratings dipped during the second episode, the drama will continue to dominate the 10 PM timeslot that is also occupied by NCIS: Los Angeles on CBS and Castle on ABC. Due to its huge success, the show will follow the 2015 Super Bowl. A lot of The Blacklist's success can be attributed to its amazing cast. Take a look at these ten facts about James Spader, Megan Boone, Ryan Eggold and the rest of the cast that star on this awesome show.
1. James Spader claims to have a photographic memory. In order to prepare for an episode of The Blacklist, or any other role he may be performing, Spader will read over the script like most actors will do during the rehearsal process. Once it comes time to shoot a scene, Spader is able to remember what each page looks like and can recite his lines verbatim. It is as if the script is still in front of him while he is filming. The only time he will mess up his lines is if similar words (like on or in) are close together in the script. Though many claim to have a photographic memory, scientists are not able to find a verifiable case. Most people are able to remember things so well because of mnemonic devices. Other people who claim to have this ability include Teddy Roosevelt, Guillermo del Toro, and Mr. T. The official term for a photographic memory is eidetic memory.
2. Megan Boone, who plays FBI Profiler Elizabeth Keen on The Blacklist, grew up in Petoskey, Michigan. The small city only has a little over 5,000 citizens and is located at the top of the state's lower peninsula. The city is the setting for Ernest Hemingway's stories about Nick Adams because he traveled there as a boy. Petoskey is also where the Petoskey stone can be found. Though the city is quite small, Boone is not the only famous person to be born there. Hal Smith, who is known for playing Otis Campbell on The Andy Griffith Show and voicing Owl in The New Adventures of Winnie the Pooh, and singer Surfjan Stevens call Petoskey home. Boone's family would later move to The Villages, Florida which is known as a retirement community to be closer to her grandparents. Boone's grandfather was a developer for the property and her mother is now the property's director of sales.
3. Diego Klattenhoof, who plays Donlad Ressler on The Blacklist, has been in at least one television project every year since 2001. His first television appearance was a small arc as Jason on the medical drama DOC, that also featured Billy Ray Cyrus. In 2002, Klattenhoof had an uncredited role in the drama Witchblade. Klattenhoff would work on three projects during 2003, the most popular being the sci-fi thriller Mutant X. 1-800-Missing was one of the projects that Klattenhoff worked on in 2004 alongside Mark Consuelos and Vivica A. Fox. In 2005, the actor would appear on both Smallville and Stargate SG-1 and in 2006 would guest star on Supernatural and Psych. During the next three years, Klattenhoff would have recurring roles on Whistler, Men in Trees, and 24. He would then star on the medical drama Mercy and then the drama Homeland before working on The Blacklist. Klattenhoof is also known for playing Shane Omen in the hit comedy Mean Girls starring Tina Fey, Rachel McAdams, and Lindsay Lohan.
4. Ryan Eggold's acting career spans beyond his work in television and film. The actor that plays Tom Keen on The Blacklist has also starred on a web series and in a music video. The web series entitled Daybreak is about the magic of technology and how it can transform our lives and help us to reach our highest potential. The series was linked to the FOX drama Touch that starred Kieffer Sutherland and ran for two seasons. Five episodes of the series were created in 2012 and are around 10 minutes in length. Eggold played a character by the name of Ben Wilkins. Other familiar faces in the cast include Bones' Eugene Byrd, The OC's Shannon Lucio, and Passions' Ryan McPartlin. Eggold was also featured in one of Shanae Grimes music videos in 2010. The video was for the song "Myself and I," which was written and directed by Grimes. Eggold and Grimes worked together on The CW drama 90210 from 2008-2011. Eggold plays Grimes boyfriend in the music video.
5. Many remember Parminder Nagra from her 6 year stint playing Dr. Neela Rasgotra from 2003-2009 on the NBC medical drama ER. During the show's run Nagra was dating photographer James Stenson, whom she met in 2002. On January 17, 2009 the two tied the knot. Nagra made sure she included many of her ER co-stars in the ceremony. Both John Stamos and Scott Grimes performed at the ceremony. Maura Tierney, who is a close friend to Nagra, officiated the nuptials. Four months later, Nagra would give birth to a son that the couple would name Kai David Singh Stenson. However, things did not end happily for the couple. Nagra would file for divorce from Stenson only three years after the two were wed. The divorce would be finalized in July 2013. Nagra would begin filming for The Blacklist around this same time as the show was picked up as a series in May of that year. Nagra plays Agent Meera Malik.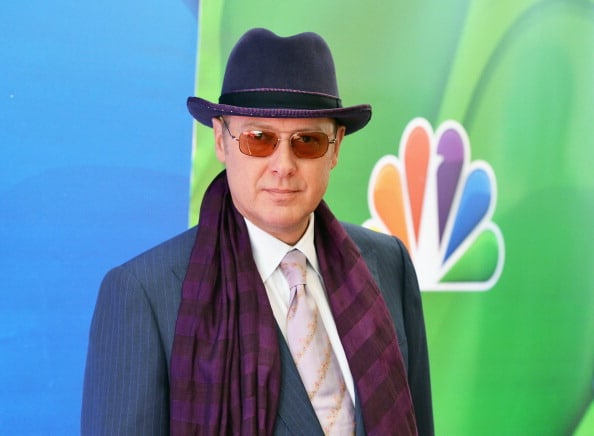 6. Amir Arison plays Aram Mojtabai on The Blacklist. During the first season of the crime thriller, Arison was just a recurring character appearing in 18 of season 1's 22 episodes. For season 2, Arison has been promoted to a series regular and should appear in all episodes. Arison has an extensive television career that began in 2003 with a guest-starring role on the short-lived FOX drama The Jury starring Revolution's Billy Burke and NCIS's Coty de Pablo. Arison has also starred on three different shows that are part of the Law & Order franchise. He first appeared in the original Law & Order in 2004. The episode was entitled "Paradigm" and was the season 15 premiere episode. The episode was about the murder of an Iraq War veteran. Arison would be featured on two episodes of Law & Order Criminal Intent. The first appearance was during the fourth season of the drama and Amir played Lt. Sanjay. The episode focused on the murder of a toy collector. In 2007, Arison would make a return to the series, but this time he would play Tarek Agiza in a season 7 episode that was about a murder of a diver who was part of a treasure diving team. From 2009-2011, Arison would be featured on Law & Order Special Victims Unit as Dr. Manning. He would appear in 9 total episodes. Prior to that, he appeared in a season six episode of the series also playing a doctor.
7. You may think that James Spader would have been the first person cast on the hit series The Blacklist, but you would be wrong. Megan Boone was the first choice for the producers. But they could not find anyone that would mesh well with Boone when she tested in front of the network. That usually is a bad thing for an actor because the network will just have the producers recast the character, but they refused to do that. After it was official Boone was cast, Spader would then join the series. In an interview with TV Line, Boone revealed her favorite moment from the first season of the show. "When Red built the music box for me and played the song after she found out Tom was a bad guy. It was a moment for me when I discovered that I was really efficient at doing this job of television, which can be a machine, making 22 episodes. I went in there, I did that scene in two takes and felt good about the work. It made me realize that I found my footing in this new realm of my career." Boone also shed some light on where she would like her character to go during the series' second season. She announced, "I would like to see her go a little darker. In one sense, this could be a story of redemption — bringing Red into the light for all his crimes. On the other hand, it could be about bringing Liz into the darkness. The audience has enjoyed Liz be very tough. I hope there is more of that in the coming episodes."
8. Though James Spader has made a lucrative career starring on such television shows as The Practice, Boston Legal, The Office, and now The Blacklist, he has admitted that he is not a very big fan of television. In an interview with Collider he admitted, "I've never been a big TV watcher." Though he does not watch himself on the small screen, he does say he enjoys what he does. He especially likes that he does not know what is going to happen next with his character on The Blacklist. He is given one script at a time so he does not know what will happen to Red in future episodes. Spader enjoys his job so much that he even went as far as shaving his head for the role on The Blacklist. You may remember the long hairdo he sported during his stint on The Office. As he was getting into character for this role, he came to the conclusion that Red should be bald. "It seems practical for him. He's someone who has to travel lightly," Spader insisted.
9. In November 2013, Infowars.com posted an article claiming that actor Harry Lennix, who plays Harold Cooper on The Blacklist, has trained President Barack Obama to appear more presidential. The reason the article was posted was because Chicago radio show host Eric "Mancow" Muller asserted that Lennix appeared on his show and revealed he was hired to make the POTUS look more dignified. The actor trained Obama on demeanor and body language. Before Lennix became an actor, he would lecture in the Chicago public school system and he even played the White House Chief of Staff on the drama Commander in Chief. The article continues by saying the Lennix and Obama knew one another before either became famous and that if you watch The Blacklist, you will notice how similar the two's mannerisms actually are. Muller even claims that Lennix said he thought the President was "stupid." Mancow's producer was also present during the conversation where Lennix revealed that Obama follwed him for years trying to mimic his mannerisms. Lennix fired back to these allegations and said that they are far from the truth. When responding to the story the actor asserted, "Those are not my words. I don't like Barack Obama or his policies, but I never said I trained him or anything of the kind."
10. In June 2014, a book was released about Ryan Eggold's success. The title of the book is 30 Success Facts: Everything You Need to Know about Ryan Eggold and is written by Howard Sosa. The book highlights Eggold's career including his stint on 90210 and his current gig on The Blacklist. There is also information about the actor's early life and what is currently going on in his personal life. Similar books have been written about actresses Arielle Kebbel and Eggold's 90210 co-star Jessica Stroup. Eggold's book can be purchased for new on Amazon for $33. Something that may not be included in the book is Eggold's eyesight. Though Tom wears Warby Parker glasses on The Blacklist, Eggold does not sport eye-wear. He had lasik eye surgery, which corrected his vision problems. When Eggold went to the audition for the show, he thought wearing the glasses made him look more like a teacher. The producers loved it and made sure the character wore them.
Photo 1 by Frederick M. Brown/Getty Images
Photo 2 by Slaven Vlasic/Getty Images
Tell us what's wrong with this post? How could we improve it? :)
Let us improve this post!