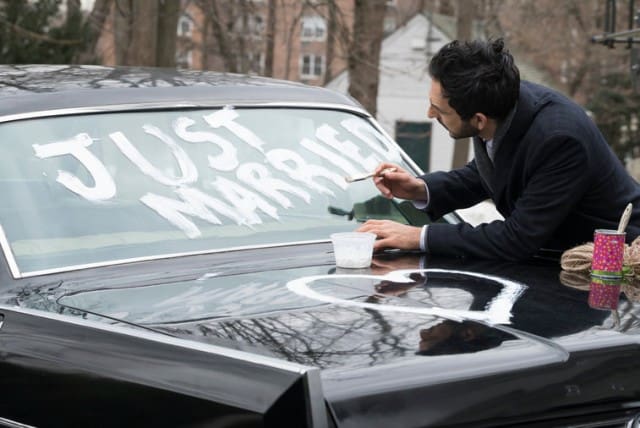 I'm not sure there is a better way to describe this episode than #RedWedding. This wedding happened in true The Blacklist fashion, with an imminent threat to everyone's lives. At first, i wondered why the heck anyone would need Mr. Solomon to be out of jail, but then it all came together so well. This was a masterful, intense episode with plenty of substance for every different thing that people love about the show.
This week on The Blacklist: Tom and Liz throw together a last minute wedding ceremony, inviting the entire task force. Reddington urges Liz not to go through with the wedding, and instead presents a case in which Mr. Solomon is searching for nuclear weapons. As the day goes on, Reddington realizes that Liz's wedding and the case are connected. Tom is paid a last visit by Gina.
I will be the first to admit that this episode had me a little confused and bored at the beginning. I couldn't figure out why they were throwing the Solomon stuff into the same episode as the wedding. I must have overestimated the amount of Tom/Liz/Red drama they were going to throw in. Rather than spend the episode trying to get the wedding cancelled, they quickly turn it to action, gun-slinging action, and the lengths to which any and all of the characters will go to keep Liz and her baby safe.
My favorite part of "Mr. Solomon" was easily the fact that they literally used every series regular cast member, and then some, to tell this story. One of my biggest complaints about the show is when some characters fall to the back burner, which can happen pretty frequently in the Red/Liz/Tom triangle. However, this episode made great use of each and every character, using their love for Liz to propel them forward. It's not a frequent occurrence that we get to see Red, Dembe, Harold, Samar, Ressler, Tom, and Amar all fighting for the same goal, at the same time. But it was wonderful to see. I'm just a real sucker for strong ensembles, and The Blacklist has one of the best.
Aside from that, the episode provided just the right amount of intrigue. Tom's past organization and the mystery person trying to kidnap Liz provided an unusually high amount of intrigue. Do you think Liz's mother is alive and coming for her? Is it all an elaborate ruse by Reddington? How will Tom's past life fit in? I've got a thousand questions, but I think that means that the show is achieving its goal.
Amidst all of the spin-off talk and whatnot, "Mr. Solomon" was a fantastic turn for this show after several weeks hiatus. As it builds to an exciting conclusion next week, I can't help but get myself more pumped and excited. The Blacklist is a pulse-pounding masterpiece that intrigues at every corner, and always gets me primed for the next episode.
What did you guys think? Did you enjoy the episode? Let us know in the comments!
The Blacklist airs Thursdays at 9/8c on NBC
The Blacklist Season 3 Episode 17 Review: "Mr. Solomon (No. 32)"
Summary
Tom and Liz's last minute wedding does not follow the plan in the slightest on this week's excellent episode of The Blacklist.