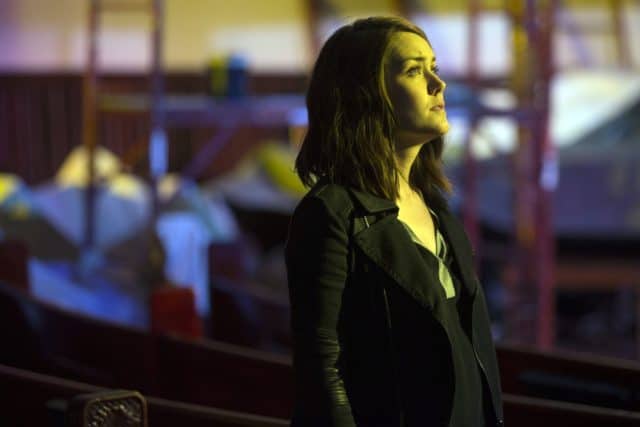 I was a little concerned after last week's episode of The Blacklist, especially that they seemed to be largely abandoning their week to week format in favor of anything and everything that dealt with Red, Liz, Tom, and Agnes. This week was a much better course correction, though their obsession with those characters still persists. They had two nearly completely separate stories on the show this week, but one of them was exciting enough to suffer through the latter.
This week on The Blacklist: Reddington follows a lead from Kirk's doctor on Kirk and Agnes, while Tom follows the same from Ressler, but they're led to different places. The task force pursues a patent office worker who is stealing people's patent ideas and then killing them. Aram makes some progress in his personal life, much to Samar's chagrin.
In general, I have enjoyed watching Red, Tom, and Liz, so I keep (relatively) quiet about the lack of screen time some of the other characters get, even though they're all wonderful. So I'm as surprised as anyone to be saying that I cared much more about what was happening with the task force than the tired "Is Kirk my daddy" plot for the main trio plus Dembe. The weekly villain I found extremely compelling, and I found myself desperately wanting to know what he was up to and his motivation for doing so.
On the contrary, the story with Kirk is getting stale, FAST. I know it's getting stale because (spoilers!) when Tom recovered a DNA test that revealed that Kirk is in fact Elizabeth's father, I was not amused. I do find myself wanting to know why Reddington has lied to her to this point, or exactly what the relationship between the two of them was, but getting there is really ticking me off. Shocker: Red did something, Elizabeth finds something out, she's mad at him, they don't speak for awhile, they reconcile, repeat. That last sentence describes every single season of The Blacklist.
Here are some other various, random thoughts I had while watching the episode:
In case you were wondering, that villain was Adam Godley, or Elliott Schwartz from Breaking Bad. Guess everyone breaks bad eventually, huh?
I'm really loving the story with Aram's girlfriend and Samar being jealous. It's so cute. I wonder, though, if there's any merit to Samar mistrusting her, or if it's just jealousy. Could be a fun little mystery there!
Is it too late to start a petition to get Ressler to move on to The Blacklist: Redemption with Tom? I'm not knocking Ressler at all. As a matter of fact, I'd like for Diego Klattenhoff to get more screen time, and he and Tom seem to have a rad bromance in the making. I'd hate to squash that by separating them.
This episode proved two things to me. One, that the villain of the week format can still be done well on this show, and two, that Liz's parentage is not a source of compelling drama any longer. There really should be something new that comes into play, which would likely be a better use of such great dramatic talent like James Spader and Megan Boone.
There's still plenty of good stuff in this show, but it's time to resolve some of these lingering mysteries and introduce new ones. In fact, there are few more compelling to me than why exactly Reddington wanted those inventions. The creative team have really good instincts, but seem to clam up and fall back on this same story. They should stop doing that, because their ideas are great.
What did you guys think? Did you enjoy the episode? Let us know in the comments!
The Blacklist airs Thursdays at 10/9c on NBC
The Blacklist Season 4 Episode 5 Review: "The Lindquist Concern (No. 105)"
Summary
Tom and Reddington track down separate leads on Alexander Kirk on this week's halfhearted episode of The Blacklist