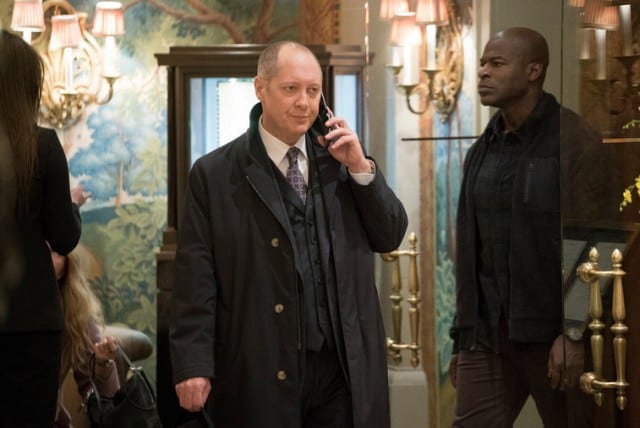 "Tell our friends in hell to be patient. I'll be there soon enough"- Raymond Reddington
After last week, Liz has finally been exonerated and the status quo has returned to the "new normal" so to speak. Liz is back with the task force, but she's no longer an agent. The Blacklist, under a new change in status quo, now must figure out what stories it's going to continue to tell, and how it's going to differ from everything before it. So far, it seems like things are off to a pretty good start.
This week on The Blacklist: Elizabeth returns to work, but she is now a consultant with no field privileges and no weapon. On Keen's first day back, a man is apprehended who claims to be Raymond Reddington, and has intimate knowledge of the cases that Reddington has helped them solve. Reddington acts quickly to expose the impostor and retain the trust of his fellow criminals. Tom Keen proposes to Liz. Liz is attacked, and while in the hospital discovers some exciting news.
This hour of The Blacklist simply flew by. Never in a million years did I think they would come back immediately after a major storyline wrapped, and instantly grab my attention again. But they did. For about the first half of the episode I believed that it would, in fact, be a slight letdown from the previous few episodes. However, once I figured out that Reddington had orchestrated almost all of it just to keep his good name with criminals, I was elated. Reddington is such a strong character, and James Spader brings such a gravitas and intrigue to the role. The whole thing orchestrated by him adds another layer to an already extremely complex character. I'm not sure I could get more pleasure watching him than I already do.
Sidenote, I thought "Mr Gregory Devry" did a pretty good job with Spader's mannerisms and overall cockiness, don't you?
Return to the status quo could prove dangerous for The Blacklist team if they're not careful, though that statement is misleading. What few problems they've had in the past, they've seemingly course corrected. They're addressing the lives and problems of other characters instead of just using them to support the Tom/Liz/Red trio. Ressler and Samar addressed the tryst they had a few episodes back. Amar's personality was more present. Cooper was back to work! I was elated to see the character work progressing instead of falling backward now that Liz is back.
Just to be clear, I don't think Liz being back is bad thing. Megan Boone did a fantastic job in the first half of the season, and she's certainly maintaining that level, even though she's no longer a fugitive. For the record, I'm excited that they're writing her real life pregnancy into the show. Letting this show roll with the punches and adapt to outside forces has only proved to make it that much better.
All in all, this was a wonderful episode to start off the "Exonerated Liz" saga. There is plenty of fallout still to come, but fallout is something that The Blacklist does well.
What did you guys think? Did you enjoy this episode? Let us know in the comments!
The Blacklist airs Thursdays at 9/8c on NBC
The Blacklist Season 3 Episode 11 Review: "Mr. Gregory Devry (No. 95)"
Summary
Liz becomes a consultant for the task force on this week's excellent episode of The Blacklist