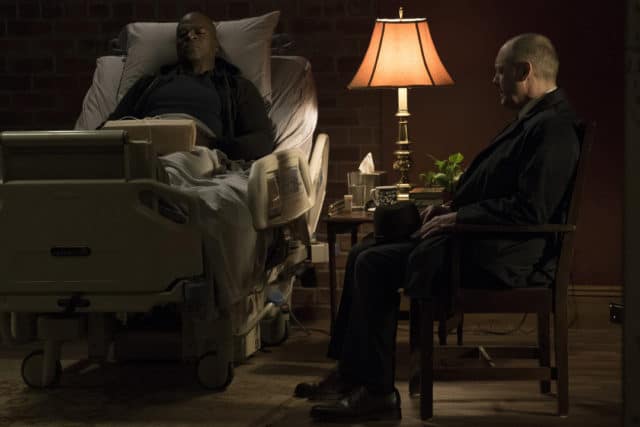 Pre-hiatus, I was really getting frustrated with The Blacklist. It didn't seem to be moving at a quick enough pace, and I couldn't tell where the story was going at all. Since the show returned last week, after Tom Keen left for the spin-off, everything has come into focus and become a thousand times more exciting. Honestly, I had no idea that such a turnaround was even possible, but I'm enjoying the heck out of it right now. Hopefully this trajectory continues.
This week on The Blacklist: Samar is nominated for a fellowship and is thinking about leaving the task force to take it. Ressler is reunited with an old partner, who is burning with passion to bring down Reddington. The task force tracks Mr. Kaplan as she takes down Reddington's associates and uncovers bodies connected to him. Marvin Gerard is captured.
Seriously, I loved the Tom Keen character. He was great. But as soon as he left, everything clicked into place. Maybe what the show needed all along was to take my advice and utilize the other characters more, and to do that they had to get rid of one. Whatever the reason, this week gave us some serious Dembe, Ressler, and Samar time, and I'm not the least bit upset about it. It's giving the show a larger scope, and I'm investing in it more because they actually have characters instead of warm bodies on the Tom, Liz, Reddington show.
What I'm really curious about is where they go from here. Do they bring down Mr. Kaplan? If so, what next? Or, does she succeed in bringing down Reddington? All of these would be interesting corners to paint the writers in going into the next story. I'm still intrigued by the possibility that Katarina could still be alive. Maybe that could create another arc to carry them into a potential fifth season. Liz's parentage and life before Reddington has gotten stale, but that's one layer that could spice things up quite a bit.
Perhaps my favorite part of the episode, though, was the emotional rollercoaster that is the Aram/Samar dynamic. I was a bit taken aback, admittedly, when Samar abruptly rejected the fellowship because it was Aram who nominated her. But the whole will-they-won't-they with those two needs to end and they should just get together already. Now that Tom is gone, we need a new couple anyway, and I'm much more interested in a non-white couple.
A few other thoughts:
"How has he not won an Emmy for this?" is what went through my head as James Spader killed the Red/Dembe scene with Hisham Tawfiq.
My other favorite part of the episode: Red's little babysitter tangent.
I'm really, REALLY excited for Ressler's old partner to find out about the task force. That's going to be a fun one.
I can't even believe I'm saying this, but The Blacklist has thoroughly impressed me two weeks in a row. This was one of my absolute favorite network shows at one time, so here's hoping that this is the signal of a return to form.
What did you guys think? Did you enjoy the episode? Let us know in the comments!
The Blacklist airs Thursdays at 10/9c on NBC
The Blacklist Season 4 Episode 18 Review: "Philomena"
Summary
The task force deals with continued issues as they hunt for Mr. Kaplan on this week's excellent episode of The Blacklist.