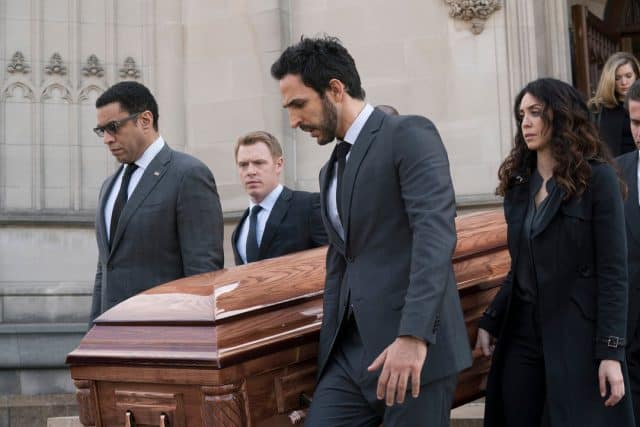 The Blacklist has put forth a string of incredible episodes as it approaches the end of the third season. Though I'm not entirely convinced we've seen the last of Elizabeth Keen (those pesky closed-casket funerals), this is the first episode that convinced me that it doesn't matter. My skepticism of her long-term absence was totally evaporated by how well this episode was structured and what it meant for the rest of the characters. I was floored by almost every performance on the episode, and rarely have I been more excited to find out what comes next in a show.
This week on The Blacklist: The team holds the funeral for Elizabeth, and each of them begin to deal with her death in different ways. Tom struggles with single parenthood. The team is forced by their superiors to find Reddington. Reddington, meanwhile, visits Liz's grandfather as he searches for something missing in his life. Harold enlists Tom's help to track down their enemy, as the entire team continues the hunt for Liz's killer. Aram and Reddington have a heart-to-heart.
There was a lot that happened in this episode. I found it to be meaty and compelling throughout. Last week's episode was entirely Reddington-focused, with very little time spent on anything else. However, this episode, while still giving Reddington plenty of focus, spent time with the rest of the team and how they were coping with Liz's death. In the past, this show has fallen into the trap of spending less time on some characters and more on others, but this one was pretty even the whole way. It spent time exploring each character's reaction to the loss of Liz, and was revealing in how some were better than others at coping. One thing is clear, though. All of them want revenge.
James Spader was as good as he always was, but the strongest actor in this episode was definitely Amir Arison. Aram was hit hardest by Liz's demise, and it was apparent in each action. More or less, this made him desperate to get Reddington back and help them find justice. The rest of them could work, but Aram couldn't (for a time). Arison displayed a strong, diverse range of emotions, and the grief radiating from Aram felt real.
This is the first episode in which I'd willingly accept the death of Elizabeth. Megan Boone was (IS) great, and so was Liz, but this is the first time that I've ever believed the show could function without her. Sure, I'd like to have her, but Reddington could continue to serve the task force as penance, and to honor her memory. If Tom goes to spin-off land and Liz doesn't come back, I'm confident that the remaining task force members could step up. However, all of this being said, I'm still not convinced we've seen the last of Liz, even this season.
All in all this was an excellent showcase for The Blacklist. The emotions were running high and it was a high impact, high energy episode. If every episode were like this, I wouldn't miss Liz at all.
What did you guys think? Did you enjoy this episode? Do you think Liz is really gone? Is her mother the one running the "Artax Network"? Let us know in the comments!
The Blacklist airs Thursdays at 9/8c on NBC
The Blacklist Season 3 Episode 20 Review: "The Artax Network"
Summary
The task force deals with both Liz's funeral and hunting the people who killed her on this week's excellent episode of The Blacklist.