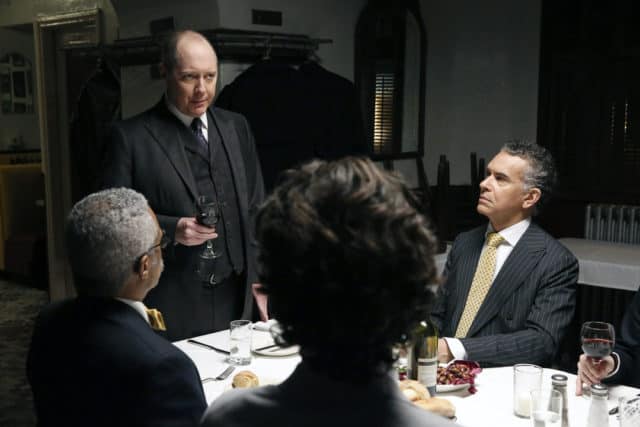 For leading into a spin-off premiere, I have to give this episode of The Blacklist some credit. It didn't even MENTION the spin-off that was to follow. I was worried that their "winter finale" would be entirely about set up for the forthcoming Redemption premiere, but I have to admit that I was pleasantly surprised in that regard. Instead, the story focused on Reddington's crumbling life and enterprise. More on that later.
This week on The Blacklist: The task force assists Reddington by searching for the blacklister called "The Apothecary", who creates disease that is easily spread. Reddington has been poisoned and cannot remember his previous evening, so he spends time retracing his steps in hopes of finding the person that poisoned him.
So, let's tackle the elephant in the room right now, shall we? Did Dembe poison Red? The signs point to yes, but this show is notorious for giving us red (pun intended) herrings. I don't believe that Dembe did it unless he was somehow under duress. Perhaps he committed the act, but I'm pretty convinced that Mr. Kaplan (or her captor from earlier in the year) is pulling the strings on this one. I will allow for the possibility that Dembe is truly the mastermind here, but only because he's been averse to Reddington's tactics since he shot Mr. Kaplan.
However, after a few lackluster episodes, "The Apothecary" gave The Blacklist the jolt it needed in terms of pacing and story. Overall, I became much more interested in the "who is undermining Red" plot during this episode. Though I'm still pretty convinced who it is, it was a wonderfully told story that made me thoroughly doubt my previously formed theory, and that's just what a show in this position should do. Besides that, the presentation, pace, and the parade of recurring characters made this winter finale a special episode.
Still my only negative is the relegation of the other characters to supporting roles, as they are all so rich and interesting and should be explored. Though, admittedly, not all of them fit well into this story. I think that "The Apothecary" was appropriate in the way it was presented, but I still miss the maximum screen time for Ressler, Samar, Aram, and the others. Just keep working on that, ok?
Here are a few other thoughts:
It was really great to see Marvin Gerrard again. He's a gem.
Also, my props to Brian Stokes Mitchell on a recurring role well-played.
I was hoping that this episode piecing together the previous evening would be a little more like The Hangover but hey, I'll take this too.
I found it remarkable that there was no mention whatsoever of Tom or his subplot at all.
Speaking of which, I will not be reviewing The Blacklist: Redemption. I dozed off watching it last night and I don't plan to continue. But I wish the strong cast the best of luck!
Overall, this was a solid winter finale. I will be disappointed if the bad guy turns out to be Kaplan, but the more they're able to surprise me, the better off everything will be.
What did you guys think? Did you enjoy the episode? Let us know in the comments!
The Blacklist airs Thursdays at 10/9c on NBC