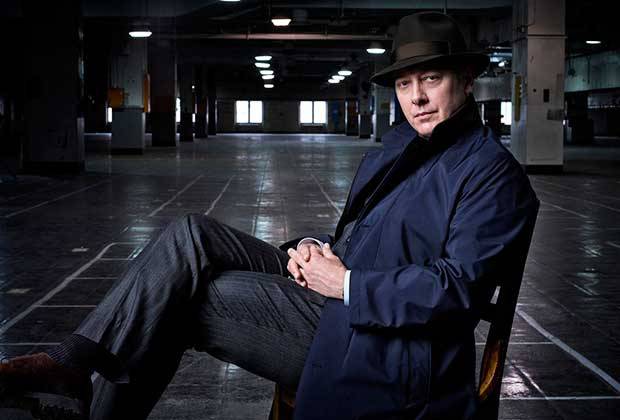 If you've never watched "The Blacklist", you're missing out on one of the most intriguing shows on TV today. On the show, Raymond "Red" Reddington is the anti-hero, a wanted fugitive, former secret agent, and a brilliant man with his fingers in innumerable illegal, (OK maybe some of them might be legal), goings-on all over the world. The character is played flawlessly by James Spader. You may remember James from things like "Sex Lies & Videotape", "Stargate", "The Practice", "Boston Legal", "Less Than Zero", "Pretty in Pink", "Crash", "White Palace", "Secretary", and as the smarmy lawyer in "Wall Street". Rolling Stone calls him "The Strangest Man on TV" and well he may be, but that's what is so exciting about his character. He has certain affectations that simply are Red. Some are strange, some are endearing, but all are unforgettable.
And, the rest of the cast is pretty unforgettable as well. The show is now in its fourth season and still going strong. The stories are fascinating, the writing superb, and the acting stellar. The third season brings as many twists, turns, and surprises as seasons one and two only better. That's because this is a show that, just like Spader, keeps getting better with age. The season starts out with Liz as a fugitive from the law and she and Red are on the run. At the same time, Harold Cooper who is the Assistant FBI Director is also under investigation. So, for now, Agent Donald Ressler is in charge of leading the FBI Task Force as they embark on a major manhunt aimed at Red and Liz.
What they don't seem to realize is that the two are much more dangerous together than they ever were before. Liz possesses a wealth of expert FBI procedural knowledge. And, when you add to that the fact that nobody in the entire world has the vast resources that Red does and those FBI boys have their jobs cut out for them. Liz becomes immersed in Red's underworld of covert operations and criminal contacts and the two are struggling to remain a step ahead of the FBI. In addition, Liz embarks on a journey of self-discovery of sorts, trying to put together all the pieces of her life.
This includes her relationship with Tom, which will continue to be a challenge since she keeps believing that Red is the one with all of the answers. Of course, Liz ends up being exonerated, there's a pregnancy, a wedding, a birth, and Liz "dies", but not really. All-in-all, Season 3 ends with Red being betrayed by his most trusted employee who helped Liz fake her death but didn't tell Red. So, we took a look at Season 3 and compiled a list of the top five "Blacklist" moments from the season.
1. "The Troll Farmer" – (Season 3, Episode 1)
This is the season premiere and it comes roaring right out of the gate with the FBI agents who used to be her BFFs hunting Liz down for murdering the extremely corrupt Attorney General. Now that Red and Liz have made it to the top of the FBI's Ten Most Wanted Fugitives list, they have no choice but to start running to evade capture. So, Red calls upon one of the Blacklisters, namely one well-known guy called "The Troll Farmer." He's going to assist the duo in fleeing the city. At this point, the FBI task force starts questioning who they can trust among their own agents.
2. "Cape May" (Season 3, Episode 19)
Cape May was an episode that was for the most part experimental in the Blacklist grand scheme of things. The style of this episode definitely paid off in a big way. For starters, Red is in a very fragile state of mind after Liz' untimely death. Obviously, he doesn't even know that she's still alive and in hiding. So, he decides to go back to where he first met Katarina Rostova. It's a very haunting episode with a lot of scenes where people seem to be there but really aren't. It also gives James Spader a chance to stretch his acting muscles with a deeper side to Red's character.
3. "The Artax Network" – (Season 3, Episode 20 )
Liz' unexpected tragic death devastates the entire FBI task force. In the meantime, Red ends up confronting a ghost from his past who is aware of way too many of Red's secrets. The moment when they zip up the body bag with Liz in it is pivotal and quite shocking for Blacklist fans. In addition, the tense moments leading up to her demise when Red and the EMT tried desperately to save her are quite heart-wrenching.
4. "Alexander Kirk" – (Season 3, Episode 22)
As the search for revenge continues and nears its end, the FBI task force and Red are closing in on a mysterious criminal who bears responsibility for the recent tragic events. This endeavor forces them to start operating way outside of their proverbial comfort zone. That also means outside of the law. It's a great moment because it's done out of love for their "late" friend, Agent Keene, and their unrelenting quest for justice for her and to take down this deadly enemy for good.
5. "Lady Ambrosia" – (Season 3, Episode 14)
https://www.youtube.com/watch?v=4or1RE7UG_U
When a missing child is found very much alive after being presumed dead, Liz and Red start working with the FBI task force in an effort to locate a woman who kidnaps kids and is extremely dangerous, not to mention really creepy. Many of the kids she has kidnapped are ending up being killed and dumped in an old well. All the while, Tom is facing some serious consequences of his own when a plan to assist Liz doesn't turn out anything like he had planned.
And now, in case you haven't heard, there's a Blacklist spinoff coming up and it's called "Blacklist: Redemption". Here's the official trailer- https://www.youtube.com/watch?v=W3o2VYR0wDg