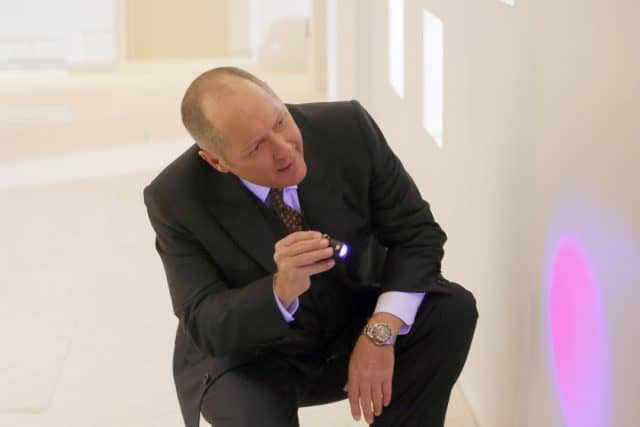 The Blacklist has now calmed the storm and entered into its new status quo…which is really more like a return to the previous status quo. Elizabeth is an agent again, She and Tom are happy together with Agnes, and the task force has a new, Reddington-less mystery to solve. More or less, "The Forecaster" felt very much like a Season 1 or 2 weekly episode, and I'm not sure if that's what they're going for or not.
This week on The Blacklist: On her first day back as an agent, Elizabeth discovers a diorama of a murder outsider her apartment. The kicker, of course, is that the murder hadn't been committed yet. The task force tries to figure out who made the dioramas and how they know about the killings. Meanwhile, Reddington executes a ruthless business deal to find replacements for Mr. Kaplan, which worries Dembe.
I'm still deciding how I feel about this episode. I mean, the episodic, procedural Blacklist that we see intermittently throughout the first few seasons  was a great show, but is it really the same? Is it as mysterious as it was before? No. I'm betting that this move had something to do with declining overall ratings, even though the show has moved to 10pm, which is much more difficult to get people to watch live. In large part, though, it felt like The Blacklist of old and that's a good thing.
Probably the most intriguing part of the whole thing was Reddington's recklessness and Dembe speaking more than he has in quite some time. We just now seem to be dealing with the (attempted) murder of Mr. Kaplan, and Dembe's opposition to that approach has been exposed. Of course, I wonder how his recklessness will escalate before, and if, they find out that Kate is alive, and what will happen when they do. It's an interesting mystery, but maybe not as interesting as Liz's parentage and family history. But, I'm sure that James Spader will kill it, as he usually does. You know the recklessness is bad when it makes Dembe…you know…speak.
Here are a few more thoughts:
It was really good to see the entire team functioning as a unit in this episode. Especially Aram coming out from behind the computer!
Reducing Tom into "stay at home dad" is a little bit sad, but at the same time it will be easier to cut him loose at The Blacklist: Redemption time. If your character can be replaced by an off screen child care worker, your time is limited.
Wish list for the near future: More tension between Aram and Samar. Anything about the personal lives of not Red and Liz is most welcome.
Returning the show to its previous format will be enhanced by getting a blacklister from Reddington, which I can only assume is on the horizon in the short term. I still haven't totally decided how I feel about the return to the early-season format, but I did enjoy the old school format. So far, the new (old) approach is a winner for me.
What did you guys think? Did you enjoy the episode? Let us know in the comments!
The Blacklist airs Thursdays at 10/9c on NBC
The Blacklist Season 4 Episode 10 Review: "The Forecaster (No. 165)"
Summary
Liz returns to work, and is immediately met with a new threat on this week's episode of The Blacklist.