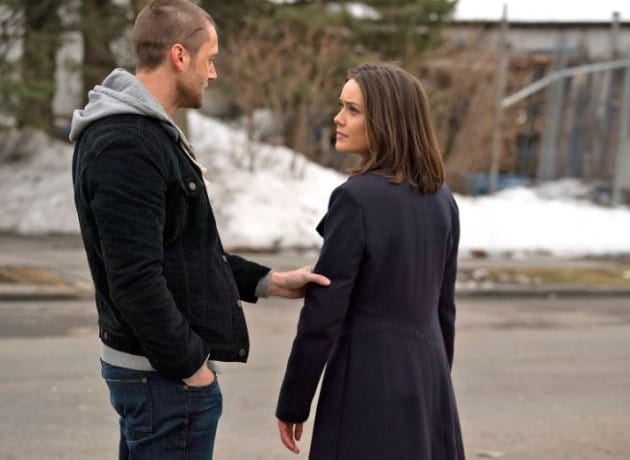 What I love about The Blacklist is not only its characters, or the excitement level that the show carries week to week (though I love those things too). But most of all, I love how it can carry a story about its characters that so similarly parallels their criminal each week. Now of course, the show is built that way, but each mission means just as much to the characters as individuals as it does to the weekly story. The show treads the line perfectly between a procedural that's exciting, and furthering the stories of the characters it has created. This week's episode was a perfect example of that.
This week on The Blacklist: Tom begs Elizabeth to steal his old passports out of evidence, so he could escape and start over, but Elizabeth is (understandably) reluctant to do so. Reddington gives the team another Blacklister (who stays off the radar and has various identities), but will not help Elizabeth further without receiving the fulcrum, so Elizabeth turns to Tom instead. Reddington gets in deeper with dangerous associates, and Elizabeth finds out a secret of his.
Obviously, the parallels between Vanessa Cruz (Blacklister No. 117) and Tom Keen were pretty clear. They were ghosts. They could be anyone. The difference, of course, being their motivation. Tom never had any. Vanessa was playing a long game to avenge the death of her husband. But the way the stories parallel each other, and change the way that the characters think, that's what makes this show interesting. Ultimately, Vanessa Cruz was not the most interesting of villains, but she got away and Reddington needs her help, so I'm certain that we have not seen the last of her. She also parallels Reddington, in that she has a clear conscience and moral code. I found it interesting, especially, that they didn't catch her, but the man she intended to kill went to jail. Moral ambiguity is one of my favorite elements of any show, and my MOST favorite element of The Blacklist by a landslide.
I've been interested in the Elizabeth/Tom/Reddington triangle since it was first made clear that Reddington and Tom were in cahoots. Tom made a mistake by falling in love with Elizabeth. Was that WHEN Reddington decided that Tom had to be out? More than anything, this particular plot has gripped me. At its basic level, when a show asks questions that you want to know the answer to, it will be successful. I desperately want to know the motivations behind all these little twists and turns.
And then there was the matter of Elizabeth being done with Reddington (again) just before he is SHOT DOWN from a distance. It was most likely one of the people who felt threatened by Reddington and the Fulcrum, but could it have been Tom? Someone else? I'm very curious. One of The Blacklist's greatest strengths is the ability to keep you coming back while maintaining their general procedural format.
Overall, I'm pleased. We got more great performances from Megan Boone, Ryan Eggold, and James Spader. These three have really been carrying the show on their shoulders lately, but that is not a bad thing at all. I would love to see the supporting players get more to do, but I think when the crap hits the proverbial fan, it will be an all-hands-on-deck situation. I can't wait to see the endgame here.
What did you think? Did you enjoy this week's episode? Let us know in the comments!
[Photo via NBC]
Tell us what's wrong with this post? How could we improve it? :)
Let us improve this post!