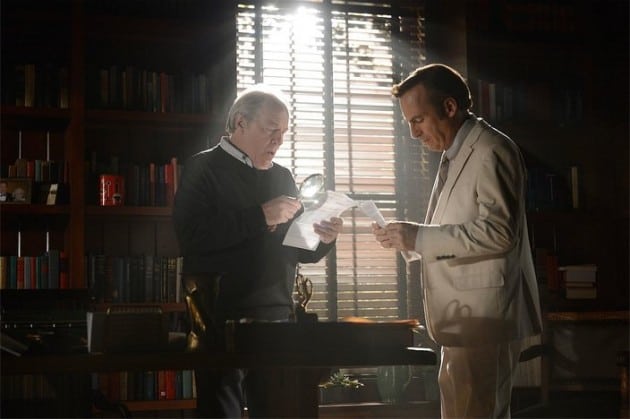 "I've known good criminals and bad cops. Bad priests, honorable thieves. You can be on one side of the law or the other…you're now a criminal. Good one, bad one, it's up to you now." – Mike Ehrmantraut in this week's episode of Better Call Saul, "Pimento"
I absolutely love Breaking Bad. While it may not be my "favorite" show of all-time, it is, to me, the "best" show that has ever graced television. The story of Walter White is the most well-crafted character piece ever written, and Breaking Bad will be studied and loved for years and years to come. Being such a huge fan of Breaking Bad, the announcement of Better Call Saul left me with mixed feelings. On one hand, I was incredibly happy that Vince Gilligan was going to give us more from the world that he created. On the other hand, I was worried that any flaws in a new series would reflect poorly on the original, potentially taking away from its inherent greatness in the annals of history. Fortunately for us all, the first season of Better Call Saul has defied all odds and become a landmark series in and of itself. Let's take a look at how Better Call Saul has become such a juggernaut.
[Mild spoilers for season 1 of Better Call Saul will follow.]
Focus on the "Past" Rather Than on Breaking Bad
When Better Call Saul was first announced, the creators talked about how the show would primarily be a prequel to Breaking Bad, showing how James "Jimmy" McGill (Bob Odenkirk) eventually becomes Saul Goodman. They also mentioned, though, that parts of the show would take place both during and after the events of Breaking Bad. While Better Call Saul easily could have catered to nostalgia by spending a lot of time in these familiar eras, the show has almost exclusively focused on a time six years before the events of Breaking Bad, and it is all the better for that. Sure, the opening sequence of the first episode showing Saul's life in Nebraska post-Breaking Bad is fantastic and definitely sets the tone for the series that we're getting, but the character of Jimmy McGill has proven to have a depth that I never expected. The 2002 time period has also allowed for an easy disconnect from the parent series. It not only explains why (most) characters from Breaking Bad would have no reason to appear, but it allows the story told to be more or less completely independent from the original, giving new viewers a chance to enjoy this show even without a clear knowledge of the events in Breaking Bad.
James McGill is Not Walter White
Throughout the events of Breaking Bad, we are made to feel bad for what Walter White is "having" to do in order to get by. His Shakespearean descent works because we care so much about the character in spite of the terrible things that he is doing. However, every action that Walt takes is done specifically in an attempt to get exactly what he wants from life. Jimmy McGill, on the other hand, is a completely different story. During the first season of Better Call Saul, Jimmy is shown to truly care about the people in his life, and he is always making an effort to make not just his life better but the lives of his friends and family better. This is particularly evident through his interactions in the first eight episodes of the season with his brother, Chuck (Michael McKean).
In Better Call Saul, Jimmy is tortured by having to do wrong in order to improve his situation. The entire storyline with the Kettlemans (played by Jeremy Shamos and the fantastically underrated Julie Ann Emery) shows that Jimmy will do whatever he has to in order to make things right, but it is extremely evident that he is conflicted by every decision that he makes. Whereas the story of Walter White was of a good man that "breaks bad" to get ahead in life, the story of James McGill is of a scam artist-turned-lawyer that truly wants to do the right thing. The unfortunate realization for those that know Breaking Bad is that Jimmy will ultimately fail in this goal, becoming the sleazy Saul Goodman. This knowledge, however, helps viewers sympathize with Jimmy in a way that may not be possible otherwise.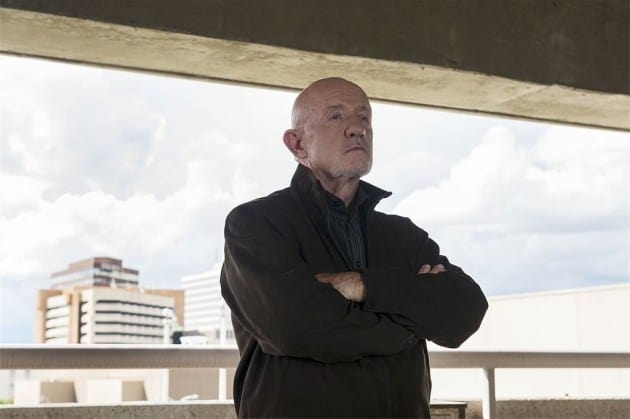 Mike Ehrmantraut
I fully believe that Mike Ehrmantraut (Jonathan Banks) is the best character currently on television. His appearances on Breaking Bad were mostly limited, but he dominated each time he appeared on-screen (who can forget the now-infamous "no half measures" speech?). Breaking Bad only hinted at much of the backstory behind Mike because, during that show's timeline, he is already well-established as the "cleaner" that he has become. Better Call Saul provides a way of taking a closer look at Mike's story, and this close look led to perhaps the finest episode of television so far in 2015 (this season's sixth episode, "Five-O"). During the events of Better Call Saul, we begin to sympathize with the already-sympathetic character of Mike in a way that even Breaking Bad didn't allow. Jonathan Banks is doing some of the best work of his career in this role, and I absolutely cannot wait to see more of Mike's story unfold as it catches up to when we first met him in Season 2 of Breaking Bad.
The Supporting Players
As great as Odenkirk and Banks are as Jimmy/Saul and Mike, respectively, this show would be nothing without the great new cast of characters that it has created in its first season. In addition to the previously mentioned Chuck, the main credited cast of Better Call Saul includes Rhea Seehorn as Jimmy's friend and love interest Kim Wexler, Patrick Fabian as Jimmy's lawyer nemesis Howard Hamlin, and Michael Mando as criminal "Nacho" Varga. Each main character is given ample opportunity to shine in this first season, and it has allowed the creators to show that there is plenty of room to explore unexpectedly intriguing characters in the universe that they have created. With that said, hopefully future seasons of Better Call Saul will feature these characters more prominently in the way that Breaking Bad was able to after firmly establishing the characters of Walt and Jesse. Speaking of Breaking Bad, I would be remiss if I didn't mention that there are plenty of unexpected reprisals in this season of characters from the original series, but each "cameo" is done in such a way that the character is established in this new timeline without needing to know who they eventually become.
The Season 1 finale of Better Call Saul airs on Monday, April 6, at 10/9c on AMC, and the show has already been renewed for a second season, which is set to air in 2016.
[Photos via AMC]
Tell us what's wrong with this post? How could we improve it? :)
Let us improve this post!