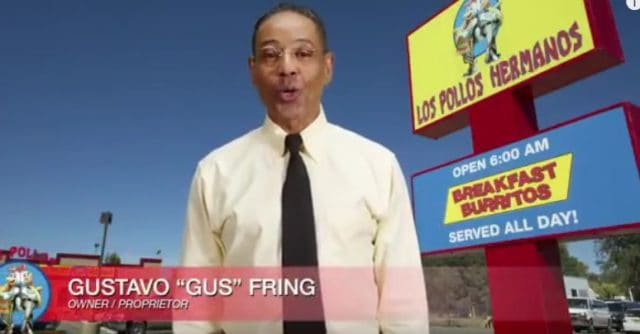 There is no question whatsoever that despite promises and the likelihood of a much darker season 3, Better Call Saul is sticking to the humor as it gears up for the premiere. To tell you the truth it's one of the things I like best about the show. For a series that tackles incredibly serious issues they manage to keep it nice and light…..at least in the promos. The latest in their humorous attempt to get us psyched for the premiere?
Check out Gustavo "Gus" Fring's new training video for Los Pollos Hermanos. I can't even begin to describe how awesome this is. With Giancarlo Esposito back as Gus Fring we all know what this season is in for. For one thing there's going to be a whole lot more tragedy. For another we're probably going to learn exactly how Mike decides to kill people. And finally, I'm guessing that Gus will be the catalyst to turn Jimmy into "Saul."
But in the meantime there's nothing more entertaining than a cheesy training video for a fast food chain that fronts as a crystal meth drug empire. See you at Breakfast!