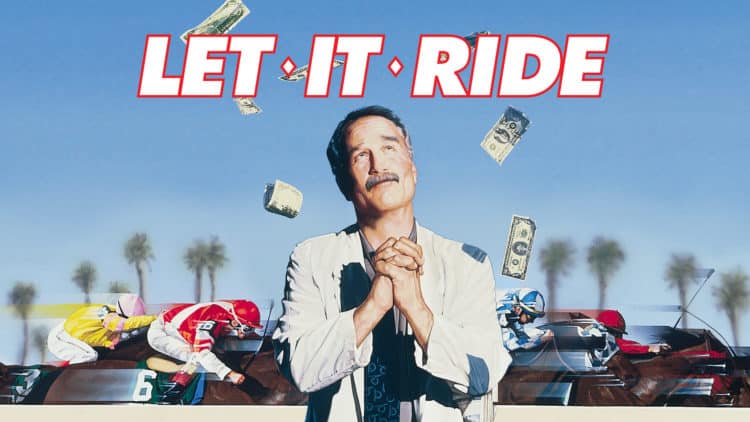 Although it has evolved over time, gambling has been around for thousands of years. From betting on events to playing card games, people have always been to risk something in hopes of gaining something even better. Although gambling can be glamorous in some instances, it can be very dark in others. This is something that Hollywood has explored time and time again over the years. Gambling movies have become very popular and it's easy to see why. They can be fun and exciting and they tend to appeal to people's thrill-seeking side. Even if you're not someone who gambles in real life, you can still enjoy these movies. Keep reading to check out our list of the 10 best movies about gambling.
19. Let It Ride
Lots of gambling movies tend to be on the more serious side but Let It Ride takes a completely different approach. The 1989 comedy stars Richard Dreyfuss as a gambler who ends up having an unusual good luck streak. Despite having a great cast, the movie was a bust at the box office and it didn't come anywhere near making its budget. Still, however, Let It Ride is a good movie to throw on when you're looking for something light-hearted to watch.
9. The Gambler
The 2014 movie The Gambler was a remake of the 1974 movie of the same name. Starring Mark Wahlberg as a professor who has a gambling addiction, he quickly finds himself in over his head when he borrows a large amount of money from a loan shark who threatens to kill him if he can't pay it back within 7 days.
8. 21
Released in 2008, 21 is based on the true story of the MIT blackjack team which had previously been written about in the book Bringing Down the House. The film depicted the realities of card counting and how it can be used to cheat the 'system'. The movie was a huge box office success but it did receive some backlash for casting mostly white actors when many of the real people involved were Asian American.
7. Atlantic City
Atlantic City, New Jersey is known for being home to several casinos and it's one of the biggest gambling hubs on the east coast. Needless to say, it was only a matter of time before a gambling movie was named after the city. The 1980 movie follows a young waitress named Sally (Susan Sarandon) who works at a casino in Atlantic City and dreams of becoming a blackjack dealer. Unfortunately, however, her husband's illegal activity threatens her dreams. Although the movie didn't make a ton of money at the box office, it was nominated for five Academy Awards.
6. Molly's Game
Molly's Game was one of those movies that deserved a lot more attention than it received. Based on a true story, the movie stars Jessica Chastain as a former competitive skier named Molly Bloom who got into the world of gambling after an injury ended her gambling career. The movie took viewers on a wild ride and it showed a side of gambling that many people never get to see.
5. Rounders
One of the scary things about gambling is that once people get addicted they're willing to risk more than they should. That feeling was at the center of Rounders. The movie focused on two friends who got caught up in high-stakes poker in order to pay off a huge debt. Despite not being a huge hit at the box office, Rounders has since become a cult classic.
4. Casino Royale
Everybody loves a good James Bond movie, and that's exactly what Casino Royale is. Starring Daniel Craig as the legendary spy, Casino Royale is sent on a mission that requires him to infiltrate a high-stakes poker game at the Casino Royale. However, Bond falls in love along the way which complicates his journey to achieve his goal.
3. Uncut Gems
Adam Sandler is most widely known for his comedic roles, but Uncut Gems was a perfect example of his range as an actor. In the film, he plays a gambling addict who is on a mission to find a rare gem that will allow him to pay off his debts. Uncut Gems is one of those movies that will leave you wondering what the hell you just watched – but in the best way possible.
2. Ocean's 11
When people think of gambling movies, Ocean's 11 is probably one of the first that comes to mind. The 2001 version is a remake of the 1960 film of the same name. The movie follows a group of friends who come up with an elaborate plan to steal $160 million from a casino. Ocean's 11 was one of the most successful movies of 2001 and resulted in two sequels.
1. Casino
The 1995 movie Casino is one of the most iconic gambling movies of all time. It features an awesome cast that includes Hollywood legends like Robert De Niro and Joe Pesci and it's an exciting tale of greed, power, and deceit. The film is set in the 1970s and centers around a monster named Ace (De Niro) who gets put in charge of a casino.
Tell us what's wrong with this post? How could we improve it? :)
Let us improve this post!