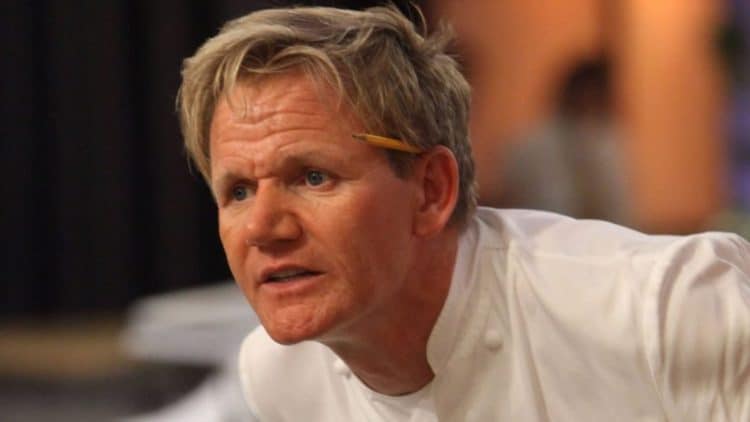 If there's one thing most people love, it's some good ole fashion competition. Combine that with delicious foods and you've got something that people can't resist. That's exactly why cooking competition shows have become so popular over the years. Whether the contestants are making gourmet dishes or baking great desserts, viewers watching people get the chance to flex their culinary muscles. At the same time, however, the market for cooking shows has grown so much that it can be difficult to decide which one to tune into. While all cooking shows have their pluses, there are definitely some that are more enjoyable than others. Keep reading to see our list of the 10 best cooking competition shows of all time.
10. Kitchen Crash
Most people can relate to the feeling of having to get creative and put a meal together out of the random ingredients that are left in the fridge. That's one of the reasons why the concept behind Kitchen Crash is so entertaining. In the series, chefs go to people's doors and try to persuade homeowners to let them inside and raid the fridge. Once the chefs scope out what's in the kitchen, they're then tasked with putting a dish together. Since the cooks never know what kind of ingredients they're going to get, this show pushes them to really think outside of the box. That said, there are certain elements of the show that seemed scripted/fake which may be off-putting to some viewers. That's why Kitchen Crash came in at number 10 on our list. At the moment, HGTV has not announced whether the show will be renewed for a second season.
9. Worst Cooks in America
Watching professional chefs do their thing in the kitchen is fun, but sometimes it's nice to see "regular" people put their skills to the test. That's what Worst Cooks in America is all about. Instead of being known for their talents in the kitchen, these contestants are known for the exact opposite. Throughout each season, the contestants go through a cooking boot camp. For their final challenge, contestants are asked to make a three-course meal for a panel of judges. The person that comes out on top wins a cash prize and a cooking set. Since the people on this show are terrible at cooking, it adds another layer of fun to the series.
8. Cooked with Cannabis
If you're 420 friendly, Cooked with Cannabis is definitely a cooking show you'll want to add to your watch list. The series premiered on Netflix in 2020 and is co-hosted by Leather Storrs and singer turned chef, Kelis. As you can probably guess by the title, Cooked with Cannabis challenges participants to make their very best infused dishes. If you thought that marijuana edibles only consisted of cookies, brownies, and gummies, you've got another thing coming. The person who wins the competition takes home bragging rights and a $10,000 prize. This show gives viewers a glimpse into a different side of the culinary world and it takes an angle that is unlike all of the other shows on this list.
7. Nailed It!
If you have a sweet tooth, then Netflix's Nailed It! will be right up your alley. This competition show is all about desserts and you'll probably be in awe by some of the things that are possible with cakes. Like Worst Chef in America, the contestants on Nailed It! are amateurs whose baking skills leave a lot to be desired. In the show, their first goal is to recreate an existent extravagant cake. In the second round, however, they have to come up with their own idea. Each of the bakers is hoping to "nail it" and be the last person standing. The winner of the show gets a $10,000 prize.
6. Guy's Grocery Games
The concept of Guy's Grocery Games is an interesting gross between something like Supermarket Sweep and Kitchen Crash. The show takes place over the course of three rounds. At the beginning of each round, Guy Fieri assigns the chefs the dish they need to make and also gives them a challenge. They are then sent on their way to the grocery shop for all of the ingredients they need to prepare the dish. However, the reality of this show is a lot more complicated than it seems. The challenges can range from things like having a very small budget to having to improvise because the store is out of certain ingredients. Since there's more to Guy's Grocery Games than just cooking, the show has more of a universal appeal. Plus, grocery shopping is something that most people can relate to.
5. Cupcake Wars
Cupcake Wars is another show for all of the sugar lovers out there. This show follows a similar format to chopped, except cupcakes and cakes are the primary food items. Even if you think you've seen some cool cupcakes, you've probably never seen anything like the kinds of things bakers come up with on Cupcake Wars. The episodes take place over the course of three rounds, during which the bakers are asked to make cupcakes that follow a specific theme. People are eliminated after each round until there is only one person left. The last baker standing wins $10,000. They also get the opportunity to bake for an upcoming event. Unfortunately, Cupcake Wars ended in 2018, but you can still stream some of the episodes online.
4. MasterChef
Based on the British series of the same name, MasterChef debuted in the United States in 2010, and it's been a fixture on our screens ever since. Even though MasterChef is open to people who are not professionals in the culinary field, all of the people on this show have some serious talent in the kitchen. Contestants on the show are put through a series of challenges that are designed to make them try things they've never done before. The competition on this show is especially tense because the chefs are competing to win $250,000 as well as the title of MasterChef.
Not only is MasterChef fun to watch at home, but it can also be a life-changing experience for the contestants. Over the course of the show's run, MasterChef has helped dozens of people get their foot in the door in the cooking world.
3. Top Chef
Top Chef is one of those shows that's hard to stop watching once you get started. Unlike several other cooking shows in which there are new competitors each episode, Top Chef follows a progressive elimination format. The season begins with 12 to 19 chefs, and people are regularly eliminated throughout the season. Every episode consists of two challenges, and the person who wins the first is typically given immunity from being eliminated in that episode.
While cooking is at the center of the show, these chefs also have some of their other skills put to the test. Can they provide good customer service? Can they manage a kitchen under pressure? All of these things come into play in Top Chef and the competition is incredibly intense. The prize money has varied throughout the show's run, but it has always stayed within the six-figure range. On top of that, being crowned the Top Chef can really do wonders for a person's career after leaving the show.
2. Chopped
Chopped is easily one of the most popular cooking competition shows, and it's easy to see why. It has the perfect mix of competition, fun, and creativity. Chopped consists of three rounds in which the contestants are given a basket of ingredients and they have to come up with a way to use them all. To make things even more intense, they only have 20 to 30 minutes to come up with a great dish. Their final products are then critiqued by a panel of judges and one person is selected to be eliminated from the competition (AKA chopped). The winner earns a $10,000 prize.
Chopped is enjoyable because it's always cool to see what kinds of new things the contestants come up with using their limited ingredients. Viewers are often surprised by how the chefs are able to make random things blend together so nicely.
1. Hell's Kitchen
Hell's Kitchen has been on the air for more than 15 years, and during that time it has worked its way into the hearts of countless people all over the world. This is arguably the most intense show on the list, and that's one of the things that makes it the best. One of the things that sets this show apart from many others is that the contestants compete in teams. At the start of the season, Gordon Ramsay divides the competitors into two teams. Each team works under Ramsay and his colorful commentary only adds to the pressure they're already feeling. While some people have criticized Ramsay's brash approach, lots of viewers really love it. There are probably some people out there who tune in just to hear what kinds of things he's going to say. The winner of Hell's Kitchen gets $250,000 as well as the opportunity to work as the head or executive chef at a restaurant Gordon Ramsay selects.
Tell us what's wrong with this post? How could we improve it? :)
Let us improve this post!