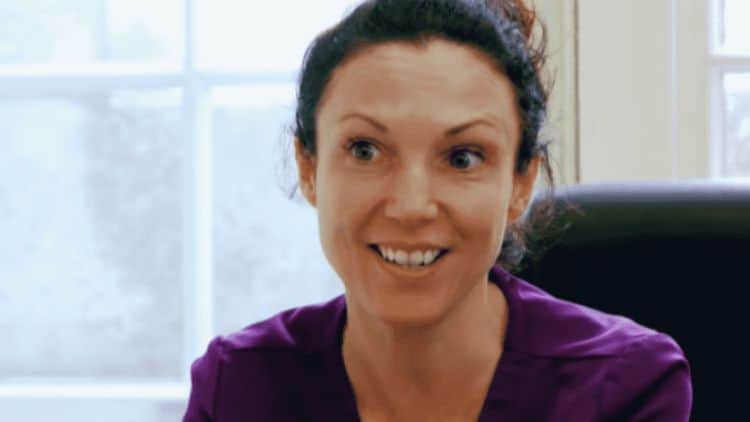 In recent years, the term 'reality TV' has come to mean more than just shows about strangers living together or competing against each other. These days, the genre has grown to include shows that touch on more serious issues such as medical conditions. TLC's Save My Skin is one of the latest to be added to the bunch. The show follows UK-based dermatologist, Dr. Emma Craythorne as she works to help treat some very serious skin issues. Similar to the network's other show, Dr. Pimple Popper, Save My Skin will feature patients whose skin ailments are greatly impacting their quality of life. However, popping things isn't Dr. Craythorne's main focus.
While it's clear that Save My Skin isn't the best show for people with weak stomachs, what isn't as clear is whether or not what we see on the show is real. After all, reality TV has been known to stretch the truth (to say the least) and viewers are now skeptical of any show that claims to be real. Is the show Save My Skin fake? Keep reading to find out.
Who Is Dr. Emma Craythorne?
When discussing the validity of a show like Save My Skin, the first thing people wonder is whether the doctor is legit. When it comes to Dr. Craythorne, the answer is yes. According to her website, "Dr Emma Craythorne MBChB FRCP is a Consultant Dermatologist, Dermatological and Laser Surgeon and Mohs Micrographic Surgeon at the St Johns Institute of Dermatology at Guys and St Thomas Hospital NHS Trust. Dr Craythorne is Lead of the Specialist Skin Cancer Multi-Disciplinary Team." Dr. Craythorne has become widely respected across the UK for her skill and professionalism. She's the kind of doctor who isn't afraid of a challenge and brings compassion and professionalism to every patient she works with. Although Dr. Emma is the person we see most on the show, her office consists of a team of talented professionals who are ready to do everything they can to help their patients.
Is The Show Real?
As with any other reality show, there's a good chance that Save My Skin is edited in a way that manipulates things for the same of entertainment. Other than that, however, there doesn't seem to be any information to suggest that the show isn't real. The people who are featured as patients really are seeking treatment from Dr. Craythorne and she's happy to help. In fact, she hopes that the show will be educational for viewers and help destigmatize skin conditions. One thing viewers will see throughout the season is that many of Dr. Craythorne's patients are dealing with stress and anxiety because of their skin. For many of the patients, seeing Dr. Craythorne is their last hope as they've already been told that other dermatologists won't be able to help.
All of that said, Save My Skin is still such a new show that behind-the-scenes information hasn't really had a chance to leak. In reality, though, people on reality shows usually have to sign pretty strict nondisclosure agreements that prevent them from discussing the show's production process.
How To Get An Appointment With Dr. Craythorne
Now that Dr. Craythorne is famous all over the world, there are a lot of people who are interested in knowing how they can get an appointment with her. The good news is that she appears to still be accepting new patients. The contact page on her website lists a phone number people can call to find out more information on the services she offers, but there doesn't appear to be any way to make an appointment directly through the site.
Many people will also be happy to know that Dr. Craythorne is now offering virtual consultations to allow people to get medical attention from the comfort of their own homes. As you can imagine, this service has come in very handy during the pandemic. Per the instructions on her website, patients who are interested in a virtual consultation much take a clear picture of their skin and email it to Dr. Craythorne's office. There is no information on how patients are chosen for this service or how long the process takes.
Will The Show Get A Third Season?
Save My Skin is officially back for its second season and fans are already hoping for a third. While no announcement has been made, there's a good chance it will be renewed. People seem to love these kinds of shows and it's always nice to watch people walk out of Dr. Craythorne's office feeling more confident than ever before.