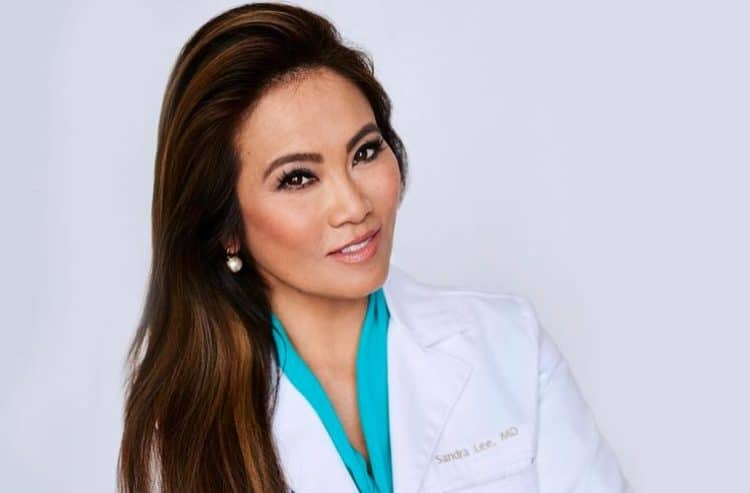 Dr. Pimple Popper is a dermatologist who has her own reality television show. Her name is Dr. Sandra Lee. She's an American physician who was born in 1970 in Flushing, New York. She works out of her office in Upland, California and offers relief for patients who live with uncomfortable and often disfiguring dermatological conditions. How did she come to be known as Dr. Pimple Popper? We checked into her interesting history and here is what we found.
It began with YouTube
Dr. Lee made a few videos in 2010 and uploaded them to her YouTube channel. She started out with just a few videos at first, but started increasing the number of posts in 2015. Her posts were becoming more popular so she offered the patients who were willing to agree to having their procedures aired a discount on the services and in some cases, free treatment.
She launched skin care product line
Dr. Sandra Lee stayed true to her mission to improve skin health and launched her own line of skincare products in 2017. The name of her exclusive brand is SLMD Skincare Products which stands for Sandra Lee MD. The product line features a daily moisturizer, a clarifying treatment that includes retinol, an acne cleanser and a lotion. Under the branding of her channel, she had previously marketed comedone extractors as well as other items.
Her education
She attended UCLA, Drexel University and Southern Illinois University. She was an undergraduate while attending UCLA. She had a part time job working as a medical assistant for an LA allergist. She earned her degree from UCLA then attended the College of Medicine at Drexel University. She graduated wit her degree in 1998 and wet on for her residency in dermatology through Southern Illinois University. When she completed her residency there, she continued development of her specialty at Sat Diego to refine her skills in laser, dermatological and cosmetic surgery. She is a board certified dermatologist.
How she came to be know as Dr. Pimple Popper
Dr. Lee gained a lot of attention from the public after she posted a video of multiple blackhead extractions. This was posted on her Instagram account in 2014. The video was also poster to her YouTube channel. When she started doing videos of cyst ad pimple removals this is how she came to have the name Dr. Pimple Popper and it was her own creation.
She took to social media
Dr. Lee posted videos which showed her removing a variety of cysts, pimples and treating other dermatological conditions. The videos were not only interesting but they were also educational. The videos were shown over several social media platforms.
How she got her start in television
Dr. Sandra Lee appeared as guest on the 12th episode of the 8th season of Tosh.0. She was also invited to appear on s couple of episodes of The Doctors, which is a medical talk show.
Television
Lee was featured on Season 8 Episode 12 of the TV series Tosh.0, as well as a few episodes of the medical talk show The Doctors.She also appeared on Jimmy Kimmel Live in 2014 as a guest. She was given her own television series on the TLC network called Dr. Pimple Popper. The network signed a contract with her for a second season of Dr. Pimple Popper which is set to premiere in January of 2019. Surprisingly, Lee does not get paid for the series. She considers the boost that it gives her professional career as a dermatologist payment enough. This is how the show Dr. Pimple Popper came to be.
Other interesting facts about Dr. Sandra Lee.
Lee is married to Dr Jeffrey Rebish. The two work together at the Skin Physicians & Surgeons facility in Upland, California. She's been a professional dermatologist since 2010 and continues to work at the center in Upland with her patients. She has received more than 2.5 billion views on her YouTube channel and she has over 4.5 million subscribers. She's performing a very valuable service through the videos that she shares as well as through her television show that explains some common as well as uncommon skin conditions. It helps viewers to better understand what might be happening with their bodies and lets them know when it's time to seek professional help. Lee has publicly scolded a few patients who have tried to address some of their own conditions through home surgical procedures which are never recommended.
Tell us what's wrong with this post? How could we improve it? :)
Let us improve this post!