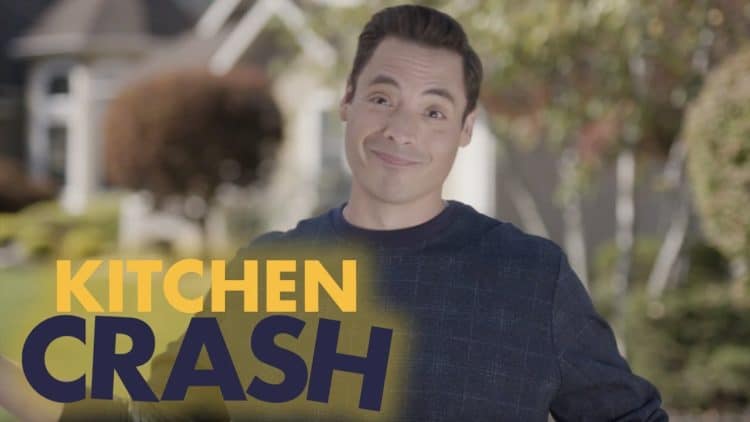 If there are two things that are guaranteed to get the attention of American viewers they're food and a little friendly competition. The Food Network's new series Kitchen Crash brings both of those things. Hosted by Jeff Mauro, the series puts a new twist on the classic cooking competition show. During each episode, Jeff shows up at a 'random' house, knocks on the door, and asks to raid the fridge. Chefs will then be tasked with cooking using only the ingredients found on the refrigerator. As you might be able to guess, things on this show can get very interesting very quickly. Keep reading for 10 things you didn't know about Kitchen Crash.
1. Chefs Only Have 10 Minutes To Convince People To Let Them Use Their Ingredients
One of the cool things about Kitchen Crash is that the competition aspect of the show starts long before any cooking takes place. When chefs arrive at people's doors, they only have 10 minutes to convince the family to let them use their ingredients. While these chefs may me pros when it comes to cooking, they'll have to dig deep to find some sales skills, too.
2. The Show's Host Is Known As The Sandwich King
The right host can seriously make or break a show, and it looks like The Food Network struck gold with Jeff Mauro. Not only does he have the perfect personality for keeping everybody engaged, he also has plenty of food experience himself. He is a professional chef known as the Sandwich King and he has hosted other Food Network shows in the past.
3. It's Unclear Whether The Houses On The Show Are Really Chosen At Random
We weren't able to locate any information on how families/houses are chosen for the show, so we can't say for certain whether or not it's really a surprise. That being said, however, there's a very good chance that all of the houses are predetermined and the owners have at least some idea that the crew will be coming.
4. There Is A Cash Prize At Stake
A good prize is at the heart of every competition. After all, knowing that there's something worth winning is enough to motivate most people. While Kitchen Crash does have a cash prize for the winner, it's not really anything to write home about. The winning chef will receive a $10,000 prize which they will split with their host family.
5. Some Of The Chefs May Look Familiar
If you ever get the feeling that any of the chefs featured on the show look familiar, that could be because you've seen them before. Some of the chefs have already competed on other cooking competition shows on the Food Network and other channels. At the same time, however, there will be lots of fresh faces.
6. Each Episode Features A Different Challenge
Watching the same chefs make the same types of dishes every episode would get old quick. Luckily, Kitchen Crash has a solution for that. Each week, the chefs will be given a different challenge. For example, during one episode, they were tasked with making something 'stuffed' out of the ingredients they found.
7. Show Extras Are Available On The Food Network Website
These days, people like to keep up with their favorite shows even in between episodes. Fortunately for Kitchen Crash fans, The Food Network makes it easy to do just that. The network's website features a series of show extras, clips, and additional pieces of content.
8. The Show Is Filmed In Different Locations
Due to the nature of Kitchen Crash, filming doesn't always take place in the exact same place. Although the show seems to be filmed between New York and northern New Jersey, the show visits different towns and neighborhoods. Another interesting twist is that chefs are tasked with cooking at makeshift stations in the street.
9. The Show Is Family Friendly
If your family consists of people of all ages it can feel impossible to find something that you can all enjoy together. You'll be happy to know that Kitchen Crash is the type of show that everybody can watch and enjoy. You might even come across some cool recipe ideas that you can incorporate in your home.
10. There Are No Official Social Media Accounts
TV shows with their own social media accounts is becoming more and more popular. Sadly for Kitchen Crash fans, the show doesn't appear to have any official accounts. All of that could change, however, if the show gains popularity and establishes itself as a long running show.