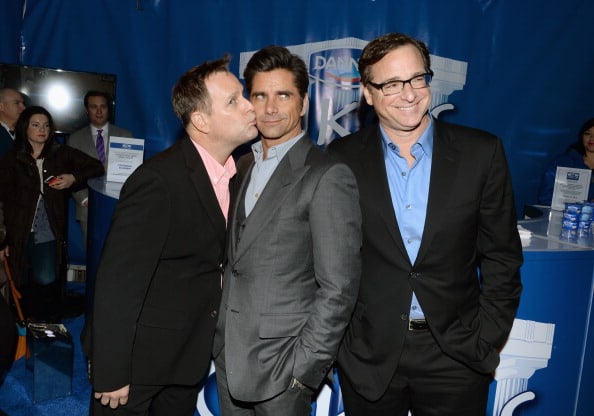 Full House was a hugely popular sitcom on ABC from 1987-1995. It started out as part of the TGIF lineup then moved to Tuesday nights beginning in its fifth season and would stay there through the series eighth and final season. The sitcom did not become a hit until it began airing after the very popular Perfect Strangers. The series would rank as high as the eighth most watched show on television and averaged 16 million viewers. 192 episodes were produced over the eight years. We at TV Overmind decided to pick our five favorites.
Here is our list of the five greatest Full House episodes. We have even provided a clip from each episode to help you remember them a little better.
5. A Pox in the House, Season 1 Episode 15, Original Air Date January 29, 1988
During the 80's and 90's it was not uncommon for a television series to have an episode centered around Chicken Pox. Now that children have a vaccination for the disease, the episodes have disappeared. Out of all the television shows that featured a Chicken Pox storyline this Full House episode is one of the greatest and the fifth best episode of the entire series. Stephanie ends up contracting the pox and spreading it it both Jesse and Joey. Danny has to attend an important work function and is in need of a baby sitter. Eldest daughter DJ skips her sleepover to take care of everyone. This Full House episode features a scene where Danny is pretending to have a phone conversation with Michelle, who is playing with a toy phone. Michelle ends up hanging up on Danny, which is truly perfect acting from whichever Olsen twin is playing Michelle during the scene. Danny also sings a song to Jesse, Joey, and Stephanie that my family always cracks up whenever we watch it.
https://www.youtube.com/watch?v=5Z-RI8TtEAE
4. I'm Not DJ, Season 6 Episode 10, Original Air Date December 1, 1992
Though it is clear in earlier episodes that Stephanie actually had pierced ears, we need to forget that's the case with this episode. Stephanie is tired of having to do things when DJ did them. Danny will not allow Stephanie to pierce her ears, so she thinks it is a good idea to have Kimmy pierce them for her. In the end, Stephanie gets a really bad infection in both ears. We get to see some humor from Michelle in this episode when she actually asks her sister if she is nuts for letting Kimmy pierce her ears and from DJ when she says, "You let Kimmy punch a hole in your body? Why didn't you just fall on a rusty nail?" This episode also features Danielle Fischel one year before she began playing Topanga on Boy Meets World.
3. The Test, Season 7 Episode 15, Original Air Date January 11, 1994
DJ was always a good student, except for maybe that one time she was failing Spanish. It was surprising that someone as studious as DJ would freak out about taking the SAT's. DJ was cramming for the college entrance examination and ends up falling asleep and experiencing a crazy nightmare. In the dream, DJ forgets a calculator and must use an adding machine instead. She must also use number 4 pencils. Uncle Jesse even stops by and gives DJ a breakfast burrito that has a walkie talkie in it. He proceeds to steal the test answers and recites them to her. Vanna White even stops by to grade the tests and to inform everyone that Kimmy got a perfect store and will be headed to Stanford, while DJ is destined for clown college. DJ does end up getting into Berkley so we can assume she did just fine on the test.
2. The Hole-in-the-Wall Gang, Season 4 Episode 21, Original Air Date March 1, 1991
One of the reasons I think this is a top Full House episode is for the fact that DJ and Stephanie actually get away with doing something wrong. Usually at the end of a Full House episode, one of the kids admits to wrongdoing or gets caught and then is grounded. Oh yes, there is also a group hug. In this episode, Stephanie wants to be exactly like DJ. When DJ wants to wear Danny's clothes, Stephanie follows her into his bedroom. The two argue and end up putting a hole through the wall. The two fix the hole by patching it up and moving all the furniture along the wall to throw Danny off. They even get Michelle in on the fun by having her recite her phone number with her eyes closed to distract Danny so they can finish hiding their crime. The two concoct a song about their father that includes the lyrics: He has a really great room/He keeps it that way with a mop and a broom. Pretty catchy for something they just thought up on the spot.
1. Honey, I Broke the House, Season 3 Episode, 20 Original Air Date March 9, 1990
Earlier this year, I had the privilege to interview Lori Loughlin, who played Aunt Becky on Full House. Her and I were able to discuss some highlights of the show and her and I both agree that "Honey, I Broke the House" is by far the greatest Full House episode. The premise is fairly simple. Joey needs to go get some touch-up paint for his classic car and walks down the street to go purchase some. Stephanie, while being left unsupervised, decides to sit in Joey's car and pretends to drive it. She ends up starting the car and putting it into reverse, mistaking the "R" on the dashboard to mean radio. The car goes through the kitchen and destroys the family home, which is perfectly fine the following week. Stephanie runs away to Becky's house. When Jesse comes looking for her, she hides in the closet. He opens the closet the door and finds Stephanie hanging inside a coat on the back of the door. Jesse asks what she's doing and her response is, "Oh… just hanging around." That moment cracks me up every time I watch this classic Full House episode.
What was your favorite Full House episode? Let us know in the comments section below.
Photo by Andrew H. Walker/Getty Images for Dannon Oikos