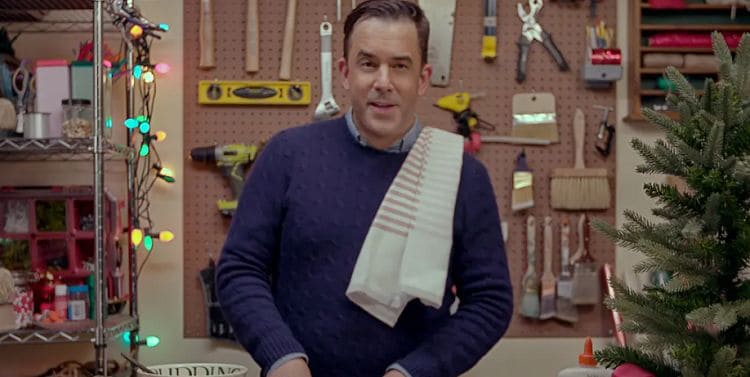 Thanks to COVID-19, the 2020 holiday season just doesn't have the same jolly feel most people are used to. Benjamin Bradley AKA Mr. Christmas intends to do something about that. In his new Netflix series, Holiday Home Makeover with Mr. Christmas, Bradley will be working with families to help transform their homes into the perfect Christmas wonderland. With lots of creatity and some extra holiday cheer, Benjamin will work hard to give these families the perfect holiday set up. If you need a bit of extra boost to get into the Christmas spirit this year, Benjamin Bradley is here to save the day. Keep reading to learn 10 things you didn't know about Benjamin Bradley.
1. He Is Originally From Indiana
Santa Clause may be from the North Pole, but Mr. Christmas isn't. Benjamin Bradley was born and raised in southern Indiana and he is very proud of his midwestern roots. He decided to relocate to New York City during the early 90s and he still lives there today.
2. He Has Always Loved Christmas
Even before he earned the nickname Mr. Christmas, Benjamin has always had a special place in his heart for the holiday. Benjamin told the Courier & Press, "Christmas has always been something that walked alongside me my whole life. As a little boy, I remember dragging a dead Christmas tree back to the house. I guess I was going to decorate it and do the whole thing all over again. So that's a big part of who I am."
3. He Attended Purdue
After high school Benjamin decided to stay close to home and attend Purdue University, but we weren't able to find information on where he majored in. When he moved to New York City he enrolled in the Fashion Institute of Technology where he earned a bachelor's degree.
4. He Works For An Interior Design Company
Benjamin's love for Christmas isn't the only thing that makes him qualified to host a show like Holiday Home Makeover, he also has lots of experience working in the interior design world. He is currently a principal designer at E&C Home Interiors and his expertise comes in very handy throughout the show.
5. He Has Two Instagram Accounts
These days lots of people like to blend their personal and professional lives on social media, however, Benjamin has decided to take a different approach. He has one Instagram account where he posts content related to his personal life and his full-time job and another account dedicated sole to Holiday Home Makeover.
6. He Is A Member Of The LGBTQ+ Community
Bejamin is an openly gay man and he has been in a committed relationship for several years. We weren't able to uncover any information about his partner, but it does look like he shares Benjamin's love for Christmas. The two have traditionally hosted a big holiday party each year, but they've decided to cancel this year due to the pandemic.
7. He Never Planned On Being On TV
Holiday Home Makeover is Benjamin's first time working on a TV show, and it's something he never really planned on doing. He wasn't someone who had been hoping for a chance to work into the entertainment industry, but sometimes the best opportunities are the ones you weren't even looking for.
8. He Loves To Explore
New York City may not have as much as much nature as Benjamin's home town but he still likes to get out and explore the beauty of the outdoors. When he has free time, he likes to spend it going for walks through the city and enjoying the scenery. He also loves snapping photos of the things he sees.
9. He Is A Dog Dad
Benjamin and his partner don't have any children, but they're still parents in their own right. Benjamin is a proud pet parent to an adorable dog. Since most of the content on his Instagram is focused on his interior design projects, he dog doesn't make too many appearances.
10. The Opportunity To Do The Show Came From A Friend
In many cases, people on reality TV shows have been shopping their ideas around for a while, but in Benjamin's case the opportunity came to him. He told Architectural Digest, "I actually had made a vow to myself that it was going to be my year of saying yes. I was going to say yes to every dinner invitation. Yes to everything—because I cancel a lot on reservations. So when a producer friend asked if I was interested in making a show, I said sure."