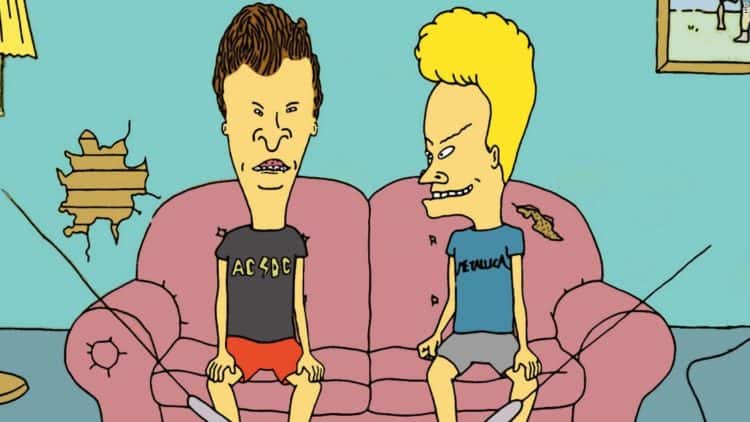 "Beavis and Butt-Head" was a show on MTV, once revived, that features two very 1990s teenagers being young, dumb, and well, dumb. The two wouldn't really do much but the show overall attracted a large audience during a time when MTV was creating a unique lineup of cartoons. Other cartoons that MTV had shown over the years were always somewhat lingering of "Beavis and Butt-Head" in some way I suppose with teenage antics and pop culture heavily influencing each episode's outline or possible story. Following this approach made most of MTV's programming quite relatable within different demographics immediately and help them establish characters faster than most networks already flooded with cartoons could. Below we've gone into detail on what we know so far on the upcoming "Beavis and Butt-Head" movie, some information Mike Judge shared on his Twitter regarding the possible looks of the characters and the movie, a movie update, as well as the history of "Beavis and Butt-Head" itself.
Mike Judge
Mike Judge may not be what you connect to "Beavis and Butt-Head" but the creator of the show is also known for creating another atypical cartoon, this time the adult animated sitcom "King of the Hill". "King of the Hill" had a strong cult following since the show ended its run so there have also been calls for the return of Bobby Hill, his father Hank, and mother Peggy but we'll have to see where that goes. Right now it appears as though Mike Judge has his eyes set and locked on creating upcoming "Beavis and Butt-Head" content for Paramount Plus. Originally, "Beavis and Butt-Head" premiered on MTV, even for the surprise one-off revival season, but the upcoming "Beavis and Butt-Head" movie was inked with Comedy Central in 2020 under the larger umbrella of Paramount, the same parent company of both Comedy Central and MTV so the two clowns we've already grown to love will feel right at home.
Beavis and Butt-Head
"Beavis and Butt-Head" became pop culture icons themselves, wearing ACDC and Metallica shirts every single day while sitting on the couch or ruining other people's lives. "Beavis and Butt-Head" had very unique, yet dull, personalities as they would constantly fight me with each other about the dumbest of reasons but would have surprisingly brilliant opinions on things but those "things" tended to just be pop-culture discussions so brilliant may not be the best word to describe a so-called Butt-Head. Overall the original Beavis and Butt-Head premiered from 1993 to 1997, with Mike Judge voicing both characters, as well as the first revival in 2011. Personally, I loved the "Beavis and Butt-Head" revival's modern take on all things pop culture and was all for more episodes of "Beavis and Butt-Head", as well as more than one season of the show shared a block with the Beavis and Butt-Head revival, Good Vibes". There was actually a spinoff of "Beavis and Butt-Head" that featured their classmate Daria, that shared her name. Beyond the spinoff, which was much different from "Beavis and Butt-Head", "King of the Hill" was also rumored to be based on the southern neighbor of Beavis and Butt-Head that the two have always gotten in the way of.
Upcoming Beavis and Butt-Head Movie
"Beavis and Butt-Head" have already had a previous movie that debuted in theaters called "Beavis and Butt-Head Do America" but as streaming is the new norm, this new project and most likely anything else that comes after will remain available exclusively on Paramount Plus. However, this upcoming movie that is still considered untitled, at least to the public, seemed to be making progress as of late with Mike Judge sharing potential sketches of the apparent former teenagers as the two now seem to be much older, in the creator's drawing that he had tweeted. A specific release date has yet to be announced but with the unique art style of "Beavis and Butt-Head", it could be anytime between this year and 2023, but as few details are known we will have to wait to know for sure. If the new special is anything like the newer South Park pandemic and COVID specials, we'll get a look into a possible future due to either COVID or just ill friendships but it's likely that any "Beavis and Butt-Head" content, regardless of its a special or movie after this, will likely be called present day. Fans of the original "Beavis and Butt-Head" movie "Beavis and Butt-Head Do America" may notice that the movie update, older versions of Mike Judge's characters look eerily similar to the motorcyclists the boys met in the movie.