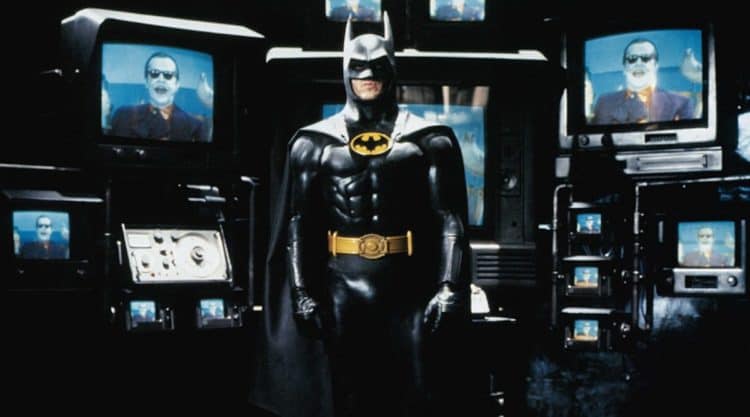 With no shortage in sight for entertainment on HBO Max, it comes as no surprise that the cable and streaming giant would be dipping their toe into the world of podcasts. After acquiring the Warner Bros./DCU library, HBO Max will be centering their first podcast around one of the tentpole heroes of the DC Universe, Bruce Wayne aka Batman. Batman: The Audio Adventures will be premiering its first episode on Saturday, September 18th, 2021, in order to coincide with none other than Batman Day. But what can the fans expect from this new way to experience their beloved Dark Knight and his gallery of rouge villains?
Right of the bat (pun intended), the cast is a fantastic array of well-known celebrity voice talent with Jeffery Wright playing the titular caped crusader/Bruce Wayne. Somewhat fitting given the fact that Wright will be starring in the upcoming The Batman as Commissioner James Gordon alongside Robert Pattinson as the new Batman. According to Comicbook.com, other actors attached to the project include Rosario Dawson as Selina Kyle/Catwoman and John Leguizamo playing The Riddler, along with other notable names the likes of SNL alums Chris Parnell, Melissa Villaseñor, Seth Meyers, Tim Meadows, Fred Armisen, Heidi Gardner, Bobby Moynihan, Kenan Thomson, Jason Sudeikis, Star Trek: The Next Generation's Brent Spiner, as well as Ike Barinholtz, Alan Tudyk, Brooke Shields, Paul Scheer, and Ray Wise. Unfortunately, it has not been reported about who will play who in the sweeping Gotham drama.
The show will be penned and directed by another talented Saturday Night Live name, Dennis McNicholas who wrote for the sketch show from 1996 through 2021, earning him two Emmys and a WGA Award. Batman: The Audio Adventures will be his first directing credit. With sound and music being a linchpin of any successful audio-based experience, composer Doug Bossi has been brought on board to write the score for the show. His credits include A slew of television projects dating back to 2009 and many of his songs have been featured in feature films such as the reboots of Robocop and Straw Dogs, Easy A, and The Perks of Being a Wallflower.
Now for those not in the know, the experience of scripted podcasts is not all dissimilar to the radio shows of yesteryear where serialized episodes of Little Orphan Annie and Superman had actors portraying their favorite comic strip personalities before the advent of television took over. The shows would feature exciting music cues, fun performances by trained voice actors, and in-studio foley effects to keep the listener engulfed in the world of the story.
This wouldn't be the first time the hero of Gotham has graced the ears of audiophiles. Although the character didn't have the clout he has today, Batman did appear in several radio shows featuring the more iconic for the era counterpart Superman. Otrcat.com gives a brief history of Batman's role in early radio shows:
The Adventures of Superman radio show ran for 2,062 episodes between 1942 and 1951, whereas Batman only had a few scattered episodes on his own. These include the single episode of The Batman Mystery Club and Batman and Robin's Christmas Carol Caper. However, Superman on the radio needed the help of the Caped Crusader and his sidekick Robin on several occasions. To be sure, Batman was more likely to be written into the plot when Superman star Bud Collier was due for some time off, but Batman was an important part of Superman's radio world.
Podcasting is the perfect format to bring back the art of audio storytelling? The entire concept is ripe for reimagining and what better place to start than with some of the source material that worked so well back in the early days of radio. Batman on the big screen, with his costumes and gadgets, as fun as he is, often gets led astray from one of his earlier monikers, The World's Greatest Detective. Directors and studios are so quick to throw away the one thing that made Batman so iconic in the comics, he was a detective first, a fact that just about every movie adaptation fails to get right. You never see him searching for clues or working out a problem. He just shows up, explosions ensue, and sadly substance takes a backseat to the spectacle. With this podcast, maybe for once, the audience will be dazzled by strong writing and powerful acting, where, heaven forbid, one's imagination gets to fill in the gaps in the action instead of an overly CG stunt show. Oddly, however, the entire performance will be in an audio-only format and only found on HBO Max.
If you need a little bit more, you're in luck. DC has commissioned an 80-page, prestige format one-shot comic for the podcast which will come out in October. The book work as a prequel story to Batman: The Audio Adventures and will feature the writing talents of those already involved: Dennis McNicholas, Bobby Moynihan, Heidi Gardner, Paul Scheer, amongst others, with art by Leonardo Romero, Juni Ba, and more, along with cover art by Dave Johnson.
All and all, this should be an interesting and nostalgic way to enjoy one of our favorite comic book legends.