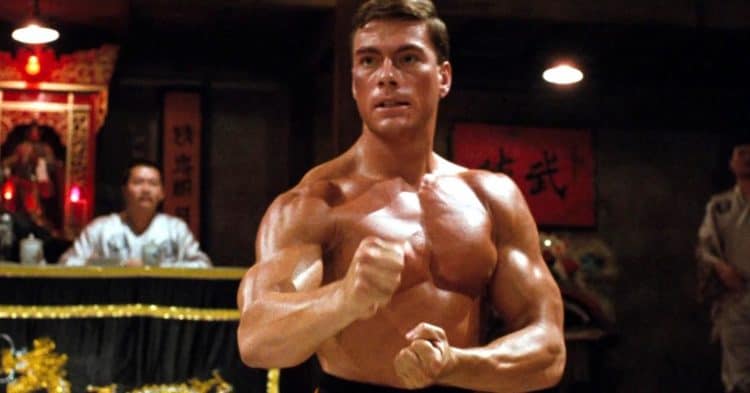 If you're a fan of marital arts and action movies, then you have to love Jean-Claude Van Damme. It's practically impossible not to. As far as action stars go, this man is about as legitimate as it gets. He has been a big star in the action movie game for decades, but after his next movie, he is officially retiring. The sad news was announced by the Muscles from Brussels himself during an interview with Deadline. During the interview, Jean-Claude Van Damme discussed the details about his upcoming movie What's My Name?, which will be a pseudo-autobiographical tale where Van Damme plays a fictionalized version of himself. This isn't the first time he's done this, since he basically did the same thing in JCVD. That was a fictionalized story that revolved around Jean-Claude Van Damme at the lowest point in his life. People are well aware of who he is in his homeland of Belgium, including a group of bank robbers who held him hostage. That was a very intriguing movie, because even though it was a fictionalized story of Van Damme's, it touched on some real struggles he went through.
Who thinks What's My Name? will do something similar? If this is indeed Jean-Claude Van Damme's final movie, then I hope it ends on the highest of high notes. What are the details we know about this movie? According to Van Damme himself, his character will be approached by some former opponents he has tangled with before in past movies. The way he described it was basically Bloodsport, but on a different level. That sounds like serious step up, since I just recently revisited Bloodsport on HBO Max and have to say, it's hard to top that classic. Talk about the validity of Frank Dux's career all you want, but Bloodsport was quite the ride. Just remind the naysayers that this movie is what made Jean-Claude Van Damme a star in the United States and kicked off his career. I mean, come on, the guy literally did the splits more than once in the movie. There is no way you can question the athleticism of this man after Bloodsport, but what about his legitimacy as a martial artist? I'll just throw it right out there, he's far superior to that of most action stars, including his old rival Steven Seagal. Did you know that, according to Sylvester Stallone, these two action movie legends almost duked it out back in 2008? Call Stallone a liar if you want, but Jean-Claude Van Damme probably would have won that fight.
I think what I love most about Jean-Claude Van Damme is his legitimate history of a real martial artist. This isn't just your typical actor who took up some classes just to prepare for movie role. Long before he got involved in the movie business, this man spent a lot of time developing his skills as a martial artist and even competed in professional kickboxing for years. The martial arts journey of Jean-Claude Van Damme began when his father enrolled him in Shotokan Karate classes when he was ten years old. I would argue that is where the legend of the Muscles from Brussels really began. On top of eventually becoming a 2nd Dan black belt in Shotokan Karate, Jean-Claude Van Damme also has experience in Taekwondo and Muay Thai as well. And this guy is nicknamed the Muscles from Brussels for a reason. He won the 1976 gold medal for Mr. Belgium bodybuilding championship, along with some subsequent medals for Karate tournaments in the following years. And throughout most of the '70s and the beginning of the '80s, he had won over forty victories in semi-contact and light-contact kickboxing. Do you really think he never put those phenomenal kicking skills to use in competition? Of course he would, but here's another fun fact: the hardest workout Jean-Claude Van Damme ever took on was actually in ballet.
Wait, this tough guy action star actually participated in ballet? Well, just look at what ballet dancers do and you'll see the resemblance. Stretching your legs out can be painful, but try doing it the way these ballet dancers do. My legs get sore just watching them, but after seeing Jean-Claude Van Damme doing the splits so many times, I can see where the ballet influence comes from. When this guy was in his prime, he could pull off all the craziest kicks you wouldn't even think of. The most popular one would have to be the helicopter kick, where he jumps and spins his body around and extends his rear leg out. If you need to see it again, go watch his fight with Sylvester Stallone in the Expendables 2. He probably should have won that fight. What are your thoughts on Jean-Claude Van Damme announcing his retirement after his next movie? In my opinion, he's one of the greatest action stars of all time. Go back and watch Bloodsport, Universal Soldier, Lionheart, and Kickboxer, the classics. No doubt about it, if you love action movies, you have to appreciate where they began. This man helped kick off the the beginning of them and losing him really makes fun feel one of the originals already.
Tell us what's wrong with this post? How could we improve it? :)
Let us improve this post!