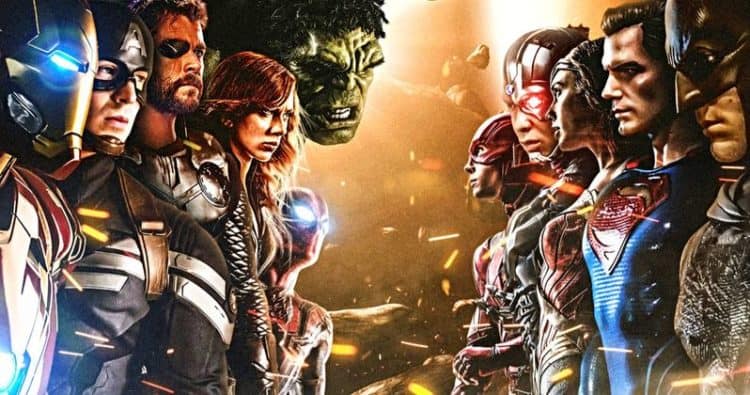 More than a few fans of the DC and Marvel universes would wish for something like this, but getting through all the legalities is bound to be a headache of titanic proportions since otherwise, a crossover might have happened already. But James Gunn, who's been in both camps thanks to his work on the upcoming Suicide Squad and his time on the Guardians of the Galaxy movies, has a rather unique perspective that others might not possess since he's been behind the camera and has likely already given some thought as to how the movie would go. How such a crossover would work and how it would go is kind of hard to guess, but from the comics, it's been seen that various heroes would take each other on based upon power and skill level, so Captain America taking on Superman wouldn't happen. But the incident that would bring them together is kind of hard to think about since in the comics it was due to two cosmic beings that were toying about. But such a crossover would be great.
Apart from the legalities, there would be a big issue on where it would be set, in the DCEU or MCU, since it might make a big difference. Fans have already been theorizing for years just who would win between DC and Marvel, and a lot of folks tend to bring up Superman as a single-shot trump card, even if that too is bound to start a debate. This is one that fans would be going nuts over since everyone has their favorite heroes, their opinions, and little to no real give to them when it comes to determining who's the best superhero. Telling people that they can root for both DC and Marvel is something that a lot of fans might give a person a dirty look for, but the fact is that since they're all heroes it's more of a comparison movie to see who might come out on top as far as attributes go.
But it might be a moot point unless actors could be found for various roles that have already been vacated since Iron Man, Captain America, and Black Widow are all gone, and Thor might be on his way out eventually. The new Captain America likely couldn't take anyone seen above since while Sam is a skilled fighter and flier, he's still not quite the same caliber as some of the DC heroes. It would be tough to think of who would be pit against one another since at this point the MCU has been around long enough that older heroes are cycling out, or already have, and unproven heroes, at least in the MCU, are starting to come in and gain their bearings. With such huge rosters, it's also not entirely certain who would be making their way to the fight since Marvel and DC both have a lot of heroic characters to use, as well as villains. Trying to pick from the rosters would be tough no doubt since a lot of fans would be sending their input as much as possible, and it's fair to think that we still wouldn't see who we wanted to.
It's a nice thought to have, and definitely something that fans from both camps could get behind, but it's also something that a lot of people should already know won't be happening any time soon. The number of talks, contracts, and lawyer visits and consultations would take quite a while no doubt, and by the time filming finally started it's fair to think that at least a couple of people might not be feeling it as much. This would mean that the movie might start losing actors before production ever started, which is never a good thing. But it would also mean that the movie might be stalled for a while, and it could even get stuck in development hell. That would be a shame since this could be a great movie if the right director was at the helm. But if this crossover was going to happen it should have happened a while ago when the MCU was first starting up. Of course, back then there weren't as many heroes, so it still would have been a problem.
Whether this ever happens or not, one can imagine that people will keep talking about it and trying to reason with others why one hero would vanquish another. If such a thing ever happens though it's easy to think that the heroes used will be quite a bit different than people expect, largely because without being able to pull the trigger and just do it, various roles are being phased out of the MCU as time passes. It might not be as big of a deal on the DC side, but one way or another, the movie, if it ever happens, might not be what people think it will be.
Tell us what's wrong with this post? How could we improve it? :)
Let us improve this post!