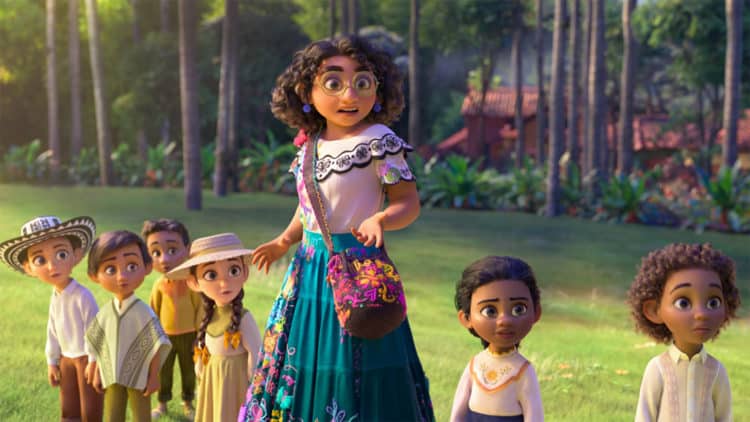 Disney's new film Encanto, about a magical family in Colombia, has received relatively positive reviews and features a beautiful soundtrack composed by Tony and Grammy Award winner Lin-Manuel Miranda. The animated film follows the story of the Madrigal Family, who all live in a magical house set in a charming village called Encanto. Each child of the Madrigal Family has been blessed with a gift such as super strength, healing, and affecting the weather, except for one, Mirabel, voiced by Stephanie Beatriz (Brooklyn Nine-Nine). Encanto is directed by Byron Howard, who also brought us Zootopia and Tangled, and Jared Bush, who also co-directed Zootopia, from a screenplay by Charise Castro Smith. The cast features the voices of María Cecilia Botero, Wilmer Valderrama, Adassa, Diane Guerrero, Mauro Castillo, Angie Cepeda, Jessica Darrow, Rhenzy Feliz, Carolina Gaitán, Ravi Cabot-Conyers, and John Leguizamo. New York Times published a review of the film, praising its homage to Latino culture. "In 'Encanto' there's a robust engagement with, and respect for, Latino culture in all of its dimensions. The Madrigal family members' skin tones range from lighter to darker, their hair textures from straight to kinky-curly. And the grand pooh-bah of the contemporary musical movie score, Lin-Manuel Miranda, provides a spellbinding soundtrack of songs combining salsa, bachata and hip-hop played with traditional folk instruments from Colombia." Encanto is a heart-warming story about family ties and embracing one's uniqueness. If you enjoyed the animated film and you're looking for similar movies to watch, here are five movie recommendations.
Onward
A fantasy world set in modern times is created by Disney and Pixar in their film Onward, which tells the story of two elven brothers who try to discover if magic still exists with the help of a gift from their late father. This heart-warming story about family centers on the relationships of the two brothers who go on a journey together to decode their father's gift and find magic. The animated film is directed by Dan Scanlon, who also directed Pixar's Monster University, and the main cast features the voices of Tom Holland, Chris Pratt, Julia Louis-Dreyfus, Octavia Spencer, Ali Wong, Lena Waithe, and Mel Rodriguez. Unlike Encanto, Onward is not a musical but shares a similar emotional plot and lessons about family. The Guardian reviewed the film saying, "Onward is heartfelt, slickly executed and potently effective as both a rousing adventure and a tear-jerker. But compared to the very best of Pixar's output, this can't help but feel like second tier stuff. Set in a world in which magic has atrophied from lack of use, where unicorns are trash-scavenging vermin, where chubby centaurs rely on four wheels rather than galloping forth on four legs, Onward is, like so many Pixar movies before it, a deft blend of fanciful and relatable."
Kubo And The Two Strings
Kubo and the Two Strings is a bit darker than Encanto but shares similar themes about the complexity of family and a heroic lead. While Encanto celebrates Colombian culture, Kubo and the Two Strings gives homage to Japanese culture. The animated film is produced by the animation studio Laika, responsible for the films Coraline, ParaNorman, and The Boxtrolls. The film follows the story of one-eyed boy Kubo, who can animate his origami characters by playing the shamisen, a stringed Japanese instrument. He goes on an adventure to save his family and defeat an evil spirit. Kubo and the Two Strings features the voices of Charlize Theron, Art Parkinson, Ralph Fiennes, George Takei, Cary-Hiroyuki Tagawa, Brenda Vaccaro, Rooney Mara, and Matthew McConaughey and is the directional debut of Travis Knight, lead animator of Laika. Variety published a review of the film saying, "Kubo and the Two Strings stands as the sort of film that feels richer with each successive viewing, from the paper-folded Laika logo at the beginning (an early taste of the stunning origami sequences to follow) to the emotional resonance of its final shot. In his first project at the helm, Knight has delivered a tale that touches on immortality."
The Mitchells vs the Machines
The apocalyptic animated movie The Mitchells vs the Machines was produced by Phil Lord and Christopher Miller, who brought us Spider-Man: Into the Spider-Verse and Cloudy with a Chance of Meatballs, and directed by Mike Rianda and Jeff Rowe, who worked on the TV series Gravity Falls. The Mitchells and the Machines premiered on Netflix last year and follows Katie Mitchell and her dysfunctional family as they go on a road trip before she goes to college. Their last family road trip turns into an adventure of saving the world against robots and modern technology. The movie has a star-studded cast featuring the voices of Abbi Jacobson, Fred Armisen, Danny McBride, Maya Rudolph, Mike Rianda, Eric Andre, Olivia Colman, Beck Bennett, Conan O'Brien, Charlyne Yi, Chrissy Teigen, and John Legend. Los Angeles Times reviewed the film and wrote, "With a colorful blend of biting absurdity and copious dad jokes to offset the commonplace narrative, Rianda and Rowe optimize their dysfunctional family road trip for high-functioning enjoyment." Rolling Stone also praised the film in their film review. "This Netflix acquisition about a dysfunctional suburban family battling the robot apocalypse is loud, funny, hyperactive, silly, deadpan — and surprisingly great."
Coco
Disney and Pixar's tear-jerker film Coco is similar to Encanto's use of vibrant colors, great musical numbers, and a culturally rich plot. Both movies also feature an intergenerational family. Coco centers on Miguel, who wants to be a musician despite his family's resentment towards anything related to music. In his quest to be a musician like the celebrity singer Ernesto De La Cruz whom he idolizes, he accidentally ventures to the Land of the Dead and uncovers his family history. The New Yorker published a review of the film. ""Coco" is a movie about borders more than anything—the beauty in their porousness, the absolute pain produced when a border locks you away from your family." The Guardian also praised how Pixar beautifully interweaved opposite themes, saying, "Being simultaneously life-affirming and death-obsessed is a tough act for any film to pull off, but Coco manages it." In the same article they wrote, "Actually, it's an engaging and touching quest narrative, with some great spectacle, sweet musical numbers and on-point stuff about the permeability of national borders."
Moana
Disney's Moana and Encanto share the story of a great heroine as well as songs composed by Lin-Manuel Miranda. Moana beautifully portrays Polynesian culture while Encanto celebrates Latino culture. The film is directed by Ron Clements and John Musker from a screenplay by Jared Bush. The film follows Moana, voiced by Auli'i Cravalho, the island chief's daughter, who goes on a mission to save her people and restore ecological balance. On her quest, she is guided by demigod Maui, voiced by Dwayne "The Rock" Johnson. The main cast also features the voices of Rachel House, Temuera Morrison, Nicole Scherzinger, Jemaine Clement, and Disney voice actor veteran Alan Tudyk. The New York Times published a review of the film and wrote, "Moana is an inspiring heroine, a smart, brave and decent young woman whose individual aspirations align perfectly with a larger, world-saving mission."
Tell us what's wrong with this post? How could we improve it? :)
Let us improve this post!