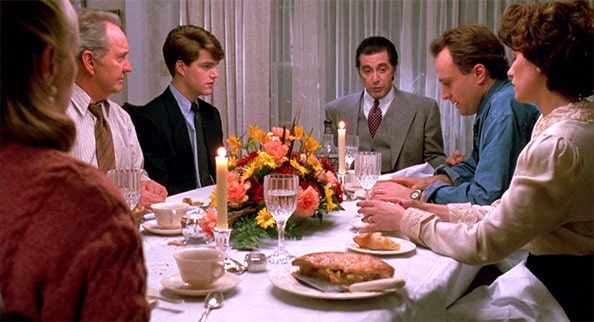 It's that time of year when we're all thinking of sitting down around the table with family and friends, well, we're thinking about it even if we don't get to do it. The thought comes to mind that there are those moments when our lives are kind of like the movies since dinner is one of those times when everything kind of comes out and grievances are aired out in a way that is either comical or way too dramatic. In the movies, it's easy to think that the drama we see is fake for the most part and doesn't really happen in real life. If you're laughing then don't worry, there's a funny article on this same subject coming in just a bit. But what most people should know that the dramatic scenes that are shown in the movies are often true to life in a lot of cases, or are actually tamer than a lot of people would report since when families and friends get together and the drama starts up it can be a true, revelatory awakening in which emotions are bared and people come together, or it can be a free for all that sees feelings hurt, emotions rubbed raw and can result in people not speaking to each other for years after, or at least until the next holiday rolls around. With that said, movies are pretty accurate sometimes when it comes to their depictions of a dinner scene.
Here are some of the most dramatic dinner scenes in cinematic history.
5. Fast and Furious
When you're used to things the way they are and don't want them to change it's easy to get huffy and decide that you just want to storm off, burn some rubber on the road, and abandon your friends for greener pastures, at least for a little while to cool off. But the family atmosphere in this group is enough for Vince to finally come back and accept that Bryan is now a part of the group, at least in a grudging way, since Dom isn't the kind of guy to let someone into his confidence without good reason. Obviously, that confidence would be shaken later on, but as it was made clear through the series, Bryan and Dom were kind of meant to be friends.
4. American History X
Sadly, this is probably one dinner conversation that has been had quite a few times over many tables in America throughout the years since it's one subject that never really goes away since people still to this day can't find a reason to just get along even if they don't like each other. Okay, let me amend that, SOME folks don't know how to get along with people they perceive as their enemies. One would think that the dinner table would be a good place for discussion and the exchange of ideas, but there are definitely some people that simply can't be civil and speak their peace since they have to make it clear that they have zero tolerance for things they don't like. The trick about that however is that karma does come around to bite them pretty hard later on.
3. Shrek 2
Admittedly, this one probably should have made the funny list as well, but the drama that ensues when Fiona brings Shrek home to meet her parents is just too great since one would think that since her parents love her so much that they would be willing to make some concession, and that Shrek would hopefully be on his best behavior. But then one has to remember that he's an ogre, and unfortunately, men can be insanely dramatic when it comes to their daughters and who they decide to marry. It's unfortunate, but it's true, and the resulting fireworks that can occur can happen pretty much anywhere.
2. The Butler
One thing you don't do is come into anyone's home and insult them in this way. The Black Panthers certainly had their good points and they stood for what they believed in, but to many people, including black folks, they were simply too radical and didn't represent them the way that they wanted. But to come into someone's home and be this insulting, it doesn't matter what color, race, or nationality one is, this is the kind of disrespect that will easily get a person kicked out of the house, even if they're a relative. You don't bite the hand that once literally fed you, especially if those hands helped you to become the person you are.
1. Scent of a Woman
It's true, Al Pacino's character really wasn't a good person, but he was blunt, he was straightforward, and he didn't mince words. The fact that his nephew couldn't see the danger he was putting himself into by calling Charlie "Chuckie" was kind of his own fault, but then again, Frank was a bad seed with only a few redeeming qualities. But if you know that your uncle was in the military and is this ornery, it's probably best not to upset him, especially if he has a history of being impulsive.
Dinner scenes aren't just made up, believe that.