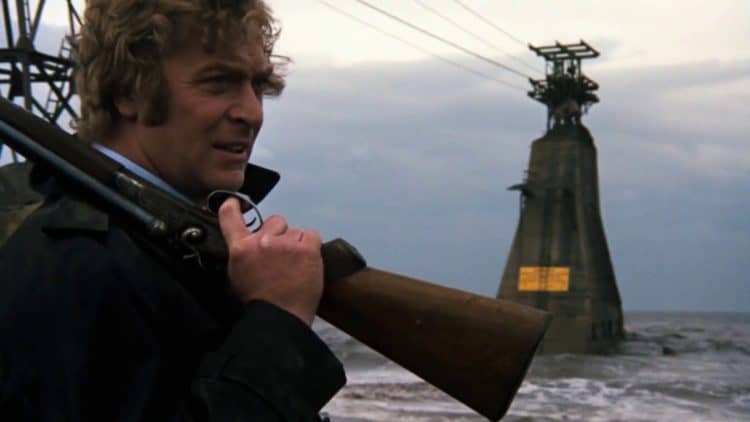 Blue jeans, black leather jacket, Essex or Cockney accent, short haircut and a hard-as-nails look: this is the essence of the British gangster. Like its Italian-American counterpart, it is a mostly working-class phenomenon, moving from the streets of London to the beaches of Southern Spain through sheer grit alone. They are a people prone to self-mythology, assisting in and sometimes even starring in depictions of their own lives. Found on the football terraces, the clubs, and now, going country and selling drugs in rural areas, the British gangster is an evolving, complex phenomenon.
If you're interested in the unique character of the British gangster and want to know more, we have compiled a list of five essential British gangster films for you to watch. Ranging from South of Spain-set tales to bank heists to revenge tales to even love stories, our brief yet punchy list will help you on your way. Read on below to see which films we picked. Disagree with a particular selection? Feel free to let us know in the comment section below!
The Football Factory
When it comes to football hooliganism, full-fledged gangsterism is never far behind. These links have been examined in a variety of different British films, including The Rise of The Footsoldier and Green Street. As a Chelsea fan myself, I have always been attracted to The Football Factory. These are people I have seen week-in-week-out, not in terms of nefarious activities (which I wouldn't know) but in a certain way they walk, talk and hold themselves. The Football Factory, starring Danny Dyer as a young hooligan who would rather get himself into fights with other football fans every Saturday than sitting at home in your"fuckin' armchair wankin' off to Pop Idols", is a true classic of the genre.
Like a lot of gangster tales, The Football Factory is a morality tale. Its central character, portrayed with perhaps never bettered psychology by Dyer, wrestles with the meaning of this life, and whether there is more to it than just being a thug. After all, the life is incredibly seductive, supporting characters such as Frank Harper's Pesci-parodying Billy Bright filled with incredible dynamism.
Sexy Beast
In the UK, if gangsters want to retire, hide out from the cops, or make it really big, they head straight to Spain. This is where we find ex-convict Gary Dove, sunning himself to the tune of The Strangler's "Peaches". He looks pretty content, until a boulder from a nearby hill falls into his swimming pool. It is a portent of what's in store for him, who will soon find that his old life is still catching up with him.
His nemesis, Don Logan, is the very definition of a nutter. Played with utter, loony menace by Ben Kingsley, we first meet him on an international flight refusing to put out his cigarette. Once the two men meet Sexy Beast descends into a fascinating psychodrama before finally moving into traditional criminal territory with a heist upon a jeweller's in London. Marking Johnathan Glazer's directorial debut, there hasn't been a gangster film quite like it before or since.
Mona Lisa
Telling the story of small-time gangster George, expertly played by Bob Hoskins, who becomes an escort for a high-class call girl (Cathy Tyson), Mona Lisa is an unusually romantic British gangster film. Initially they don't take to each other well, their mutual dislike naturally giving way to something much sweeter. The film takes place in the sordid underworld of Soho, back when it was a proper den for iniquity and not the high-priced tourist trap it is today.
The film enters far thornier territory once George decides to help her look for her friend, who has gone missing. They come up against a slime-ball named Mortwell, played with utter loathsomeness by Michael Caine. This is a man who has no issue with trading young women's lives for money, making him a truly repulsive character. With the final result moving between a beautifully rendered character study and a traditional gangster thriller, Mona Lisa remains one of the most under-appreciated classic British films.
The Business
Spain is everything the UK is not: hot, filled with beautiful people and extremely relaxed. Over a quarter of a million British people live in the country, with millions more travelling there every year on holiday. The Business explores the pull of the Spanish lifestyle, especially the amount of money that can be made by importing drugs from just across the Moroccan border.
The second Nick Love and Danny Dyer-starring film on this list, The Business is a major improvement from The Football Factory, taking a Goodfellas-approach to the seductiveness of life on the Costa Del Sol. Nonetheless, this seduction comes at a cost, violence in Spain far heightened than that in old Blighty. Supporting actors such as Tamar Hassan and Roland Manookian are fixtures of British gangster films, turning in career-best performances as first Charlie's firm friends, then something far more complicated. With a soundtrack consisting of pure 80s hits, it can be seen as the UK's answer to the grand theatrics of Scarface.
Get Carter
If one classic British actor had to be chosen as the face of British gangster movies, you can't go wrong with Michael Caine. From the ringleader of The Italian Job to the boxing promoter of Shiner, the soft-spoken cockney geezer is often type-cast as a classic gangster type. This story follows him as the eponymous Jack Carter who travels to Newcastle to uncover the details behind his late brother's death.
Much grittier than any British gangster film released before (and many since), Get Carter was lauded for its naturalist exploration of the Newcastle underworld. A true 70s production, both in its amorality and complex characterisation, it has inspired everyone from Guy Ritchie to Quentin Tarantino. Revisited in 2000, with Sylvester Stallone in the main role and Michael Caine in supporting, as well as referenced in the excellent Harry Brown, Get Carter is arguably the film that gave birth to today's modern British gangster.
Tell us what's wrong with this post? How could we improve it? :)
Let us improve this post!