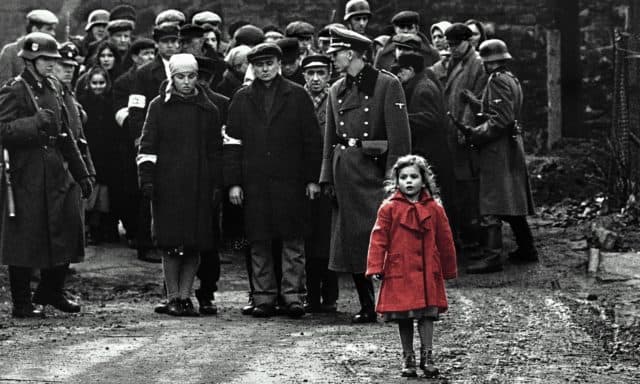 Schindler's List is a look back in time to a period of fear and uncertainty that afflicted the Jewish community in Germany during World War II. It was a horrible period in which to live and it affected Oskar Schindler in such a way that instead of making a profit from the labors of the Jews that worked for him during this time he began to find ways to save them from being shipped off to Auschwitz and summarily murdered without cause. Throughout the last few years of the war he saved a great many lives, and yet never felt it was enough. Even when those whom he'd saved honored his sacrifice he still felt as though he hadn't done enough.
Such a movie only comes along every so often, and its message was felt acutely by many audience members.
10. Clothing had to be found for 20,000 extras.
The costume designer had to take out advertisements to find enough clothing to suit all the extras, and as a result they found people willing to sell clothing that was from the 30's and 40's.
9. When one of the survivors met Ralph Fiennes she began to shake uncontrollably.
Mila Pfefferberg was a survivor from this horrible time and Fiennes resembled his character Amon Goth so much that she couldn't control her reaction.
8. The composer was overwhelmed when he saw the film for the first time.
He told Spielberg that the film deserved a different composer. Spielberg agreed, but said that all those who could perform this task had passed away.
7. Steven Spielberg offered the director position to Roman Polanski.
Polanski didn't even think about since he'd come from the Krakow Ghetto. Spielberg apologized profusely when he found out.
6. Spielberg will not autograph anything related to this film.
Spielberg came to have great respect for those that had to live through these tumultuous times and would not bother signing anything since it would be like an insult.
5. Spielberg had permission to film inside Auschwitz.
He filmed outside of it and would not go inside out of respect for the survivors.
4. Ralph Fiennes put on weight for his role.
He had to put on about 20 pounds. Spielberg picked him because of his look and approach to the character.
3. All the royalties and residuals went to the Shoah Foundation.
Spielberg cited that it would be akin to taking blood money, so instead of accepting the royalties he made sure it all went the foundation that would use it to help survivors of the holocaust and other tragedies.
2. Liam Neeson didn't believe that he would get the role.
Neeson auditioned but didn't think he would get it. When Spielberg came to him to announce that he did get the role Neeson was floored.
1. Harrison Ford was considered for the lead role.
Ford has starred in period pieces but he didn't think that people would be able to see past his Indiana Jones persona and politely declined.
For such a touchy and sensitive subject Spielberg did a wonderful job on the movie and kept it as real as he could.
Tell us what's wrong with this post? How could we improve it? :)
Let us improve this post!