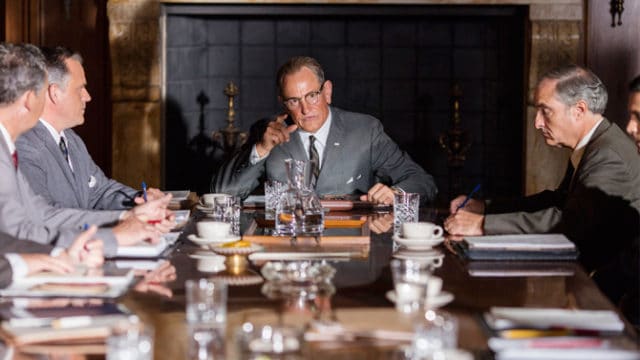 Given its name, it should come as no surprise to learn that LBJ is a movie centered around President Lyndon B. Johnson. To be exact, it is an American political drama that started filming in September of 2015 and debuted in September of 2016 at the Toronto International Film Festival. Now, it has been announced that LBJ will be released in the United States on November 3 of 2017, which is the natural consequence of Electric Entertainment having acquired the North American rights earlier in 2017.
Who Are Some of the Cast Members of LBJ?
With that said, one of the most interesting facts about LBJ is that its cast includes a number of well-known and well-respected names. For example, Johnson is played by Woody Harrelson, who might be familiar to a lot of people as an American actor who has been nominated for the Academy Awards for both The People vs. Larry Flynt and The Messenger. Meanwhile, Lady Bird Johnson is played by Jennifer Jason Leigh, who has acted on the stage, the TV screen, and the movie screen, but is often remembered for her role in Quentin Tarantino's The Hateful Eight. Other interesting casting choices range from Richard Jenkins as Senator Richard Russell to Bill Pullman as Senator Ralph Yarborough.
Why Should You See LBJ?
There are a number of reasons why people should consider seeing LBJ. For example, while the movie does cover a wide stretch of Johnson's life as well as Johnson's career, it is particularly interested in the period following the assassination of President John F. Kennedy. At that time, Johnson was thrusted onto the forefront of the stage, where he was entrusted with the passing of the Civil Rights Act. Considering the importance of the civil rights movement in establishing the modern United States, it is no exaggeration to say that Johnson's unexpected presidency was a critical time that has had a profound role in shaping the present.
Another reason can be found in Harrelson's depiction of Johnson. Generally speaking, there are numerous ways to interpret a historical person. After all, historians cannot look into their minds to see what they were thinking as well they did what they are remembered for doing, meaning that said individuals can do nothing but make educated guesses based on the evidence that is available to them. As a result, one interpretation of a historical person can see significant variation from another interpretation, meaning that new media about them can still surprise those who have a study of the subject matter. Regardless, it is interesting to note that Harrelson played Johnson based on an interpretation founded on a couple of seemingly contradictory characteristics. First, there is the idea that Johnson was power-hungry. Second, there is the idea that Johnson was a true humanist. Combined, these two ideas provide a rather unusual but nonetheless fascinating basis for the character as played by Harrelson, which is made all the better by the actor's ability to impart some of his immense charm to his roles.
Summed up, people who enjoy biopics as well as historical films should consider giving LBJ a chance to wow them. Its excellent cast as well as its important subject matter make for a powerful combination, which could provide them with more than their money's worth at the movie theaters once it is released.
Tell us what's wrong with this post? How could we improve it? :)
Let us improve this post!