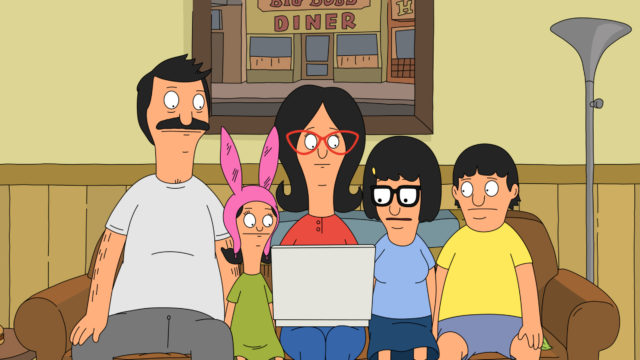 There was a point and time when Bob's Burgers was really trying to find a leg to stand on, but as it's now going to into its eighth season it's easy to assume that it might be around for a long time to come. And what's more, a Bob's Burgers movie has already been slated to arrive in 2020. For fans of the show this is good news since the Belcher's will be coming to the big screen here in a couple of years. For the rest of us it might be a good chance to brush upon on the seasons that have come before just so we know what to expect.
As animated shows go the program isn't too bad, in fact it's been called on of the better shows on the air for the past eight seasons. Personally I think the characters look like animated Muppets to be honest, but to each their own. The show's popularity has grown so much in fact that the characters on Bob's Burgers have been seen on other animated shows such as Family Guy, the Simpsons, and even Archer. It might be a conflict in the style of animation but when it's a cartoon there's a lot of forgiveness.
It's going to be interesting to see if Bob's Burgers can make the transition from the small screen to the big screen largely because when it happens it's not always a sure thing. The Simpsons attempted to do this and didn't so much strike out as fizzle out. The attempt was supposed to be a big step forward and to prove that they were in fact worthy of the big screen, but it was almost like a two-hour long episode without the real development and formula of an actual motion picture. The Simpsons are still around obviously but the movie didn't do them a lot of favors.
It stands to reason that fans of the popular series Bob's Burgers will need to think this over and wonder if their favorite show is about to do a nosedive when it heads to the theaters. One can definitely hope that this doesn't happen, that Bob's will take a different tact and find a way to actually be a worthy production rather than just another episode with an insane running time. The track record of such movies thus far isn't great, but it's always possible that Bob's Burgers might break the trend.
Cartoon movies can be a hit or a miss most times since the idea behind them is what drives the story and makes it possible to present the production as a worthy film. Focusing on too many plot points and not a singular, driving theme is what kills a lot of movies, not just animated ones but live action as well. Taking any sitcom and attempting to do what is always done on TV is not the best idea since it takes the central story in too many different directions that a theater audience doesn't want to think about.
When you're on the big screen it's time to pick a plot point and stick with it for a couple hours. Hopefully Bob's Burgers can thrive in the spotlight.