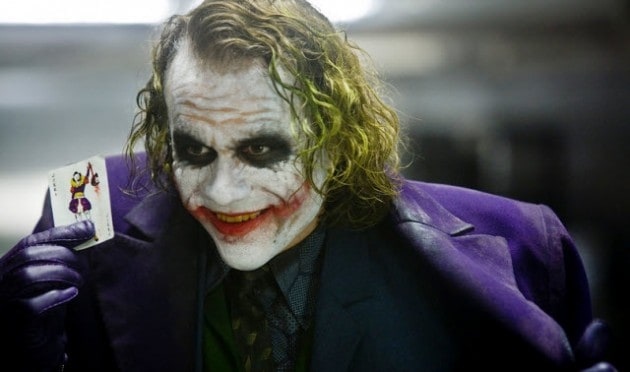 Christopher Nolan delivered what may, could, and is probably considered the best comic book trilogy in the history of cinema. It's a shame that Batman Begins gets so little attention in the trilogy because it in itself was an excellent movie. Clearly The Dark Knight gets all the accolades and deservedly so. The Dark Knight rises was almost an inevitability after Heath Ledger delivered what many consider to be the best Joker performance ever. With all that said, here are 20 things you didn't know about the Dark Knight trilogy.
20. The Joker was supposed to make an appearance in The Dark Knight Rises.
Sadly we all know why this didn't happen. And it would have been kind of an insult to Ledger's memory if someone was simply thrown in for effect.
19. Heath Ledger's Joker actually scared Michael Caine.
Michael Caine actually had a lot of trouble remembering his lines since the outfit and Ledger's portrayal upset him so much.
18. A lot of people wanted the Joker role, but it was only meant for Heath Ledger.
He had the only real chance at providing what was needed for this role, and he nailed it.
17. In every film the villains dress as henchmen to start with.
Ra's Al Ghul defers to his bodyguard, Bane seems like just another terrorist, and the Joker is dressed in a clown mask like the other henchmen.
16. The Dark Knight won the first ever Oscar for a comic book movie.
No comic book movie had gone this far until this one. It definitely set the bar for the rest to come.
15. Christian Bale actually fell asleep before his first shot with Michael Caine.
He took so much time and effort prepping for the scene that he actually fell asleep and was woken up by Caine.
14. Christian Bale is the youngest Batman out of the bunch.
You might have thought Keaton or Kilmer were fairly young but they were still older than Bale when they put on the suit.
13. This is the first Batman trilogy to be completed by a single director.
Christopher Nolan managed to get all the way through the trilogy without any serious mishaps or setbacks.
12. Anne Hathaway almost starred as the Black Cat for Marvel.
I kind of wonder who they would have gotten to replace her. She actually seems more capable for Catwoman than Black Cat.
11. Marilyn Manson was almost cast as the Scarecrow.
As an actor he's not that bad but for some reason Cilian Murphy seems a little more devious just because you don't expect it of him.
10. If you look you can see the DC comics logo in various spots in the movie.
It's hidden here and there on devices and in places you wouldn't expect.
9. Tom Hardy really wanted the part of Bane.
Aside from not being the biggest guy in the world the role definitely suited him and allowed for his more aggressive side to come out.
8. Much like the other Batmans Bale hated the suit.
You would think by now that they would find a way to make it more comfortable, but Bale said it was a pain in the rear.
7. A lot of big time actors wanted to be Batman.
It's hard to think about who wouldn't want to be Batman. If it was done right this could be a huge step for anyone's career.
6. Bale was almost Robin in Batman Forever.
He denies ever auditioning for it, but the chance was there.
5. There's no mention of the Joker in the third film.
It's as though he's just simply gone. Fans might have noticed had it not been for an already tense plot and the expectation of Batman's fall.
4. Kurt Russell was almost Jim Gordon.
It seems like he would have been a more laid back and loose Jim Gordon than Gary Oldman. Maybe that's part of why it didn't happen.
3. Cilian Murphy auditioned for Batman.
He might have the right attitude but not quite the look or the physique.
2. Heath Ledger got to direct parts of The Dark Knight.
That might be the cause for some of his more improvised parts.
1. Anthony Hopkins was offered the role of Alfred.
The director was eager to get his name for the films, but Hopkins turned it down to eventually become Odin.
Did you happen to know any of this?
Save
Tell us what's wrong with this post? How could we improve it? :)
Let us improve this post!