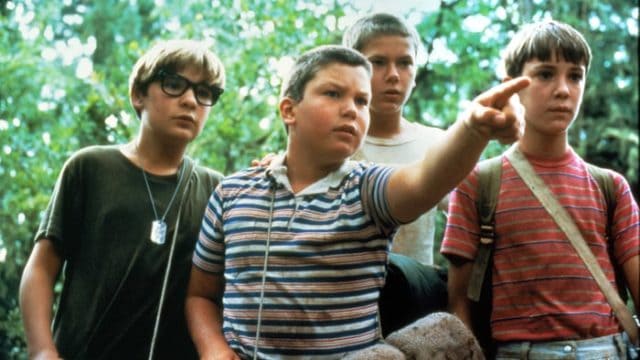 As far as coming of age stories go Stand By Me is one of the best. The curious thing about this story is that it came from a short tale written by Stephen King, who's been known for so long primarily for his horror stories. This tale wasn't horrific in any way or even all that much of a thriller really. It was four friends embarking on a journey towards a revelation they hadn't realized yet, making their way through the wilds of Oregon as young boys were wont to do back in the day. It was also one of the best movies ever made when it came to showcasing some of the greatest talent that would eventually show the world just what they could do.
Of course most of them didn't do a whole lot after this movie, but it gave them a fighting chance.
10. The cast and crew bought cookies at a local Renaissance Fair without knowing they were pot cookies.
By the time the crew found out about the mistake they found Jerry O'Connell lost in a nearby park and sobbing like a baby.
9. Stephen King approved of the movie.
His initial response was confusing since he appeared to be shaking. He even had to get up and walk out of the room for a minute, but returned saying that this was the best representation he'd seen thus far of his work.
8. The giant puddle was made by the crew.
It was made by the crew but was left to sit out, which allowed it to become an actual swamp complete with moss and leeches.
7. The boys had a rowdy time in the hotel they were put up in.
Apparently they got up to quite a bit of mischief such as rigging the video games and throwing the pool furniture in the pool.
6. River Phoenix's emotional breakdown by the fire was very real.
The director told him channel a memory of when an adult had actually disappointed him for real in order to make the moment seem authentic. River got so into the moment that he needed some time to collect himself after the scene was over.
5. Corey Feldman stated that his character was the closest to who he really was at the time.
That's actually kind of scary since Teddy was a certified nutcase. The character decided it was a good idea to stand on the tracks and do a train dodge. What kid does that?
4. Jerry O'Connell was kind of excited by the swearing they were allowed to do.
Hey, when you're a kid and haven't been around that kind of thing all that often it becomes a novelty when you're allowed to do it.
3. Keifer Sutherland actually picked on the four friends when off screen too.
He wasn't doing it to be mean, but he did want to stay in character.
2. It took a week to shoot the train scene.
Female stunt doubles with close-cropped hair were used for certain scenes and there were sheets of plywood between the trestles to increase the actors' ability to run.
1. The Ballad of Paladin was used without permission.
Johnny Western, the guy that actually sings this, managed to sue the producers for not asking his permission before using the song.
It's true, most people never have friends like they did when they were 12.