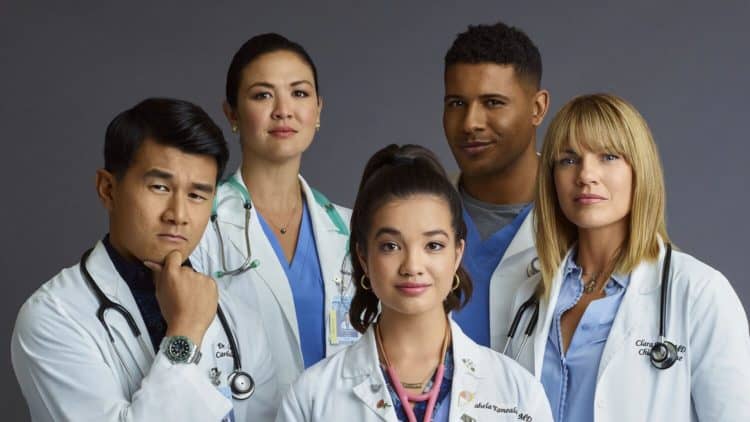 If there's any conflict with this show at all it's the fact that a 16-year old doctor isn't really that big of a deal until one realizes that her lack of life experience is what's really disturbing since her intelligence and her ability to practice medicine is fine. But having someone on the medical staff that hasn't yet experienced life in the same way that her colleagues have could be an issue. It's interesting to hear that the reference to Doogie Howser is being made, thereby giving the main character her nickname in the hospital she's working in. But it does make a little bit of sense that her mother is a doctor in the same hospital, and her boss no less. In the real world this feels as though it might be a conflict of interest, or perhaps raise other issues that would make this next to impossible. Even the idea of being a practicing physician is more fantasy than reality since not only would a person need to have a seriously accelerated education, but the lack of life experience, as mentioned, is a serious detriment to such a field since like it or not, there's a lot to learn about the human body that many individuals don't fully realize until they've lived a little and earned the experience that comes with it.
In a big way, the unrealistic nature of this show also comes in when one starts to listen to the main actor react to the world around her since the idea of dating and being a teenager isn't a bad thing, but the idea of telling one's mother that they can't be their boss and their parent, meaning that the parent essentially has added authority over them, is a complaint that sounds as though it would come from a teenager. That might sound a little off and not at all sensitive, but seeing how the average teenager doesn't always end up listening to their parent, it feels likely that it would be even worse in this situation.
Instead of feeling for the teen, however, it becomes easier to think that she has a lot of growing up to do yet, and is complaining in the same manner that many kids might when they realize that the real world isn't a place where people get to play all the time. This is one of the points that need to be made when thinking about what it means to be a teenager. It's all play and no work obviously, but the added expectations that are laid upon this character are a matter of choice, not a necessity, since being intelligent and entirely capable of practicing medicine would be a great asset in the life of any teen, but the necessity of being a kid before fast-tracking oneself into the adult world is something that feels as though it might become a serious snag in Doogie's life. Whether people want to admit it or not, even in fiction it can become a serious problem when young folks grow up too quickly since the lack of knowledge that comes with youth, most times, tends to hamper a lot of people given the fact that they have little to no base to work from when it comes to figuring out what life is about.
But overall, it does feel as though this show could appeal to a lot of people if only because it's bound to be a new look at an old story in a way that will be updated and made relevant to the current era. It does feel as though the show will still gloss over the idea of how Doogie became a doctor, how her younger years were a little more abnormal than most kids, and will perhaps make it appear that she's simply gifted. But it also feels as though there will be a bit of a struggle since a young woman trying to exist in a very adult world where she might come face to face with a lot of issues that will have to do with her age and with the fact that she's bound to come up against cases that she doesn't know how to handle.
A lot of people might counter that argument by stating that she'll have a great amount of support, but there's still the idea that as a practicing physician she's still going to have to deal with certain aspects of the job on her own. The trailer does make it look as though this show will be geared towards family but in a way that will teach rather than just entertain. So far it looks as though it might be a bit sappy and perhaps even make Doogie look like she has a lot of learning to do, but that's a big plus for a show like this.
Tell us what's wrong with this post? How could we improve it? :)
Let us improve this post!