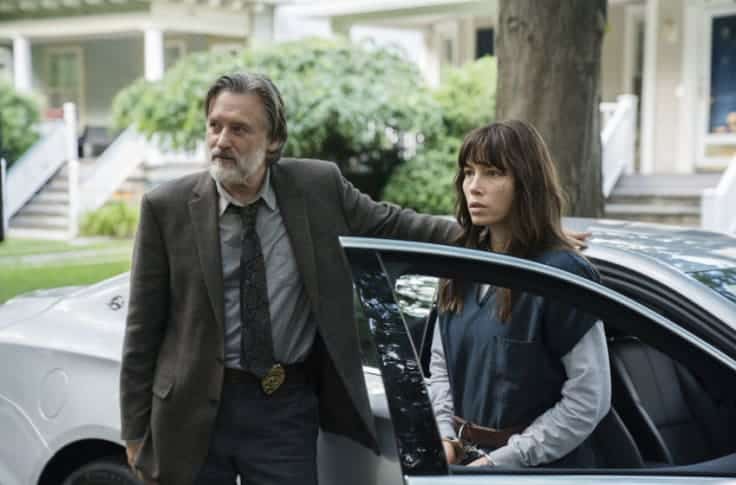 When The Sinner debuted on USA in the summer of 2017, it was intended to be a mini-series. However, it got so popular that the network decided to renew it for a second season. Now, The Sinner is getting ready to enter its fourth season, and it promises to bring just as much suspense and mystery as the first three. Season 4 will be full of mysteries that keep viewers guessing until the very end. The reality of the situation will likely be nothing is as anyone suspects it is. Since the show is somewhat of anthology series, almost all of the characters only appear for one season. This means that viewers are going to be introduced to a new cast when the fourth season premieres. The good news is, that the cast is full of lots of talented people. While some of the cast members from season four have been in the industry for decades, others are just getting started. Keep reading to learn more about the cast of season 4 of The Sinner.
What To Expect From Season 4 Of The Sinner
Suspense is always a big part of The Sinner, so it's not too surprising that they haven't revealed much information ahead of the season premiere. However, the network has shared a few details that give viewers a chance to know what they can expect. USA's president, Chris McCumber, told The Hollywood Reporter, "In season four, we're excited to dig even deeper into the psyche of Bill Pullman's beloved Detective Ambrose character, while introducing our audience to a compelling, completely new mystery." The plot itself hasn't been revealed but many believe that it will involve a murder. Given the show's history, this will more than likely be the case. Here's the cast of The Sinner season 4:
Bill Pullman as Detective Harry Ambrose
As far as we know, Bill Pullman is the only person who will be reprising his role from previous seasons. Once again, Bill will portray detective Harry Ambrose and he will be at the center of another mysterious situation that only he can get to the bottom of. Throughout the show's run, fans have gotten the chance to see Harry's character evolve in some major ways. During an interview with GQ, Bill said, "In the second season, there was his inability to contain his anger as he risks being more vulnerable to other people. He's trying to keep himself from going off of the rails. In the third, he's up against this person who has said, "you're a lot like me, Harry Ambrose, in more ways than you're willing to admit. You're angry and you're going to act out on that," and somehow that is being unlocked in that relationship with Jamie makes things very dangerous, because there's a sense that violence is going to come out." Playing Harry Ambrose might be Bill's most well-known role in recent years, but the truth is that he had a very long and successful career long before The Sinner ever came around. He made his on-screen debut in 1986. Although his first role was in a TV series, he has been mostly focused on film roles throughout his career. Some of his film credits include Sleepless in Seattle, Independence Day, and While You Were Sleeping. Outside of acting, Bill and his wife, Tamara Hurwitz, have been married since 1987. The couple has three children together, one of whom is actor Lewis Pullman. Lewis is best known for being in movies like The Strangers: Prey at Night and Bad Times at the El Royale.
Alice Kremelberg as Percy Muldoon
Alice Kremelberg is a New York native who started her professional acting career in 2006. We don't have much information about what her role will be like in The Sinner, but we do know about her career up to this point. She honed her acting skills in several programs including one at Fordham University. Before starting her on-screen journey, she found a good deal of success on the stage. Alice already has almost 50 credits to her name, and the list has been growing a little more each year. Some of her most notable credits include Orange is The New Black and Guiding Light. Her role in The Sinner could be a great opportunity for Alice to take her career to the next level. Based on her Instagram profile, it's clear that acting isn't the only area of the arts that Alice is interested in. She also enjoys taking pictures and she has a natural eye for capturing beautiful moments. When she isn't acting, she loves spending time outdoors as well as spending time with her partner, Mason Alexander Park, who is also an actor. Mason is best known for their role as Hedwig in the Broadway production of Hedwig and the Angry Inch.
Michael Mosely is the type of actor who has spent his career showing viewers that he can play just about any role. His depth and versatility as an actor certainly haven't gone unnoticed, and they've earned him the respect of people all over the world. Michael's acting resume currently has 70 credits (including projects that haven't been released yet), and he brings a wealth of experience to his role as Colin Muldoon in The Sinner. He has played significant roles in several TV series including Ozark, Sirens, Pan Am, and Scrubs. In addition to his work in front of the camera, Michael also made his directorial debut in 2006 with a movie called No Room for Groceries. For the most part, Michael has always been fairly private when it comes to his personal life. However, he is fairly active on Instagram.
Frances Fisher is a legend in the entertainment industry, and although she needs no introduction we've decided to provide some information on her anyway. During the course of her more than 40-year long career, Frances has built a solid resume that includes more than 150 acting credits. She has been in a wide variety of projects and she brought something special to each one. While some actors like to stick to just movies or just films, Frances has spent an almost equal amount of time on both screens. She has never been afraid to step out of the box and her decision to try new things has paid off very well for her over the years. We don't know exactly what her role will be like in The Sinner, but based on her track record we can confidently say that she's going to kill it.
Cindy Cheung as Stephanie Lam
Anyone who has followed Cindy's career would probably agree that she deserves a lot more credit than she's gotten over the years. She is an incredibly talented actress whose versatility has allowed her to move seamlessly between characters and genres. Despite that, however, most of her roles have been on the smaller side. Still, she manages to light up the screen every time she gets in front of the camera. Hopefully, her role in The Closer will help her get even more exposure and help her gain access to more opportunities in the future. When she isn't busy with work, Cindy is dedicated to being a wife and mother. Cindy is married to author, Ed Lin. The couple has one child together. Cindy does not appear to have any verified social media accounts so it will be tough for her new fans to keep up with her.
Ronin Wong as Mike Lam
Ronin Wong is a name you may not be familiar with. Although he has been in the entertainment industry for more than 25 years, he hasn't had any starring roles. The Sinner will be his biggest opportunity to date, and it will mark the first time he has been cast as a series regular. After so many years of grinding to make his dreams come true, he definitely deserves this opportunity to show the world what he's capable of. Sadly we weren't able to find much information on what his character will be like. On top of being an actor, Ronin is also a writer, director, composer, and producer.
Neal Huff as Sean Muldoon
From the big screen to the small screen, to the stage, Meal Huff has shown time and time again that he knows exactly what it takes to put on a good show. His career has spanned the course of four decades and he's nowhere near finished yet. Neal has lots of impressive credits on his resume such as The Wire and Law and Order. One of his most recent appearances was in the popular HBO mini series Mare of Easttown. With the way Neal embodies all of the characters he plays, it's almost impossible for viewers to take his eyes off of him. There's no doubt that he's going to bring that same level of passion and integrity to his role in The Sinner and his fans are looking forward to seeing him in the series.
Tell us what's wrong with this post? How could we improve it? :)
Let us improve this post!