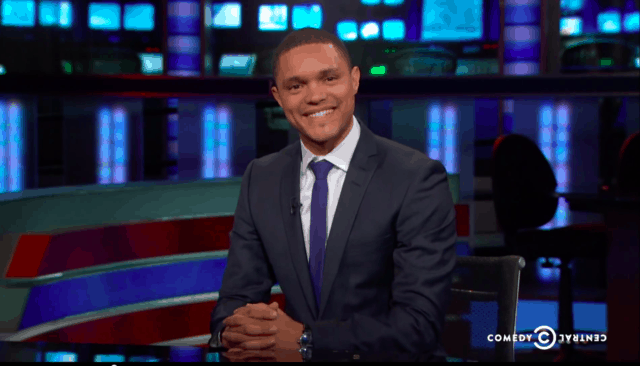 You better watch out, three holiday specials from America's no. 1 comedy network are coming to town! Comedy Central has announced its three all-new holiday specials from The Daily Show with Trevor Noah, Drunk History, and The President Show.
The Daily Show's The Yearly Show 2017 year-end special will be hosted by Trevor Noah and will feature The Best F#@king News Team. Taping at the Gramercy Theater in New York City on Sunday, December 3, the brand-new one-hour special will feature all original content. The Daily Show's The Yearly Show 2017 premieres on Monday, December 18 at 11:00 p.m. ET/PT on Comedy Central. You can watch the promo here.
In the Drunk History Christmas Special, creators Derek Waters and Jeremy Konner bring to life such iconic holiday scenes as George Washington crossing the Delaware River on Christmas Day, a look at the Charles Dickens Christmas classic A Christmas Carol and Teddy Roosevelt's ban on Christmas trees in the White House. Reenactors include Rob Corddry, Colin Hanks, Ken Marino and Chris Witaske with narrations from Craig Anstett, Rich Fulcher and Phil Hendrie. The special will debut on Tuesday, November 28 ar 10:00pm. ET/PT. You can watch the promo here.
I Came Up with Christmas: A President Show Christmas will feature The 45th and final President of the United States (played by The President Show creator Anthony Atamanuik) alongside the Vice President (played by Peter Grosz) as they celebrate the holiday with a cavalcade of friends old and new in a night of comedy, music, jingle bells, and dog whistles as they try to make this the whitest Christmas ever. The hour-long holiday special debuts Thursday, November 30 at 10:00 p.m. ET/PT. You can watch the promo here.
The Daily Show with Trevor Noah airs from Mondays to Thursdays at 11:00pm ET/PT. The President Show airs every Thursday nights at midnight (ET), following The Opposition with Jordan Klepper. There's no announcement yet for the fifth season premiere date of Drunk History. All shows air on Comedy Central.