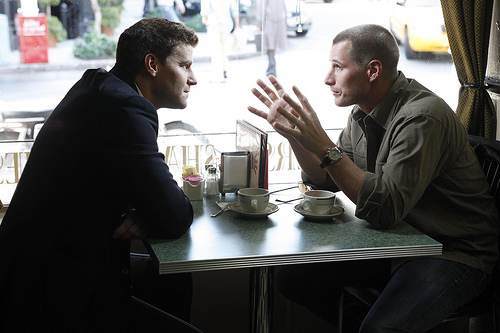 * This episode contains a lot of adult humour… because if you name a character "Beaver" you are just asking for it.*
I hope you brought your school spirit to this episode of 'Bones and Booth go on a Beaver Hunt'because the students of Middlesex College sure did. (MiddleSEX, get it. Let's start dropping the anvil early.) The pep rally and bonfire are to encourage the students to support the school at the big game tomorrow. If you can't be an athlete, be an athletic supporter.
ROTC-man Greg Hamalard revs them up and all the students respond, except the suspicious old guy leaning on the handrails on the bleachers. As the finale, they use a small crane to hoist a live-sized otter over the fire. They've stolen the mascot outfit from their rival school. 'Archers, bring your bows!'Greg shouts. The archery team lights up their flaming arrows. 'Aim and fire!' They do and set the wooden pallets and other bonfire materials alight. The crowd also fires at will. They throw tomatoes and beer bottles. Somebody brought a gun, which we see during the close-up of the hand and pistol as it fires. Some enterprising people have also brought a cannon (They call it a blunderbuss but according to my Google research they showed a cannon. They may have just wanted to use a fun word.)
It's the blunderbuss that does the otter in. The burning costume spins wildly upon impact and the head falls off, revealing a blistering corpse underneath.
The next morning, our heroes are on the scene. Dean Warner asks Bones and Booth if they sure it isn't some kind of prank. I'd say the body eliminates that possibility, old boy. 'No, could it be the missing cadaver?'he asks. It seems that the Beta Delta Sigma fraternity is suspected of stealing the cadaver of a middle-aged motorcyclist. The medical school's main sources of cadavers are snowmobilers and motorcyclists. (Motorcycle = dead. Remember that.) Bones says that the body is too young, but if they are looking for the cadaver, check out the suspicious guy on the bleachers who hasn't moved an inch in the hours they have been there investigating. I guess they just haven't gotten around to questioning the only witness who stuck around yet. The chief of campus security Molly Briggs — who we won't see again — wanders over to the bleachers but doesn't get within 20 feet before the smell drives her off. Nope, no clues there.
Cam studies the crispy corpse with Intern Arastoo Vaziri. Hello, Vaziri, we haven't met before but my friend RavenRants was introduced to you a while back. I digress. Vaziri says, 'It looks like someone took a flame through to sasquatch.'He has never seen so much shrapnel. 'It looks like a nuke when off as the guy entered a dollar store.'He smiles and gets a weak smile back from Angela. It was kinda funny, barely. Cam tries to continue the analogy but she's got nothing. Hey, she tried, 'I'm wisecracking pathologist with a dark sense of humour.' Then, remembering she's the boss, Angela and Vaziri decide that she was funny after all.
Booth meets his younger brother Jared in the diner. Jared's got the letter from the Navy deciding his fate after the Gravedigger incident. What did it say? He's is receiving a dishonourable discharge. Booth is pissed because this is the first time a Booth has ever received a dishonourable discharge. Lay off, buddy. It's also the first time a Booth had to steal a corpse to find a serial killer and save their brother. Jared is rightfully defensive. Booth's first thought is that Jared needs a job. Jared reminds big bro that he joined the navy at 17. He's pretty sure that he has a handle on the fact that grown-ups work for a living. This touching reunion is brought to you by your cell phone provider, cleverly shown as Booth answers his cell phone. It's Bones. Surprise. The body has been identified through dental records as James Boudier, called Beaver by his friends.