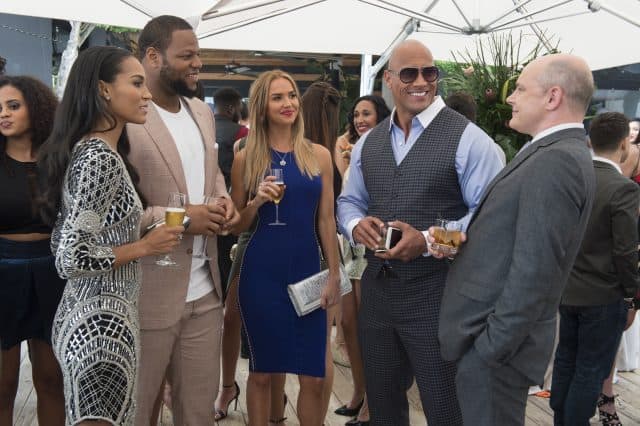 It's been a long year, but welcome back, everyone, to Ballers reviews. I very much enjoyed covering this show last year and so far, Season 2 has really captured the same spirit. Although new challenges have been introduced for our heroes to overcome, the show's spirit (through it's 11th episode, anyway) has remained in-tact. It's still fun, still has plenty of funny moments, and still transcends the genre, as new-age comedies are wont to do.
This week on Ballers: Spencer's age-old rivalry is re-ignited, resulting in a bad live television moment. Ricky receives some bad news about his new contract. Anderson begins breathing down Spencer's neck. Charles receives some equally bad news. Guest Stars include Ndamukong Suh, Greg Jennings, and Terrell Suggs.
This show is definitely how I remember it. It's got so many elements that would work as a drama, and yet having guys like Rob Corddry steal the show with one liners makes the whole thing really funny. Last year it was HBO's most watched comedy, so it obviously has some mass appeal, right?
Let's talk about Joe for a second. I really like everything Corddry does on this show. He's hilarious. I'm not sure what the show would be without him, and thank goodness I don't have to find out. His delivery is on point, and his one liners  are sharp. With all of the football player types that this show has in the cast, Corddry is an excellent, welcome departure. In the new season, he remains my favorite part of the show.
Ultimately, however, the show rests almost entirely on the star power and charm of Dwayne "The Rock" Johnson, whom I will consistently refer to as "The Rock" henceforth. Smell what I'm cooking? Good. The Rock's charm and charisma, coupled with his extreme comfort level with being on camera, benefits Ballers to the nth degree. I love Corddry's quips as much as the next guy, but they're just fun little bits without a strong lead, and The Rock definitely fits that bill. Even though I know he's The Rock, and I've seen him in tons of things since his wrestling days, he still embodies Spencer Strasmore. He doesn't get nearly enough credit for it, either.
As I (almost) always do with comedies, here are some of my favorite quotes/moments from the episode: (It's HBO, so I reserve the right to edit accordingly)
The episode started off with a great little moment, when Joe volunteers to give the speech and then Spencer gives it. Great, subtle moment.
"Suh Casa". What a fantastic name for a restaurant.
"I make Marshawn Lynch look like John F. Kennedy"- Spencer
"You going back to school? You already got a PhD in talking s**t"- Spencer
"That was WAY better than talking derivatives"- Joe
"You want all these people with their camera phones to witness World War III at Ricky Jerret's birthday party?"- Joe
Spencer being determined to steal that guy's clients? A great kick-off to the rest of the season.
This was a strong first installment of what should be an interesting season. The dramatic elements are still there, but there's still plenty of funny to get us comedy fans through. So far, so good.
What did you guys think? Did you enjoy the premiere? Let us know in the comments!
Ballers airs Sundays at 10/9c on HBO
Ballers Season 2 Episode 1 Review: "Face of the Franchise"
Summary
Spencer has an old rivalry re-ignited, while the other guys get some bad news, on this week's strong premiere of Ballers.