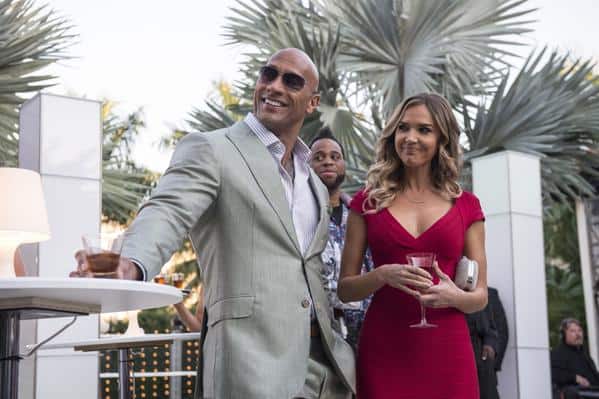 Come Episode 3, it was time for HBO's freshman comedy Ballers to "move the chains," so to speak. It was a perfect episode title because the series has reached the first down, and now has a new goal ahead. The show has gotten past its first few episodes, and its next first down will come from establishing sustainability as a comedy series. So far, I think Ballers' offensive strategy has been successful.
This week, on Ballers: Joe and Spencer borrow their boss' yacht to throw a party to help with their brand and reach football contacts. Reggie and Spencer come to blows over Vernon's finances. Ricky finds out there is another side to the woman he's been seeing and has an altercation in the Dolphins' locker room.
This was Ballers' best episode yet. The show relied on the strength of its main characters, without leaning too heavily on The Rock (Dwayne Johnson, call him whatever you like). Of course, Johnson is a major strength to the show, and he absolutely killed in this episode. But aside from him, the rest of the supporting cast was at their strongest in this episode. Johnson has proved that he can carry the show on his back if necessary, but Ballers is so much more enjoyable when he doesn't have to. Rob Corddry, in my mind, is still the real MVP. He fits his role perfectly. It's pretty clear that Joe and Spencer need each other, and Corddry's illustration of Joe is perfect. Aside from that, Corddry is delightfully hilarious. This show would not be nearly as funny without Rob Corddry. Period.
Of course, the cast has developed into much more than The Rock and Rob Corddry. Omar Benson Miller's Charles Greane is fantastic. He has so much depth to his portrayal of this football player who questions his early retirement. Dule Hill's character put it in Charles' mind last week, and it's clear that he can't get it out of his head. Miller's portrayal is layered and nuanced, and it is clear that his conflict between the life he wants and the life he left behind will come to a head this season. The other standout this show has produced is John David Washington. His performance as Ricky Jerret has been absolutely phenomenal. His story has a very Terrell Owens vibe to it, but Washington handles it extremely well. His reactions contain tremendous amounts of truth. One of my favorite things about his character is that it's so easy to sympathize with him. If you were reading about him on ESPN, you'd be much less likely to do so. I like very much that Ballers depicts a much less glamorous side of football, because there is so much truth involved.
This episode was clearly about questioning Spencer's motives. Is he desperate to sign clients because he's broke, or does he care about these people? Certainly, it's possible to do both, but where the show will take it remains to be seen. I love this show, because it feels like I am describing a drama series to you. There is so much good stuff going on dramatically that it constantly takes me by surprise when it makes me laugh. The laughter comes, more than anything, from genuine moments delivered by authentic characters.
Here are some of my favorite quotes/moments from the episode (some have been edited):
– First of all, so good to see Richard Schiff. He's just fantastic.
– "The event is strictly corporate."- Joe, lying through his teeth
– This is me being shocked that Ricky Jerret held his cool as long as he did versus Alonzo. Expected a fight a lot sooner.
– "Are there athletes here?"- Joe, after checking out the *ahem* talent.
– "He'll have to finish his career in Saskatchewan."- Tracy Legette. An incredibly truthful and realistic commentary on former NFL stars.
-"Alright Vernon. Your best friend's a douche bag. This is the last time you get a plus one. F*** that guy."- Spencer, in one of the funniest moments of the episode
-"I never worry about a sweetheart like you Jerret."- The Dolphins' coach
– "I used to have a boat. Not like this. This is like a [expletive] spaceship." – Joe, admiring the yacht
This was easily Ballers' best episode yet. Not only did the series traipse some more major sports cameos (Jeremy Shockey, Eric Hosmer, and Rashard Mendenhall among them), but it created a realistic show that takes an in-depth look at what football players do outside of football. It's also REALLY funny, which is important for a comedy. If you haven't watched Ballers yet, or maybe haven't looked past the pilot, I would definitely give it another chance. I never expected to like this show as much as I do.
What do you guys think? Do you agree? Are you enjoying the show? Let us know in the comments!
[Photo via HBO]