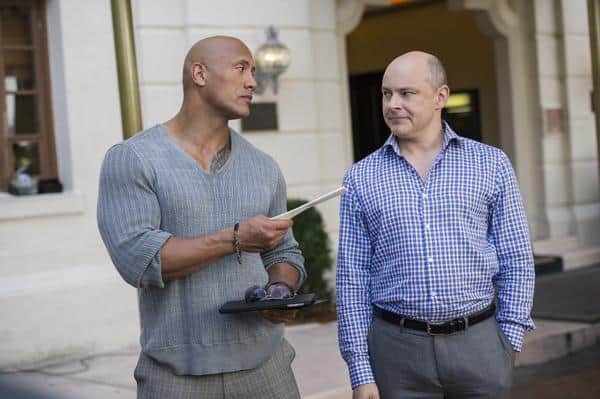 Ballers began its freshman voyage last week, in which it premiered admirably. The ratings were good for an HBO comedy, and it showcased an intriguing premise, coupled with a talented cast. The challenge in any second episode is to maintain. A show has to continue all of its strongest elements from the first episode, and translate that into a sustainable model. People need to not only remain interested, but their interest needs to increase from a first to a second episode. It's not an easy thing to do, but Ballers did that for me.
This week on Ballers: Spencer struggles to sign Vernon due to his relationship with his current "financial manager," Reggie, so Joe steps in to help him out. Ricky receives a less than warm welcome upon his arrival at Dolphins training camp, and struggles to find a fresh start. Charles, now a car salesman, finds it difficult to keep his mind off of football.
I am so happy with this show's second episode. I was worried. I liked the first one a lot, but at least 50% of the time, second episodes fall short, trying too hard to reinforce the show's premise. Ballers kept things simple, and it actually felt a lot more relaxed than the pilot. There must be some creative security knowing you've been picked up for a full season by HBO. The pilot was funny, and showed a lot of depth to its characters, and the second episode expanded on that. It went a little deeper with each character, and was quite a bit funnier than its predecessor.
One of my favorite things about this show is how real it feels. Given the rampant disease called "poor money management" that's spreading all over the United States, it only makes sense that it would spread to football players. Most people think of past and present football players as millionaires, but there are so many players who don't play more than a few years. Some struggle through the CFL (Canadian Football League) or various other scenarios, but the reality is that NFL players who are currently in their prime (out of college, early 20s) are likely not good money managers. It's reasonable, therefore, to assume this show operates within a relatively realistic spectrum. I appreciate realism as a part of any show, but especially ones on such a large stage.
I cannot overstate how crucial Rob Corddry is to this show. Don't get me wrong, because Dwayne Johnson (I'm never going to stop calling him "The Rock" and you will all just have to deal with it) is a fantastic lead. He fills that "older brother" (to quote Vernon) role for some of these young players, and he's perfectly believable as a former NFL star in a bad way financially. BUT Rob Corddry has that little something extra in his performance to make them the perfect combo. The Rock is a strong performer, but the comedic give and take with Corddry has that special comedy ingredient in it. Corddry is the perfect choice for the role of Joe. He's the charming sleazeball akin to someone we all know. I laughed out loud several times in this episode, and almost all of it was a direct result of Corddry's character. Absolutely hilarious. Rob Corddry, you da real MVP.
As always, here are some of my favorite quotes/moments from the episode:
-"Don't you dare tease me. These pants are new!"- Joe, at the prospect of signing Vernon
-"You're the second guy who's hit on me today. Is it the Axe body spray?"- Spencer
– Not particularly funny, but everything with Reggie and number 18 felt so true to life and realistic
-"Karen, just a shot in the dark here, do I have a third account?"- Spencer, after learning he has a second bank account
– Great to see Tyler James Williams back from the dead.
-"If I had known 'Jumbotron' was my neighbor's fourteen-year-old daughter, I never would have called her that"- Joe, explaining why he was given the proverbial boot from his fantasy league. For "trash-talking his nemesis."
-"That's a commercial, he drives a Mercedes"- Spencer, to Joe, about what Peyton Manning drives in real life. Any mention of Peyton is A-OK by me!
I've really enjoyed Ballers so far. Time will tell, but it seems as though they have the tools to take this show to some fascinating places. If you are on the fence about watching this show, I would encourage you to do it. It's been great so far.
What did you guys think? Did you enjoy Ballers' second episode? Let us know in the comments!!
Ballers airs Sundays at 10/9c on HBO.
[Photo via HBO]