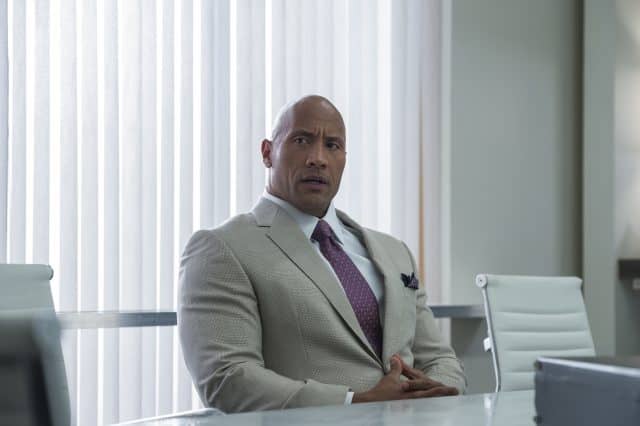 Ballers, now halfway through its sophomore run, was always going to have to have more humor to get through the season. Though the stakes are higher than ever, this episode bounced back from last week's un-funny drama-fest to both raise the stakes and get in a few good laughs. Maybe not their best-ever episode, but a huge step up from last week.
This week on Ballers: Spencer wants to meet with Travis, despite Jason's warnings. Spencer and Joe move to get Anderson Financial's Sports Division approved by the NFLPA, but that comes with a hiccup or two. Joe and Reggie want to cheer Vernon up, so they get him a pet. Ricky weighs his contract offers, and get advice from an unexpected source. Charles gets a job offer.
By and large this was a far more entertaining episode than its predecessor, and that's for one main reason: Joe. Rob Corddry has been in and out of this show's spotlight this season, but the show is at its best when has plenty to do. There are other comedically gifted cast members on the show, but Corddry has been the most underutilized. But Joe and Reggie's story was prominent, and hilarious, and it made the show feel much more balanced.
I also appreciated the turn from Spencer into some of the other stories. They've not told nearly enough story about Charles or Ricky this season, and "Most Guys" was a pleasant 180 from that trend. Especially Charles, because Omar Miller is sorely underutilized in this show. I'm hoping that Charles' job offer will turn into more screen time for him.
Probably my least favorite part of the episode/show in general was Spencer's attitude about his injury. I mean, what exactly is keeping him from getting a hip replacement? Sure he's busy at work, but come on. There's something wrong there.
Again, this episode did a good job of raising the stakes (with the bit about the NFLPA) while still keeping things light and funny. There were some really great bits. As always, here are some of my favorite quotes/moments from the episode:
"We can talk about a hip replacement when I get my AARP card."- Spencer
"You on Twitter?" "No, Reg, I'm a grown up with reasonably high self esteem."
"I've got a f*****g cat dude. His name is Socks and he's adorable."- Joe
Joe and Reggie's ongoing alpaca saga is wonderful, especially the bit when they're running in the background at Vernon's house.
"Simon and Garfunkel are two very old white men. Yeah."- Joe
"You're making me nervous. I might s**t all over the marble floors."- Joe
"Maybe they found your sex tape!"- Joe
As you can see, getting Joe back in the thick of the action was the right call. Without him, the show just isn't that funny, and the drama that overtakes it just doesn't feel right.
What do you guys think? Did you enjoy the episode? Let us know!
Ballers airs Sundays at 10/9c on HBO