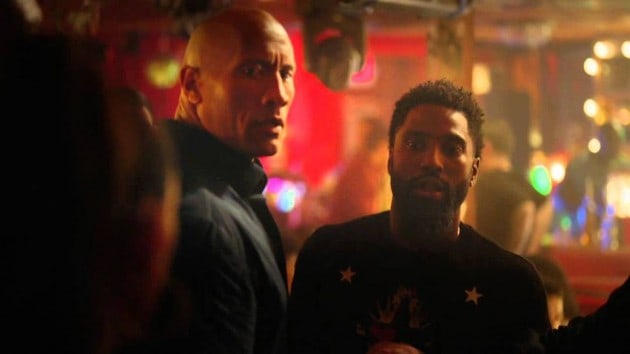 Ballers, as it continues its run, keeps taking on heavier and heavier material. I continue to be floored by the way that they know how to make you laugh and yet further each character's dramatic arc to make a rich, full series. I've reached the point now where I watch this show like a short drama series, and then I'm pleasantly surprised when I laugh. It's hitting all the right notes, and really illustrating some valuable information as far issues that football players can face.
This week on Ballers: Jason is perturbed by his mother's new boyfriend. Spencer and Charles debate where to spread Rodney's ashes. Julie tells Annabella about Ricky's "fun house." Ricky desperately tries to win Annabella back. Spencer and Joe reach a negotiation stalemate with Vernon's blackmailer.
One of the greatest things about Ballers is that it has a lot of story to tell. Take Jason's story, for instance. I really appreciated this episode breaking off and telling us so much about Jason and his life in such a little time. Jason has not been such a fleshed out character to this point, but now I feel like I really know him well. Before this week I knew he was an agent. Now I know that his dad passed away recently, that his mother is alive and dating someone new, and many little clues were left about the remainder of Jason's life. Part of what's so great about Ballers is that it gives you a lot of information in a short time, and really fleshes out the important characters. Ballers stands out because it cares for its characters, and you can tell it takes great care in telling their stories. (By the way, can we talk about Jason and how horrible I feel for him in that situation? It just made my stomach turn)
Usually, I stop watching comedies when they stop making me laugh. Now, Ballers has been a little short on the laughs lately, but when I say "a little", I mean it. I still laugh out loud in every episode, and I cannot boast that about some (okay, most) of the comedies on TV. All that to say, even when Ballers is a little short on laughs, they make up for in meaty stories. After last week's episode, I was convinced that the show should be a drama, and I remain convinced of that. Ballers works hard at creating characters you care for, and putting them in dire circumstances. The acting is top notch, which takes the show to new heights. Ballers, in seven episodes, evolved quickly from comedy to dramedy, and it continues to shift and morph and flow where the creativity takes it. I'm truly impressed at how well the overall impression of the show can shift and still produce quality.
I will keep this short, but I only have one complaint: This episode was a little too plot-focused. I appreciate when shows need, want, or have to create an entire episode to move the story along, but I can't help but think sometimes the time could be better managed. This is one of those. This is a hard criticism for me to give because I really enjoy watching this show and I think they're doing some wonderful things. I just feel like there may have been a better way to tell these stories. For instance, I don't usually have issues with pacing on a half hour show, but this week felt a little hurry up and wait to me. However, my issues with this episode were all very minor.
As always, here are some of my favorite quotes/moments from the episode:
-"How is Rod?" "He's still dead, man"- Vernon and Spencer, discussing their deceased friend from episode 1
-"Meet you there after Tae Bo"- Spencer, to Joe, in one of the funniest exchanges of the episode
-"I had to pull Charles out of it the other day, where he was high as a giraffe's a$$"- Julie, when spilling the deets on the "fun house" to Annabella
As you can see, I didn't have a ton of favorite funny quotes and moments, because it was a more serious episode. However, I don't fault the show, in fact I praise it for its innovative and compelling storytelling capability. It hasn't always been funny, but it has been good TV.
What did you guys think? Did you enjoy this episode? Let us know!!
Ballers airs Sundays at 10/9c on HBO.
[Photo via HBO]