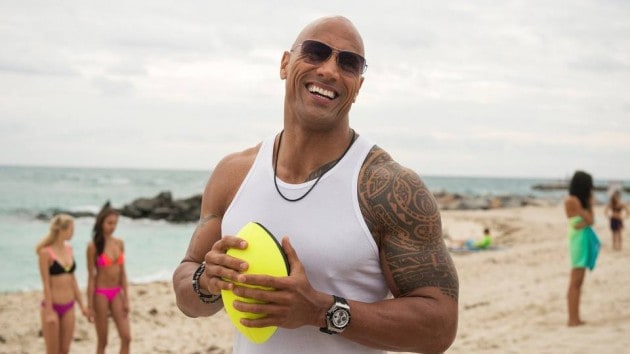 As I anticipated, Ballers ramped up the comedy after a plot-focused midseason episode. What I did not anticipate, however, was how funny, poignant, and dramatic this show could be all at once. I was floored at how much I laughed, but was also totally impressed by the way they handled these adult situations. Some comedies approach these things with immaturity, but Ballers' approach was just different, and real, and I was very impressed.
This week on Ballers: Charles brings his stuff to stay at Ricky's "fun house"since his wife kicked him out. Spencer, Joe, and Jason continue with negotiations over the photos of Vernon. Ricky, his relationship with Alonzo's mom now exposed, is forced to do an exclusive interview with Jay Glazer to help improve his own (and the Dolphins') public image. Spencer finally gets his MRI.
For the most part, I've found Ballers funny. That's no secret, if you've read my previous reviews. However, what continues to floor me about this series is the drama. Any comedy can make stupid jokes and go for cheap laughs, but if you take risks and try to be realistic, the drama comes out naturally. I've been impressed that Ballers has not only been able to tackle the harsh reality of life after football for many players, but also that they've done it so naturally. This show is beautiful in how real it feels.
Particularly, I was impressed by John David Washington. Previously, I've compared his character to Terrell Owens or Chad (Johnson) Ochocinco, who both brought lots of unwanted publicity to their respective teams. In one fell swoop, Ballers made the same comparisons and then elevated Ricky above them. The exclusive interview with Jay Glazer brought out Ricky's reasons for wearing the number 18, and it was a fabulous story. My notes for this episode say: "Ricky's vulnerability. Wow." John David Washington always has Ricky's layers there, but they were on full blast this week, and it was awesome. Just another note to write on "reasons this show should be a drama" list!
This show has the perfect cast. Dwayne Johnson has great range to play both permanently injured Spencer, and happy-go-lucky friendly Spencer. There is absolutely no one who could do this role like him. He brings nuance, excellent comedic timing, and an undeniable chemistry with every other actor on the show. Rob Corddry, I maintain, is the comedic life of the show. I feel like the directors just say, "Okay Rob, do this line, but be funny," and then he does it. He was barely in this episode, and he still had me laughing out loud.
However, the cast member making the biggest comedic impact (this week, anyway) was Omar Benson Miller. Charles seems like that guy who would always stop short of getting in trouble. So, when his friends get him into trouble, he responds with '90s movie levels of hilarious physical comedy. The scene when Charles gets high, and then goes into the party with the bubbles? He finds out his wife is there, and starts running for his life. He told all the story he needed to tell using his own physicality. That was the best scene in the whole episode, and there was barely any dialogue in it. Comedy is often physical, and it's rare to see someone on television nowadays with such a gift for physical comedy. When Charles is moving, I'm laughing.
As always, here are some of my favorite quotes/moments from the episode:
-"I didn't sign you to become a sideshow, Ricky. Become Miami's T.O. or Ocho."- Larry, validating my comparisons
-"What street is that Reg? Stupid Street?"- Spencer. Okay, it sounds a lot funnier when The Rock says it.
-"I do not like to be spanked, Spence." "I know." "I never had a woman spank me other than my mother, and I deserved that s**t." Hilarious post SportsCenter conversation between Spencer and Ricky
-"Talk to you later, Spanky."- Spence, talking to you know who
-"Somehow, gambling didn't make it on to my list of vices."- Joe, at the horse track
-"My shoes are wet. Are your shoes wet?"- Stoned Charles
I was really impressed with this episode. It was funny and used multiple types of comedy. It had some serious moments and dramatic flair. Really, it was everything you could want in an episode. I'm excited as the final four weeks approach.
What did you guys think? Did you enjoy this episode? Let us know in the comments!
Ballers airs Sundays at 10/9c on HBO
[Photo via HBO]