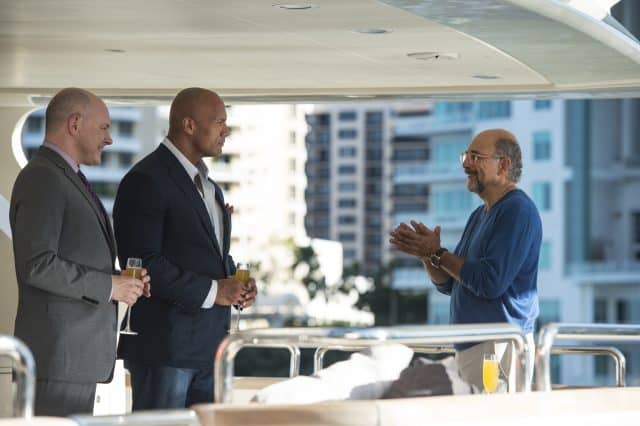 We're now almost halfway through Season 2 of Ballers, and while the dramatic stakes are at an all-time high, the comedy is at an all-time low. I really like the show as a whole for its entertainment value, and I'd watch the Rock do just about anything, but the drama is getting to be a bit much for me.
This week on Ballers; Spencer and Joe deal with continued fallout from their war with Andre. Ricky hits a bump in his relationship with his father. Tracy has a lead on a job at ESPN. Vernon awaits the decision on his fate from the Cowboys. Charles gets some bad news from the Dolphins. Jason works to secure a new client.
Really, this episode didn't have time to be funny. It was jam-packed with emotional turmoil and new challenges at every turn. Of course, sometimes on HBO, you have to take comedy to mean the Shakespearean sense of the word, which usually just means that it has a happy ending. That perfectly describes Season 1 of Ballers. It was filled with problems and turmoil, but had a happy ending. Season 2 is going to have to start getting happier, sooner. Rather than setting up comedic obstacles to overcome, it's overrun with creating serious, dramatic issues for its characters.
Honestly, I wouldn't care if this show was a drama series, but it's extremely short on laughs for a comedy. If it were a drama series, it would need to be a little longer, and some of the story could be more flushed out. Alas, instead, we are left with a show that (at least in their second season) is relying too heavily on the Rock and the f-bomb to get people interested.
It doesn't help that the show is criminally under-utilizing some of its best talent. Omar Miller (Charles Greane) is one example. He's an incredibly talented comedic actor, who has done some hilarious things over the course of the series. This season, his story has barely been relevant to anyone else's. He got released, he has a wife and child, and what else? Poor Miller has been so underutilized, and the character under served.
Rob Corddry is another example. The Rock, while being the main reason that the show draws eyeballs, is not enough to carry a comedy series on his own. He needs a side-kick. Another half of an odd couple. Corddry, when utilized, is the perfect foil for Johnson in every way. But when he's not, the episodes feel empty, dry, and frankly, un-funny.
That's what happened in this episode. Little Corddry. Little Miller. Everyone else was doing great work, but on some really heavy dramatic stuff instead of stuff that should be funny. Ballers is ambitious, but "World of Hurt" showcased mostly the shows issues, and not its strengths.
I normally do a segment of things I find funny in the episode, but there wasn't much. The best, funniest moment of this episode, hands-down, was Spencer shooting Reggie in the leg with the paintball gun.
What did you guys think? Did you enjoy this episode? Let us know in the comments!
Ballers airs Sundays at 10/9c on HBO