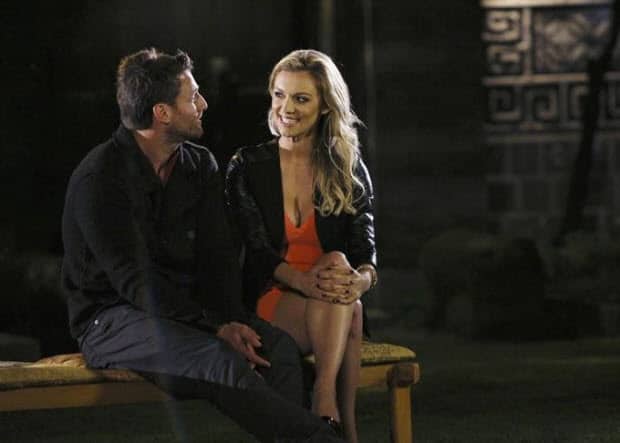 Juan Pablo is probably the most interesting candidate on The Bachelor to date – and we're not saying that's a good thing. There are moments I hate him. There are few moments I like him. Overall, the guy is an anomaly (perhaps code for fraud). One minute he doesn't want to kiss the girls to set an example for Camila and the next he's getting down and dirty in the ocean. The guy is just coming off horribly shady – no matter how much he cries. He's tough to figure out and the show is not living up to the billing that the Latin Lover was going to be awesome as The Bachelor.
The fifth episode began with the girls heading to Vietnam to meet JP for the next leg of the season. Getting the one-on-one date card was our personal favorite Renee. Renee is great. Her biggest flaw is she's really into Juan Pablo. She makes it way to obvious she digs the guy and that could be a problem. They have a nice date, but overall I just don't get the impression he's super into her. There date was nice, but kind of mundane. Fortunately, Renee gets the rose. I'd be more alarmed that he didn't kiss her AGAIN. She keeps getting roses, but no kisses – alarming. That scene seems to be the end of this episode's stability.
Next up, the Clare Show. Here's what I can't figure out at this point. Is Juan Pablo really enamored with Clare or is he just trying to get some. There's a group date, but you wouldn't know that there are other girls on the date. JP spends most of his time with Clare, plays Andi like a fiddle, and then gets in the pool with Clare late night. Oh yeah – he manages to sneak in a kiss or two with Andi and Sharleen. The guy is playing a beautiful game isn't he. I get that everyone kisses everyone, but just be real about it. (Andi is your next Bachelorette – and she should be thankful for that because that's a far better fate than Mrs. Galavis)
Drama! Clare late night sneaks to Juan Pablo's room and convinces him to jump in the ocean with her. (Like he needed convincing) What happened in that ocean is between Clare, Juan Pablo, and the fish, but it didn't LOOK GOOD FOR CAMILA!
Nikki is the next one-on-one date. Yes, the same Nikki that turned into a villain this week. No matter what happens no one is going to like Nikki. They make out a lot in between repelling down a cave wall. It's no where near as cute as the date with Chelsie, but it's the anomaly Juan Pablo. He can make every girl feel "safe," "secure," "comfortable," and whatever else he's conning. Of course, Nikki gets a rose after Juan Pablo's cave dinner. (Has he not given out a rose yet on a one-on-one date?) Really not sure Nikki has staying power, her personality sucks, who knows with this dude? Juan Pablo likes everyone.
And then there's the rose ceremony. That was the most awkward start to a cocktail rose party. Sweet toast Clare – that was horrible. Kisses and no kisses – Juan Pablo loves everyone. Renee GETS A KISS! The only thing missing from that scene was the fireworks and volcano erupting. Yikes Renee – act like you've been there before.
Ah back to the infamous late night ocean dip with Clare. Clare who was on cloud nine after she got some from Juan Pablo comes back to earth with a THUD! Juan Pablo says that the making out session was weird for him. See this is where I don't get him. He acknowledged he made a mistake so there is good in him (who is he Darth Vader?). He makes perfect sense – I wouldn't want my daughter to see that either. Sorry Clare! BAHA. (You're still not off the hook dude – now you look like the dude who took advantage of the dumb chick)
Three girls get ditched. Surprise surprise. The most predictable rose ceremony in the history of the show. The two girls that Juan Pablo has ignored the entire season get dropped. Not sure why Molly, I mean Kelly, stuck around so long. Did Juan Pablo even talk to Danielle? Same goes for Alli. I really just don't understand Juan Pablo and I think he's having detrimental effects on the show. So far season 18 has been the worst season to date. He really needs to get his act together because he's been a terrible let down thus far.
[Photo via Christopher Jue /ABC]