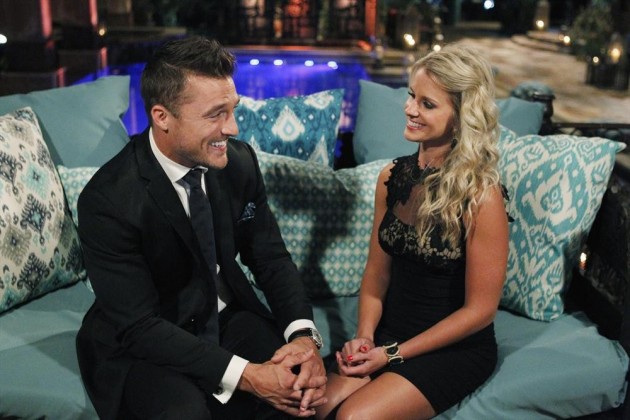 Jesus Harold Christ I don't even know where to begin.
Full disclosure: I've never watched the The Bachelor before. Never really been on my radar. I've always been a fairly anti-reality television sort of person, so the idea of watching a dating show was always ludicrous to me. I couldn't imagine how it could be funny; if I wanted to laugh at idiots doing idiot things, I'd read Republican twitter feeds. That was, until tonight.
I haven't laughed that hard in fifty decades. Truly. This episode was like the Best Of! of any comedy I've ever seen. Starting with Britt the Hugger crying on Chris Soules' shoulder and ending with Kimberly drunk-walking her yoga instructorness back into the house to wrangle Prince Farming was just incredible.
But it wasn't just the show that I enjoyed; it was the sense of community that I got. Usually, television-watching is a solitary pursuit. You watch it and digest it and that's pretty much where it ends. But with stuff like this, that has such a wide and varied audience, you suddenly have the ability to communicate with others and share the joy with them. And that, if we're honest, is that best part of consuming media like this; sharing it with other people. I mean, Lost was a great show; but would we've enjoyed it half as much if we didn't all get together at lunch and discuss theories about the island? Would Breaking Bad, maybe the greatest show of all time, engendered the same kind of good will had a massive community not risen up behind it in its fifth and final season?
I don't think so. The Bachelor is almost a throwback to the way television used to operate. Shows like MASH or Leave It To Beaver or Dallas used to pull in the kind of review numbers that TV executives these days would sell their own children for. But The Bachelor is also a product of the internet age; it is a show that is so awful and awkward and oftentimes desperately heart-wrenching that it fits perfectly along with an audience that is both desperate to destroy it and desperate to enjoy it.
Alright, boring stuff out of the way.
My first impression of Chris Soules was a positive one; after experiencing Juan Pablo second-hand through the various media gaffes and wildly offensive statements, Soules was a breath of fresh air. His attitude during tonight's episode was much more normal than I would've ever thought. He looks like the typical "DudeBro" with his spiked hair and tailored suit, but he came off as much more real than I ever would've believed. He also looked about 45 years old. I kept seeing these women in their early twenties to early thirties come out of the limo and it freaked me out for a bit. I mean, one girl is only 21. Then I found out that, in fact, he isn't a middle-aged man but only 33 years old. So, yeah. My bad, Bachelor Chris; I thought you looked like the guy who still went to high school football games 30 years after graduation.
The women were really cool, too. I only disliked one; Kaitlyn the Joke Girl, who came in hot by introducing herself to Chris with "you can plow my freaking fields" and never stopped going hard. My favorite, though, was Ashely I., the Freelance Journalist, who is too good to live in Iowa and hopefully can convince Chris to not live amongst the maize for the rest of his well-tanned life. My next favorite was Drunk Tara, who deserves the gold medal for managing to stay upright after apparently drinking an entire bottle of corn alcohol. She came out of the limo in daisy dukes and a plaid shirt, which I thought was a really interesting way of presenting herself; she made herself memorable, and when she came back a second time in a "cocktail" dress that really made an impression. Rounding out my top three is Onion Lady, who looked at the camera with the beadiest of eyes as she pointed off into the underbrush at the biggest onion of all time, which was not an onion at all but was actually a pomegranate.
My only complaint with tonight's episode was the fact that it was "live." I don't like viewing parties; they always suck, even ones that have as much energy as The Bachelor's did. I don't want to sit for an HOUR AND WATCH THEM STAND ON THE RED CARPET AS CHRIS HARRISON TRIES TO GET NIKKI TO SAY THAT JUAN PABLO IS A DOUCHEBAG. Like, please. I watched the last half and it was agony. I really thought, after watching the first hour, that the show was gonna be unbearable. But thankfully, for both me and you, that was not the case.
Can't wait til next week.
SOME OF MY FAVORITE QUOTES (may not be 100% accurate):
Chris the Bachelor: *explains what alfalfa is*
Megan the 21 year old: "Is it organic?"
Whitney the Fertility Doctor: "It's like inseminating a hog."
Ashley the Onion Lady: "Look at this onion!"
Michelle (about Britt): "She doesn't shower."
[Photo via ABC]