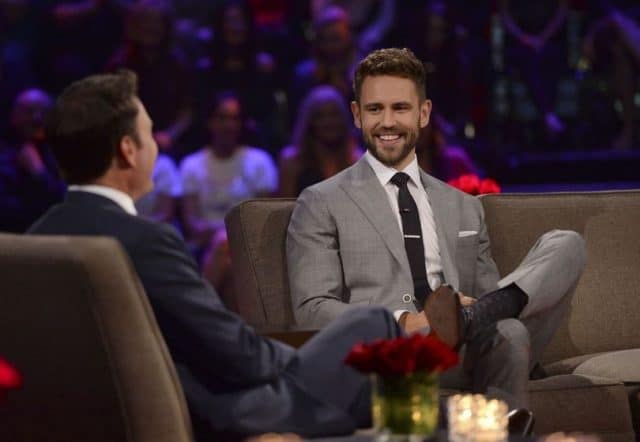 The Bachelor finale is finally here and it's decision time for Nick Viall. Viall has trimmed the field of 30 down to Raven, the beautiful Southern belle, and Vanessa, the passionate special-needs teacher. He'll bring both women home to meet his family. Will Nick find true love? Based on his shaky track record, there's no possible way of this happening. Honestly? He's a match for Corinne Olympios and given all the rumors that she's dating "someone" right now I wouldn't be surprised if it's Viall himself. OK, that's a little far fetched but hasn't this entire season been?
I don't know about you guys but does it not feel like this show has been going on for over a year? The only thing that's more draining has been Trump's administration. At this point the most entertaining contestant, Corinne Olympios, is already ousted but you can bet you'll be seeing her again on her own reality show at some point. I don't even think fans care right now which lady wins Nick's heart.
At this point 99% of people are in agreement that whatever happens during this episode Nick and whoever he picks aren't going to make it. We're all ready to move on. I think we've had enough of this guy. Let's face it, drama sells. The show has been worthless since Corinne's been gone.
I think the only thing that could top The Bachelor is if we start getting single celebrities involved. This is what the show needs. It keeps getting trashier and trashier. I don't think that's necessary. Bring in a novelty. Get a single celebrity (male or female ) to be the Bachelor or Bachelorette and they pick a non celebrity at the end. Producers must have thought of this by now. Maybe celebrities aren't down to be on the show?
Tell us what's wrong with this post? How could we improve it? :)
Let us improve this post!